Highlight and elevate your business at YEAh Live 3
Published:

Monday, February 18, 2013 9:05 PM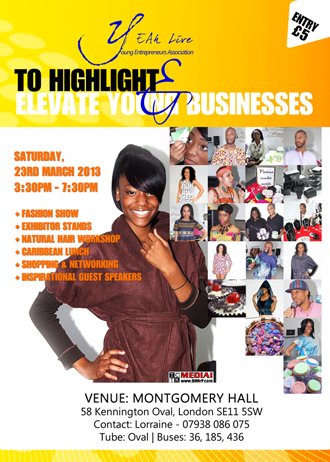 Highlight and elevate your business at YEAh Live 3
"The platform for young people in business for themselves but not by themselves."
Young Entrepreneurs Association is pleased to to announce that the third YEAh Live will take place on Saturday, March 23 at Montgomery Hall, Kennington Oval, London.
The aim of YEAh is to bring the youth together so they can progress forward by interacting with each other and being guided by the older generation. So the budding photographer can link with the aspiring model, these two can meet the new designer, these three can meet the stylist, these four can meet the fashion blogger, these five can meet the new PR person, the events manager, the new web designer, the accountant, the book-keeper and the secretary/admin person etc.
This is all while learning how to present themselves in the best possible light to the right people.

Lorraine James, founder, Young Entrepreneurs Association, said: "My vision for YEAh 2013 is for our young people to experience the full advantages and benefits of networking, gain confidence to showcase their talent and products and receive mentoring, guidance and nurturing along with forged partner links to make their business plans viable. My wish is that their period with YEAh is like a caterpillar incubation period and when they become butterflies I can say to myself with satisfaction "I'm glad I could help".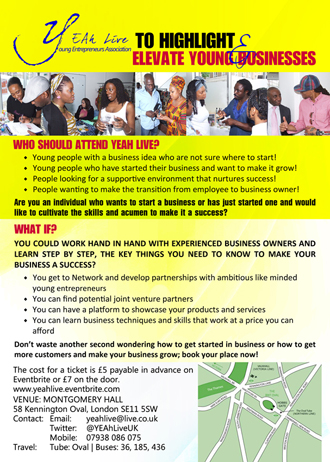 YEAh Live aims to fulfill the business needs of ambitious young people aged from 18-30 demographic, who have business ideas and want to make that important first step to take their dreams to the next level. This event will give you the opportunity to meet, network, build interpersonal skills and learn from relatable business owners and entrepreneurs making their businesses work.
What to expect on 23 March 2013:
A chance to develop business skills and learn new techniques
Networking and a chance to find potential business partners
Confirmed speakers include Lorraine James, YEAh Live; business owner, success coach and co founder of Choices Magazine, Anthony Charles and life coach, Mervyn Barrett
Confirmed entertainment includes Youth Dance Troupe; inspirational poetry; fashion show from emerging fashion designers and debuting Rise Carnival Costumes
Exhibitors selling hair and beauty products, jewellery, accessories, books, magazines; fashion and lifestyle products and much more
A natural hair workshop showcasing professional styles for the workplace
Caribbean food will be on sale throughout the day
Listings information: Third YEAh Live
DATE: Saturday 23 March 2013 | TIME: 3.30pm – 7.30pm
ENTRY: £5 in advance via www.yeahlive.eventbrite.com or £7 on the door
VENUE: Montgomery Hall, 58 Kennington Oval, London SE11 5SW
[Tube: Oval | Buses 3, 36, 133, 159, 185, 436]
EXHIBITOR AND OTHER ENQUIRIES: email yeahlive@live.co.uk | 07938 086 075
TWITTER: @YEAhLiveUK