Hit Musical FELA! to London's Sadler's Wells Theatre for Summer Run
Published:

Friday, January 21, 2011 10:35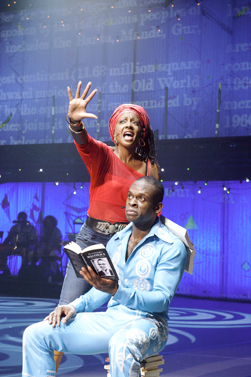 Following a sold-out engagement at the National Theatre, hit musical FELA! returns to London this summer for six weeks.

The National Theatre's production of FELA! has received an extraordinarily popular and critical reception. Stephen and Ruth Hendel are proud to announce that the first European engagement signed for the international tour is a return to London for a six-week run at the prestigious Sadler's Wells Theatre. A provocative hybrid of dance, theatre and music, exploring the extravagant, decadent and rebellious world of Afrobeat legend Fela Anikulapo-Kuti the production will run from July 19th to August 28th 2011. Tickets are on sale from Monday, January, 24th.

Featuring many of Fela Kuti's most captivating songs and Tony Award-winning choreographer Bill T Jones's visionary staging, FELA! reveals Kuti's controversial life as an artist and political activist and celebrates his pioneering music (a blend of jazz, funk and African rhythm and harmonies).

Alistair Spalding, Sadler's Wells Artistic Director comments "FELA! has been a huge success both on Broadway and at the National Theatre and I'm thrilled we are now able to bring it to Sadler's Wells. I have keenly followed the development of the show from its earliest days and it is wonderful to be working once again with Bill T Jones and in partnership with the National. Fela! is an incredibly entertaining combination of dance, music and theatre making it the perfect summer show for Sadler's Wells."

Nicholas Hytner, Director of the National Theatre says "Having FELA! at the National Theatre has been thrilling and unforgettable. Bill T Jones, his creative team and brilliant company created an exhilarating experience in the Olivier Theatre, and audiences came in their droves to dance in the aisles - almost half of them visiting the NT for the first time. I'm delighted that the party isn't over and that London audiences will have another chance to see this extraordinary show at Sadler's Wells."

A who's who of world celebrity has attended and cheered this production. First lady Michelle Obama, Oprah Winfrey, Sir Ian McKellen, Janet Jackson, Hugh Jackman, Bruce Springsteen, Anna Wintour, Diana Ross, Mick Jagger, Robert De Niro, and Denzel Washington are but a few of the stars who danced in the aisles in addition to Madonna, Spike Lee, and Alicia Keys who have returned again and again to cheer for FELA!

Sadler's Wells is the UK's leading dance house, committed to producing, commissioning and presenting new works and to bringing the very best international and UK dance to London audiences. Under the Artistic Directorship of Alistair Spalding the theatre's cutting edge programme spans dance in all its forms, from cutting-edge contemporary to flamenco, bollywood to ballet, salsa to street dance and tango to tap. Its international award-winning collaborative productions and commissions include Sutra,zero degrees, and PUSH. Sadler's Wells also provides a home to world class Associate Artists and Resident Companies including Sylvie Guillem, Akram Khan, Hofesh Shechter, Wayne McGregor | Random Dance, Matthew Bourne's New Adventures and ZooNation.

Located in Islington in north London, the current theatre is the sixth to have stood on the site since it was first built by Richard Sadler in 1683. The venue has played an illustrious role in the history of theatre ever since with The Royal Ballet, Birmingham Royal Ballet and English National Opera all having started at Sadler's Wells.
---
Related links
Afridiziak interview with Paulette Ivory, Fela, National Theatre
Afridiziak review of Fela, National Theatre