King Lear: The Film available
Published:

Saturday, August 6, 2016 4:44 AM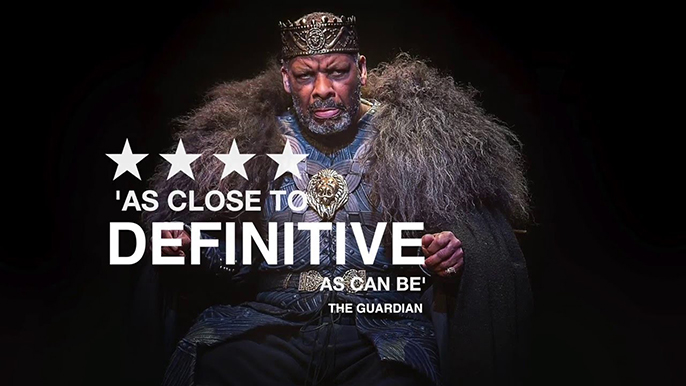 A divided kingdom; family disintegration; chaos and disorder reigns.
King Lear is a brutal portrait of a man unraveling - pitted against his daughters, against nature and against the universe itself. In an ancient Britain bound by loyalty to the clan and the power of the sword, King Lear decides to give up his crown. As he divides the kingdom between his daughters, family ties disintegrate, order disappears and the land slides into chaos.
Award-winning actor Don Warrington has been highly praised for his brutal and powerful portrayal of King Lear. He can be currently seen in the BBC's hugely successful series Death In Paradise. His career spans television (Waking the Dead, Casualty, Rising Damp), radio and the stage (All My Sons, Driving Miss Daisy, The Mysteries) and he has had a long-standing relationship with Talawa Theatre Company both on and off the stage.
---
King Lear: The Film was captured at the Royal Exchange Theatre in May 2016, King Lear played to sell out theatre crowds during its run, winning 4 and 5 star reviews across the board and was described by the Guardian as 'as close to definitive as can be'.
The original 'intelligent and theatrical' (Guardian) stage production was directed by Michael Buffong (A Raisin in the Sun, Moon on a Rainbow Shawl, All My Sons) and was a co-production between Talawa Theatre Company and the Royal Exchange Theatre in association with the Birmingham Repertory Theatre.
The outstanding cast also includes Fraser Ayres, Rakie Ayola, Rhys Bevan, Norman Bowman, Thomas Coombes, Sam Glen, Wil Johnson, Debbie Korley, Pepter Lunkuse, Miles Mitchell,
Mark Springer and Sarah Quist.
Info: The epic production of King Lear: The Film starring Don Warrington is on release now, and is available free and on-demand through the BBC in the UK and internationally as part of the BBC/British Council Shakespeare Lives digital festival at bbc.co.uk/shakespearelives until September 2016 #KingLear is a tale for today. See the critically acclaimed Talawa Theatre Company and Royal Exchange Theatre co-production in a ravishing stage to screen adaptation: WATCH NOW
Related links