Soul Sister, West End
Published:

Monday, August 20, 2012 8:48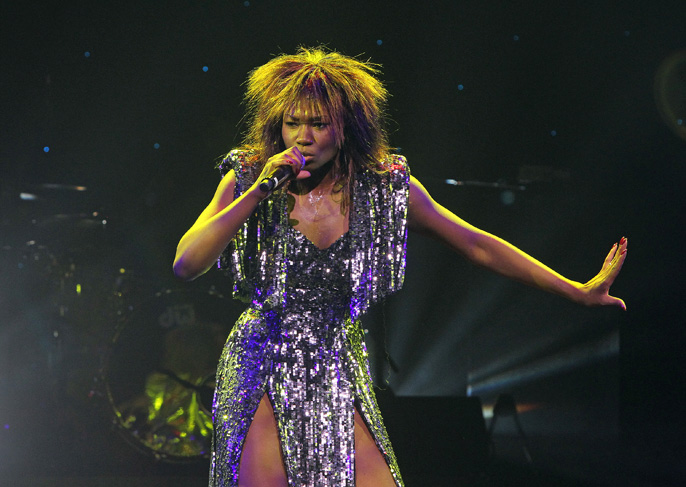 Big hair, big heels and one hell of a big voice - Tina Turner is without a doubt one of the most iconic female performers of our time; wowing audiences for over half a century with her constantly evolving style and a thundering voice that bellows out from the depths of her soul. But how did a little girl from Nutbush Tennessee become the international megastar we know today? New musical Soul Sister premieres at the Savoy Theatre this month takes the audience on a journey from Tina's humble beginnings and through her rise to stardom as part of the Ike Turner Kings of Rhythm Band.

Having received critical acclaim for her portrayal of Tina at Hackney Empire shining new star Emi Wokoma is hugely excited about the show's move to the West End. 'I feel so honoured to be a part of this production, Tina Turner was such an inspiration for me growing up and it's amazing to be able to get on stage and sing the hits that I love.' A wonderfully warm and enthusiastic young woman; she jokes that her Nigerian heritage gives her some added kudos on the booty shaking elements of her role.

Producer John Miller points out that Tina would never have reached such heights had it not been for Ike Turner and Chris Tummings will be taking on the role of the famous songwriter. Tummings will be playing in the band as well as performing the character of Ike but is quick to downplay his role in the show. 'It's a total celebration of Tina; within it you get to revisit Ike and make your own decisions. I've found that a lot of people come knowing Tina's music but they didn't know so much about Ike and Tina's music in the early 60s.' When asked to describe the show Tummings says 'It's a journey, it's like reading a good book sometimes. You follow her journey, spending thirty years with her in two hours.'

Wokoma describes the show as appealing to all audiences. 'The storyline is wide. If you're not a Tina Turner fan you might learn something about Ike and their relationship, so it's for everybody basically. It is an emotional journey because she meets Ike as a 16-year-old and they work together and she learns things from Ike and from the industry. So when everything's turbulent it is draining and it can be quite strenuous but the celebration at the end is a lovely relief.'
Emi Wokoma 'I feel so honoured to be a part of this production, Tina Turner was such an inspiration for me growing up and it's amazing to be able to get on stage and sing the hits that I love.'
The stars have both thoroughly researched their roles and point out that the musical numbers lucidly reflect the progression of Ike and Tina's relationship. Miller elaborates 'Ike wrote songs which reflected their relationship, so the first song is A Fool in Love, followed by I Idolise You, then It's Going to Work out Fine, followed by I'm Blue then Poor Fool, so this emotional journey is going on that Ike has written.'

Despite being one of the most influential duos in musical history Miller explains that the story of Ike and Tina is largely unknown, saying, 'In fact what you actually know is the story of the 1993 film, What's Love Got to do With it. When Tina's autobiography came out Disney picked up the film rights and approached Ike Turner and said "We're going to make a film of the book and we need your permission but we'll have to fictionalise your character a bit to make it more interesting for the cinema" and Ike said "Yeah OK, that's no problem." And what you see on the screen is that fictionalisation of their relationship.' Wokoma adds 'The film's all about the domestic violence; we don't shy away from it but it's not the basis of the story. We just try to tell the story in a balanced way; the music is what really drives it. It has to be truthful and not with any other information in mind. We just did our own research and read our own books and worked with the writers and John (Miller) to decide how our characters should be approached.'

Tummings says that playing Ike was a surprisingly natural process. 'It was quite easy, obviously everybody's aware of Laurence's portrayal of Ike in the film and in order for me not to do that I had to trust the script. I thought the character was written very well so all I had to do was stay true to what was on the page. I tried to find out what made Ike do the things he did. I can understand him being misunderstood; I think I'm quite misunderstood myself!'

Love, betrayal, overcoming adversity, female empowerment and the stunning musical numbers we all know and love. With Wokoma behind the microphone and Tummings grooving in the rhythm section Soul Sister sounds like a production that will really get an audience shaking their tail feathers.
>
---
Related Links
Soul Sister is at London's Savoy Theatre from August 20 to September 29
Afridiziak Theatre News review: Soul Sister, Hackney Empire