Overseas drama school K Boateng Academy of Performing Arts comes to the UK
Published:

Tuesday, August 2, 2011 13:41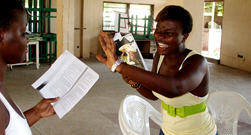 The K. Boateng Academy of Performing Arts was first established in February 2009 in Accra, Ghana by RADA Graduate Kwaku Boateng Ankomah. The Academy experienced a great amount of success with a number of students graduating straight into TV, Film and Stage roles, as well as working in a number of areas within the Entertainment Industry, for example, Recent Ghanaian graduate, Stephanie Baaba Lindsay recently won Vodaphone's Icons Diva Edition competition, which landed her a major record deal with one of Ghana's leading record companies.

Now in 2011, Kwaku Boateng Ankomah is opening a UK branch to train aspiring actors and performers. The Academy will be offering a Three Year Part-Time Acting Course for the over 18's and A Year-long Performing Arts Course for Academy Junior Actors between the ages of 8-17.

The Academy will also offer a range of short courses such as; 12 Week Acting for Screen beginner's course, Traditional African Drumming, Traditional African dance, One to One Acting/Audition Technique and The K. Boateng Youth Theatre which will all run within the year.
---
Related links
Info: www.kboatengacademy.com