Blue Plaque for Black British Theatre Legend
Published:

Monday, April 23, 2012 7:18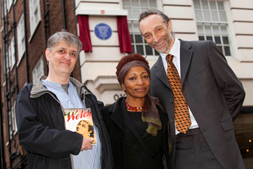 ENGLISH HERITAGE BLUE PLAQUE FOR ELISABETH WELCH
After Stephen Bourne's 7 years of lobbying, the singer Elisabeth Welch (1904-2003) has been commemorated with an English Heritage blue plaque at Ovington Court, Kensington, her home during the mid-1930s, the time that she started her rise to becoming - in the words of her biographer - "Britain's first black star". The plaque was unveiled by the playwright, author and critic, Bonnie Greer on Monday 27th February.

From her stage debut in 1922 to her final professional appearance in 1996, Elisabeth Welch was a sophisticated, stylish interpreter of popular songs. Audiences were drawn to her beauty and elegance, her soft, lovely voice and perfect diction. With a recording career spanning eight decades – longer than Sinatra or Elvis – and encompassing New York, Paris and London, Welch is the second black woman to be honoured with a plaque: the first was the nurse Mary Seacole.

Born in New York in 1904, Welch had a rich cultural heritage through her father John, who was Native American and African-American mixed race and her mother Elizabeth, who was of Irish and Scottish descent. Known in the family as "Girlie", she sang from a young age and decided to pursue singing instead of her original career choice of social work. In reaction to this her father, a strict Baptist, walked out of the family home with the parting words, "Girlie's on the boards, she's doomed."

In 1923 she launched the "Charleston" on Broadway and throughout the Jazz Age she was associated with some of the great entertainers of the Harlem Renaissance including Josephine Baker, Adelaide Hall and Bill "Bojangles" Robinson. In 1930 she launched her cabaret career in Paris. After a brief return to New York she was asked to sing at the Jean Cocteau-designed club Le Beouf in Paris; it was there that she transformed in to a smooth cabaret singer and jobs in New York and Berlin soon followed.

The 1930s saw Welch become a trailblazer for black women in Britain. It was the decade where Ivor Novello wrote songs for her; Paul Robeson was her leading man in films; and Welch enjoyed popularity as a cabaret star of London's cafe society. In 1931 she popularised Cole Porter's scandalous song "Love for Sale" in the Broadway hit The New Yorkers and after settling in London in 1933, she introduced the famous torch song "Stormy Weather" to British audiences. That same year, with Cole Porter's Nymph Errant, she began a career in British musical theatre that lasted sixty years. In 1934 she was the first black broadcaster to be given her own radio series, Soft Lights and Sweet Music, by the BBC. Her many radio shows include two guest appearances on Desert Island Discs.

Remaining in her adopted country for the duration of the war (1939-45), Welch entertained the troops and the British public alongside such theatrical greats as Sir John Gielgud. In the post-war years she reigned supreme in sophisticated revues in London's West End including Tuppence Coloured (1947) in which she introduced Edith Piaf's "La Vie en Rose" to Britain. In 1979 Derek Jarman's film version of William Shakespeare's The Tempest, in which she sang "Stormy Weather", won her a whole new legion of fans. Singing as a goddess to two lines of handsome sailors, dressed in a flamboyant yellow costume, George Melly described the scene as "arguably the campest, most sparkling moment in the history of cinema".

It was only after her death, that it was revealed Welch had a love affair with David Astor (1912-2001). It ended during the Second World War when his formidable mother, Nancy, Lady Astor, the American-English Conservative politician, expressed strong disapproval of her son's interracial affair. Had the affair been made public at the time there's no doubt it would have caused great scandal.

At the age of 81, Welch was nominated for a Laurence Olivier award for her performance in the Donmar Warehouse revue Jerome Kern Goes to Hollywood. After an absence of over fifty years, it was this show that returned Welch to the Broadway stage and earned her a Tony nomination, Broadway's equivalent of the Oscar. Frank Rich wrote in the New York Times (24 Jan 1986): "We must write letters to our Congressmen demanding that Elisabeth Welch be detained in the United States forthwith as a national resource too rare and precious for export." In 1989 she was honoured with a Life Achievement Award by The Variety Club of Great Britain and by the Black Filmmakers Hall of Fame in the USA.

Perhaps the crowning achievement of her long and illustrious career was the 1992 all-star tribute concert A Time to Start Living: a Celebration of the Great Elisabeth Welch, a World AIDS Day gala in her honour, at the Lyric Theatre, featuring the cream of British show business, who paid tribute to Welch and then joined the audience to give her an unprecedented, as far as anyone there could remember, five standing ovations.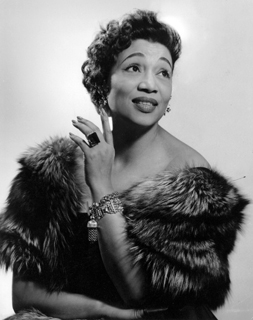 Elisabeth Welch died, aged 99 in London in 2003, having made the city her home for seventy years.

Howard Spencer, blue plaques historian at English Heritage, said: "Welch described herself simply as a 'singer of popular songs' but for her many fans she achieved the status of a living legend. In the words of one obituary, she 'belonged to an elite group of singers who gave definitive shape to the works of the Gershwins, Cole Porter, Jerome Kern, Noël Coward and other songwriters of the golden age.' "

Stephen Bourne, who wrote Welch's biography Soft Lights & Sweet Music and was a great personal friend, put Welch forward for a plaque: "I shall always remember Elisabeth as warm, funny and mischievous. She was uncomplicated, and a joy to be with. A glamorous and gorgeous lady, she had no peer in the art of interpreting the lyrics of the giants of popular song: Cole Porter, Noel Coward, Irving Berlin and Jerome Kern."

Paul Reid, Director of Black Cultural Archives said: "Elisabeth Welch lived a fascinating life in theatre, film and music. Black Cultural Archives are delighted that she has been awarded a plaque, becoming only the second Black woman to be so honoured. It is an important moment for Black heritage and a lasting monument to her achievements."

Flat 1 Ovington Court, just off the Brompton Road, is the flat Welch lived in when she was breaking through as a performer, from 1933 to about 1936. It was her first settled home in London, to which she would have returned after early performances and radio recordings of such classics as "Stormy Weather" and "Solomon", and it was on these foundations that her later success rested. She lived in Ovington Court with a dresser-cum-maid and a "perky" fox terrier, as recorded in an interview she gave to the Melody Maker at the flat. When the reporter arrived she was preparing to sing in a broadcast with Lou Preager and his Orchestra and, in an uncharacteristic flash of the diva, threw the journalist out after only four and a half minutes.

Ends