24 November, 6.30pm for 7pm,
Talawa Theatre Company
London Black Expressions and Afridiziak Theatre News would like to thank our speakers, Che Walker and Roy Williams for sharing their experiences and for an insightful and inspiring evening.

We would also like to thank all of our guests for taking part and making the evening a success. Look out for future London Black Expressions and Afridiziak Theatre News events by visiting www.afridiziak.com.

Event summary by Sophia A Jackson

The London Black Expressions and Afridiziak Theatre News second annual black theatre talk was inspired by playwright, Roy Williams' Guardian feature on black theatre. Joined by fellow playwright, Che Walker (The Frontline, Been So Long) Roy Williams (Category B, Sing yer Heart out for the Lads, Joe Guy) and Che joined us for an evening of debate on theatre and their experiences as playwrights.

The evening was introduced by Patricia Cumper, executive director of the UK's leading black theatre company, Talawa where the event was held and included a mixture of theatre practitioners and individuals with a passion for theatre. The event closed with nibbles, wine and networking.

Roy opened the event by explaining that his Guardian piece was actually inspired by executive director of Eclipse Theatre, Dawn Walton's Guardian blog on black theatre.

Here are some of the responses that Che and Roy gave to questions from the audience:
Did you ever feel pressure to write about race?
Roy: No. No theatre has ever pressurised me to write about race. I made those decisions. As a black man, race is a big part of my life.


Roy – is it a case that because you're Roy Williams, you can write about what you want?
Roy: Even when I first started out I always wrote about what I wanted to write about. I didn't play by the rules. You have to do it because you love it because writing plays will make your head bleed and it's crap money.
So has theatre changed since you both started out?
Che: From 20 years ago – theatre has changed a lot. I remember working with an actor who had dreadlocks and he was told to take them out. My writing is multicultural because it would be difficult to write a piece of work that didn't include non-white people and no mention of race.
Roy - do you ever feel you ever feel pressure from the community to write about positive stories?
Roy: I have never felt pressure from the community to write positive stories but I have had people not like my plays and walk out. I don't like my endings to be wrapped up in a bow as I want to give people something to think about and discuss when they leave the show.
Che, what are you working on next?
Che: Jack and the Beanstalk at The Lyric, Carmen the Opera at Regents Park and Love Song with Omar.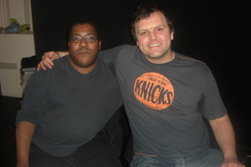 Roy, how did you get into being a playwright?
As a child I always had my head in a book. I loved drama and conflict and trying to find resolution. I got turned on by that. Theatre sunk its teeth into be at the age of 12 when I was going through my bad boy phase. My brother was getting into trouble a lot and my mum decided that she wasn't going to let the same thing happen to me. She gave me two options – go and see a tutor or go and live with my relatives in Jamaica. I joined Don Kinch's (Soweto Kinch's dad) theatre company – there were more black theatre company's then. I read John Steinbeck's Of Mice and Men and I knew that I wanted to be a writer. I originally had a naive belief that I was going to be a footballer as there were no black playwrights at the time.

I always came top in English. I ended up working in McDonalds, Safeways and even enlisted in the army but pulled out – this was four years after the Falklands but ended up getting into acting and joined a youth theatre company and then went to Rose Bruford College for three years. It went very quickly and I spent my time reading more plays, going to the theatre more and read everything on the recommended reading list. Theatre Royal Stratford East commissioned my first play and I realised that writing suits me. I wasn't doing it for material wealth as that's never been important to me. I just knew that working a nine to five wasn't for me. I still get a surge of blood from writing but I also still get days where I hate everybody. But writing feeds my soul although it doesn't get any easier and it shouldn't be easy. I love it. It's a part of me and I'll never give it up.
What are the best plays that you've seen this year?
Che: Enron and Jerusalem.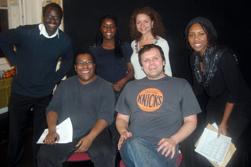 At the end of the debate and discussions on being a playwright, Che and Roy read some of their unfinished work. Roy read from his RSC commissioned play, Reunion which is due out at the end of 2010 and Che read from his play called Burnt up Love and a poem, This Girl has got me Prang.
We got excellent feedback from the event; here are some of the comments:

The evening provided a much needed space for discussing black issues within the theatre world. It gave great insight into the trials and joys of being a playwright and actor - engaging and passionate speakers - all very inspiring.


Nanette Daniels, London Black Expressions
I had a very good evening, very interesting, I really don't want to be a playwright or an actor, but I do like writing for me. I loved Che's poem, read with such gusto, he is funny. Roy has a great sense of humour, really enjoyed his synopsis of his new play. It has also encouraged me to go out and watch their plays. Yvonne Bryan


What did you enjoy most?
Relaxed atmosphere
Learning about the writers' history!
All
All of it- a nicely planned evening
Hearing their personal opinions on race and its relevance in their writing
The debate + hearing the writers work
All, helps to find what I like & what I could achieve
Listening

General opportunity to hear the writers speak
The discussions and readings
The whole evening was enjoyable
Getting to hear directly from the two playwrights in a totally accessible and unfiltered way
Learning what made them write
The writers reading their recent works
Discussion parts
Additional comments
Very appreciated, thank you!!
Send me the next one
Well done! A really good event, especially considering it was organised in people's spare time!
Well done for putting together a great evening
Well done – I didn't have any expectations but it was a great evening. It was simple & effective.
Good stuff
Thanks for a great event. The writers made an excellent pairing, V. Informative & entertaining.
Loved it!

Information on another Theatre Talk at Goldsmiths University
The Pinter Centre for Performance and Creative Writing at Goldsmiths University of London is engaged in a three-year AHRC Funded research project - 'Beyond the Linear Narrative: Fractured Narratives in Writing and Performance in the Postcolonial Era'.

African Diasporic Performance Practices is a major theme of this research and over the next three years, Goldsmiths and the Pinter Centre will be hosting a seminar per term exploring different aspects/themes of African Diasporic theatre and performance.

We are delighted to announce our second seminar strand:
'Writing the Self: Space, Performance and African Diasporic Identities in the UK',
- on 1st December 2009 at 5.30-7.30pm.
- Venue: Deptford Town Hall, Meeting Room 109

Presentations delivered by our distinguished speakers are: Black to the Future - merging biography and history to address the African Diasporic present and future' by Mojisola Adebayo, a freelance theatre practitioner, & 'The Mainstream presence of Black Playwriting in the first decade of the 21st century' by Dr. Lynette Goddard, senior lecturer in Drama and Theatre Department, Royal Holloway, University of London

The presentations will be followed by discussions, and finishing off with wine and nibbles. Places are limited, so please reserve by email: b.pester@gold.ac.uk



---
Related Links
ATN information on London Black Expressions and Afridiziak Theatre News annual theatre talk
ATN listings information on Not Black and White Season
Roy Williams' Guardian feature on black theatre
ATN interview with Dawn Walton, Eclipse Theatre
ATN interview with Jimmy Akingbola, Category B, Not Black and White Season
ATN review of Category B, Not Black and White Season
ATN review of Seize the Day, Not Black and White Season
ATN review of Che Walker's, The Frontline