Angie Le Mar, Britain's first lady of black comedy is patron of Afridiziak Theatre News
Published:

Sunday, 18 January, 2009 10:18 AM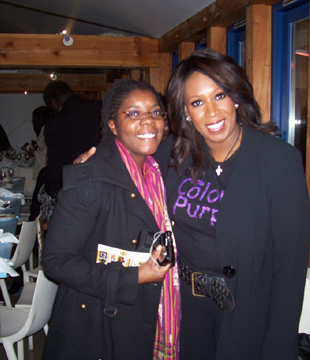 We are pleased to announce that Angie Le Mar is patron of Afridiziak Theatre News.
Angie Le Mar, said: "It is with great pleasure I except this role as patron for Afridiziak Theatre News; I am honoured to be a part of what I believe is both inspiring and needed.

Sometimes we don't know where to look to find work that represents us, where we can get a fair and honest review, Afridiziak Theatre News offers much more than theatre as above all it is supportive of the arts. This is long overdue!"
Sophia Jackson, said: "I am so excited that Angie Le Mar has agreed to be patron of Afridiziak Theatre News. We're looking forward to working with Angie, a hard-working woman, who is an inspiration and a force to be reckoned with, within the media.

She has made such an enormous contribution to theatre both on and off the stage, and I'm sure even greater success is ahead."