Congratulations to Paula B Stanic who won the 2008 Alfred Fagon Award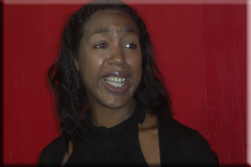 We would like to give playwright, Paula B Stanic, a pat on the back for winning the 2008 Alfred Fagon Award for best new play in English by a writer of Caribbean or African descent.  The award was presented by Yvonne Brewster OBE on Wednesday 3 December, 2008 at the Royal Court Theatre, Sloane Square. The reception was followed by a rehearsed reading of the play directed by Natalie Ibu
Paula B Stanic said: "Since winning the award I have just put my head back down and got on with writing. Made a few changes to the play from the reading and am working on a couple of new ideas. We'll see what comes. Had a meeting with Talawa and will be going in to see the Royal Court. The money really just gives me more time to write though I might splash out on a new printer. And yes it does still feel great. When you spend most of your time before a screen in the corner of your living room, it's fantastic to receive an award like this."
The award of £5,000 is given in memory of the writer Alfred Fagon. It is awarded to the author of the best new play in English by a writer of Caribbean or African descent resident in the UK and supported by the Peggy Ramsay Foundation. The Selection Committee 2008: Michael Bhim, Shah Husain, Winsome Pinnock, Ruth Little (Royal Court Theatre) and Roy Williams. The Advisers to the Award: Roland Rees, Yvonne Brewster OBE, Oscar James, Graham Whybrow, Sheelagh Killeen, Mustapha Matura and Paul Stephenson.
Now in its twelfth year, The Alfred Fagon Award continues to provide inspiration and recognition for playwrights of Caribbean and African descent resident in the UK., on 3 December 2008.
Alfred Fagon was one of the key black British playwright's of the 1970's and 80's. Born in the Caribbean island of Jamaica in 1937, he came to Britain and spent several years in Bristol. He was an actor and writer, with four stage plays and one television play to his credit. He died of a heart attack at the age of 49 in the prime of his career. His first play  11 Josephine House was produced by InterAction at the Almost Free Theatre in 1972, followed by Death of a black man  (1975 Foco Novo and Hampstead Theatre), Four Hundred Pounds (1983 Foco Novo and the Royal Court Theatre) and Lonley Cowboy (1986 Tricycle Theatre). His play Shakespeare Country was produced by BBC 2.