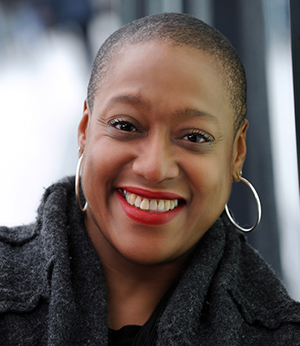 Not many people can lay claim to having co-directed the 2012 Olympics opening ceremony. But then few people have the gumption to found their own theatre company straight out of university. Paulette Randall is a producer, director, writer and actress (although she humbly says the less said about that the better) directing new play Rudy's Rare Records.
The former artistic director of Talawa says it's "a joy" to be working with lead actor Lenny Henry again after directing him in the phenomenal Fences. Written by Danny Robbins, the play is a stage adaptation of a radio show of the same name. Speaking to Randall about the show her enthusiasm and warmth is obvious as she extolls the importance of family and her love of directing.
How would you describe Rudy's Rare Records?
It's a play about three generations coming together and living under one roof in a Birmingham record shop. Obviously Lenny Henry plays Adam who has moved in to take care of his father Rudy and he's often caught between his father and his teenage son Richie. It's a funny play with plenty of great music. There's fabulous energy between the three characters and lots of genuine affection underlying their daily bickerings.
I want people to come and be surprised by the music they hear and get into it. It's going to be a mixture of classic reggae and blues with some newer genres.
Had you listened to the original Radio 4 show?
Do you know, I hadn't. I probably shouldn't admit that. I sound like such a philistine; you know, I watch Corrie. (Laughs.) But in a way I think that's been positive because I've come to the show fresh without any preconceived ideas. The writer Danny Robbins has had to make a big transition and alterations because a radio show and a stage show are different entities but he's done a fantastic job. We've just had our heads down; no time to play at all, but hopefully the proof will be in the pudding.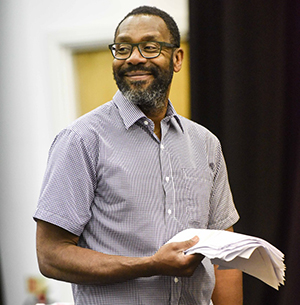 The play's soundtrack is going to be performed by a live band. What sort of hits are we likely to hear?
I can't tell you that. I want people to come and be surprised by the music that they hear and get into it. It's going to be a mixture of classic reggae and blues with some newer genres. I can tell you one track that's in it, A Message to you, Rudy but we're doing the original version by Dandy Livingstone. That's something we've really made a big effort with; we're making sure that we pay tribute to the right people.
Do you think music has had any part in past generations of African–Caribbeans being accepted into Britain?
Absolutely. Thanks to colonialism when people came over during the Windrush era, they already spoke English and were allied to the Queen; they believed they were coming to the Motherland; this was already their home. The reality was a shock I think. Jamaica is amazing, this tiny island that invented reggae. It's given us so much in terms of music and in terms of culture and it was something that young men in the UK were drawn to. The sounds of ska, dub, blues, jazz and so many others were introduced by the new black population and I think it has been a great leveller.
You directed Lenny Henry in Fences last year. Was that the first time you had worked together?
No. We can't remember when we first met, something to do with old age (Laughs.) But I worked for his production company Crucial Films which he used to have so I produced six short films for the BBC, and I also worked with him on a stand up show years ago. So, yeah, we know each other well and it's a joy to be working with him again. When he mentioned this play I went 'Well, it had better be me directing' (Laughs.). I'm a great fan and also I just respect him so much. He's an incredible human being and an artist so why would I not want to work with somebody like that?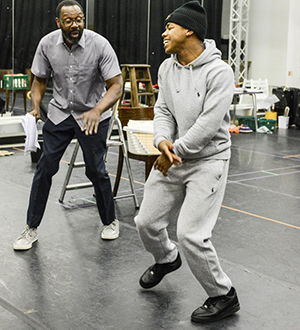 How did you enjoy directing Fences?
Loved it. Loved it. August Wilson is an extraordinary playwright, so it was amazing to get the chance to do that and I also think it was one of Lenny's dreams to play that part. So to do it together was just wonderful. Also I love working with him anyway, thank God! So here we are again.
Co-directing the opening ceremony of the Olympics is an incredible achievement. Has it opened any doors for you career wise?
No, funnily enough. The fact that I did that was because I'd had a working relationship with Danny Boyle which we worked out was about 30 years ago. Because of all the stuff I've done in television and producing he thought 'Actually, Paulette would be the right person to help me do this little show in east London.' So ironically that has not changed things, because if people didn't know that I was a director or producer before, the door has not been knocked viciously upon after the Olympics.
How was it as an experience?
Oh, can you imagine? It was so extraordinary; it was so amazing. It's a funny thing; so many people have said to me 'Weren't you scared?' Because none of us had done anything like that - none of us had ever done an opening ceremony of anything, certainly not on that scale, so we just had to get on with it and there was a lot to do.
You founded the Theatre of Black Women back in 1982. Thirty years on do you think there is still a need for specifically black or specifically female theatre?
I think it's lovely to have that feeling of grandparents, family and what that means in a show and to see three generations on the stage.
Well for me, absolutely. Because I felt that back in the early '80s there wasn't a platform I felt at ease with and I find it interesting that we're having that conversation again, about representation. At the end of the day it's just about telling the truth and if we simply did that it would make a difference. It's a bit like when people said to me after the Olympics 'We knew you were there Paulette because of the part with the Windrush and lots of other bits and pieces' and I said 'The biggest difference was that I was in the room.' You don't have to scream and shout, you just have to be there.' Then of course people realise they're not simply seeing a reflection of themselves, they're seeing something else and it makes them think and question and act differently.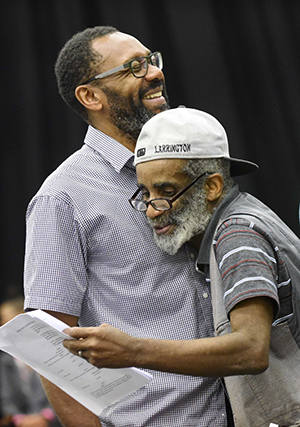 After this production, do you have any plans?
I do, I'm off to Chichester, doing Frankie and Johnny in the Claire de Lune. I've never worked in Chichester before and I've got Dervla Kirwan and Terrence McNally as the leads. Two fabulous actors so I'm excited about it.
You've worked in so many different spheres; acting, producing, directing, writing. Do you have a favourite role?
The less said about my acting the better! (Laughs.) I don't want this to sound cheesy, but it's whatever I'm doing at the moment. It's always the most fun, because you're in it and it's happening. I really love theatre, that's not to say I haven't loved producing or writing or any of the things that I've done. If I had to, gun to my head I'd say this is my baby, it's directing on the stage.
Why should people come and see Rudy's Rare Records?
It's going to be fun. I think especially right now, that recession that apparently is over but is still rampant in my life means it'll be nice to go and see something that just takes you out of that and makes you feel positive about being a human being again and family and those kinds of things that I think are so important. I'm jealous because I never met my grandparents. They were back in Jamaica and were probably 2,000 years old anyway by the time I was born, so although we had letters and photos I never got to meet them. So I think it's lovely to have that feeling of grandparents, family and what that means in a show and to see three generations on the stage.