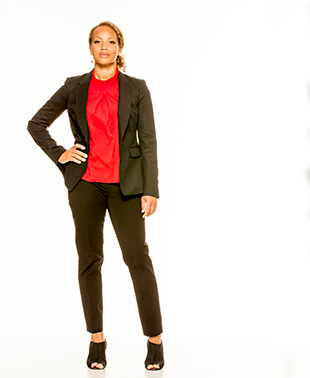 Since the tender age of 16 Angela Griffin has been one of the most familiar faces on our television screens. Her role as Fiona in Coronation Street launched a hugely successful career for the Leeds lass. Griffin has starred in our best loved dramas including Cutting It, Holby and Waterloo Road. The former teenage star has also cut her presenting teeth with daytime talk-show Angela Griffin and Friends. Last year the actress made the leap from television to stage playing Dolly in West end show One Man, Two Guvnors and it would seem Griffin is eager to tread the boards once more.
Currently in rehearsals for new play Breeders, I manage to catch the busy actress before her role call. Incredibly genuine and friendly, Griffin says the timing of our interview has enabled her to grab a quick and much needed Nandos. In Ben Ockrent's new play, Griffin plays Caroline; a successful professional who is planning on having a baby with her wife. I am curious to know what interested Griffin about this play, what her own take on parenting is as a mother of two and how it felt to lock lips with Tamzin Outhwaite.
In your own words how would you describe the play Breeders?
Well for me it's a modern look at what family means now and how far people will go to create family. Also how important genetics is sometimes when it comes to family. This is a lesbian couple and they want to have a baby that is genetically belonging to both of them and the play explores why that's important for some people. Also it explores same sex parenting; people's opinions on that. Is it right? Is it wrong? Especially when you're getting another family member involved. So I think it's exactly the sort of play I would like to go and see because it opens up a debate.
'Breeders' is a modern look at what family means now and how far people will go to create family.
Was the play inspired by the writer Ben Ockrent's own experience?
It was, yeah. A gay couple that he knew asked if he would donate his sperm for them to have a child. I don't think he ended up doing it in the end but that's what opened up the thought in his head and made him think it was worth exploring.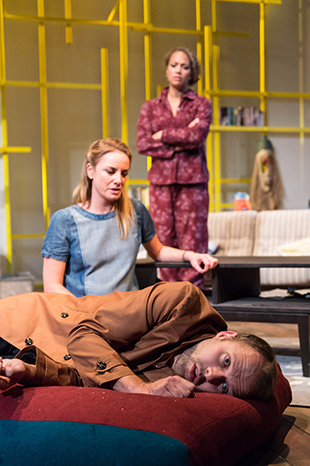 Same sex marriage in England was only legalised in July of last year and is still a contentious issue. Coming from Leeds have you noticed attitudes to sexuality being any different down south?
I would say not. I moved to London when I was 21, but when I lived in Leeds I used to go out quite a bit to the gay clubs. I think one of the reasons I went there was because I was on Corrie when I was 16 and the club-night I went to was called Vague and it was held in the Warehouse club. There were a trillion more interesting people than me there, so it didn't matter that Fiona from Corrie was in the corner there 'cos there was a guy in a paddling pool dancing in a pair or small underwear. It's always been around me. One of my best friends on the estate where I grew up; her mum was gay and I never in my youth ever experienced any homophobia. I know it goes on, but for me I would say it's as accepting and tolerant up north as it is in London.
In Breeders you play businesswoman Caroline. How would you describe your character?
She's a strong, clear minded, pragmatic woman. She's come from Leeds; we've developed her to have come from a working class family and then she made it to university and came down to London to work. When she puts her mind to something it's gonna happen. She may not think it through completely but if she makes that decision she'll see it through to the best of her ability.
Tamzin Outhwaite plays your wife, Andrea. How does her character contrast to yours?
In contrast she's a self-help book. Like Caroline when she wants something she's gonna get it but she's a lot more holistic minded and a lot more broad minded. I think Caroline quite admires that in her. She admires her freedom and her dreamy state; that she loves and feels and is ery aware of getting in touch with emotions. I think it's something that Caroline doesn't necessarily do so it's something she admires and loves in her wife.
If you transcribe to a traditional concept of gender roles it sounds like Caroline is the more typically "male" persona. On your talk show Angela Griffin and Friends during a few discussions you mentioned that you're the main breadwinner in your family. Has that ever been an issue in your own relationship?
I don't think it has been. There have been times when I had the babies when I thought 'Ooh, it'd be nice to stay at home and have Jason (Milligan- husband) go out and do the work now' but it was always a passing thought as opposed to wishing I could change my circumstances. I love my job and I happen to be the breadwinner as opposed to it being a choice. It just so happens that my job earns more money than my husband's but one day that may change. Whoever brings it in, brings it in. We're a unit.
Is acting as a gay woman any different to taking on any other romantic role?
It's exactly the same as taking on any other role. Generally if I'm playing someone straight and I'm in love with someone I will have to kiss the other person on the lips, look deep into their eyes and tell a complete stranger that I love them and want to sleep with them. It's just so happens that Tamzin's a girl who I'm doing that with. Unless it becomes a character trait and they're defined absolutely by their sexuality and there are moment when that discussion is raised in the play of what it means to be gay and why they're having the child. You have to look into that a little, but it is pretty much like playing any other character; they're all completely away from me. It's a bit softer sometimes but then I've kissed some soft lipped men as well.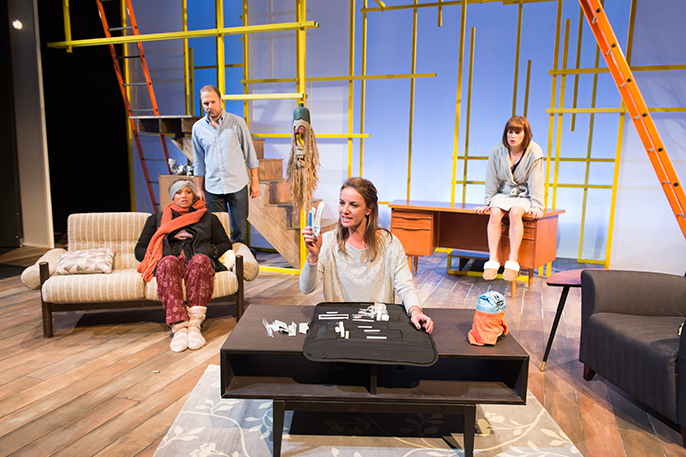 As a mother of two, what do you think makes a successful parent?
Oh wow! That's a huge question! I think a successful parent is someone whose children are still talking to them when they're 30. I think that's probably the measure of success; happy kids, if they're happy you've done it. Whether they want to work in Sainsbury's or have children at 19 or go to Oxford University. If you can produce happy adults I would constitute that as a success.
Can you see any reason why two women or two men wouldn't be able to do that?
Oh my God, no way! I can't see it at all. For me, I was brought up in a mixed race household so I was raised by a white mum and people would go 'But how does she know how to do your hair?' 'What about teaching you about your culture?' And oh my God, you just need someone who really loves you. Whether it's two women, two men, a single mum, a single father. As long as you have someone looking after a child who would do anything for them and loves them, that's all you can ask for. There's lots of people who don't believe that and think children should be in a household with a mother and father; I just think they might live in Victorian times and need to wake up to the world that we live in now where we're stepfathers, we're stepfamilies, we're adopted, we're mixed race, we're mixed everything and the world will be a better and much more tolerant place for it hopefully.
You got your big break in Corrie when you were only 16. How was that as an experience?
Yeah, I was only little. My first television job was when I was 13 but Corrie was my first big job. It was incredible. I don't think I understood what I was getting involved with; you don't appreciate anything when you're 16. But I look back now and think 'I was so lucky' and it was an amazing training ground. It still happens now that you get quite young people in the shows but I think they're a lot savvier. I don't think I necessarily knew what fame was at that time or how famous you could become from soaps. It was different then as well; the whole Closer or OK Magazine thing sort of erupted around the time that Tracey Shaw came on. It wasn't her fault obviously (Laughs.) But suddenly instead of it being royalty on the cover, Hello Magazine wanted people off the telly. How bizarre.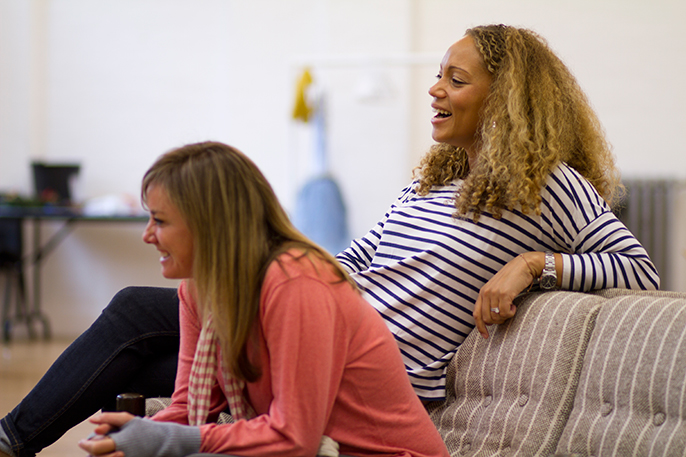 You're best known for your numerous television roles, but you played Dolly in One Man, Two Guvnors and obviously are now starring in this production. What made you want to take to the stage?
I started acting when I was five and I was with the Leeds Children's Theatre and that's where my passion for acting came from.
Well that's what I did when I was a kid. I started acting when I was five and I was with the Leeds Children's Theatre and that's where my passion for acting came from. We did two shows a year and then I was with a youth theatre company and I just happened to get into television. Once you're on television it's quite hard to break back into theatre, because I've never been to drama school so they didn't necessarily take me all that seriously. But once you've got one show under your belt it kind of opens up and hopefully it will be something I can continue doing; both television and theatre.
Why should people come and see Breeders?
It's a new play and it's always good to support new writers and new producers. It's funny, not in that it's a big old farce, but it's a funny look and funny take on life that you won't have seen before. And I'm in it! (Laughs.)
Info: Breeder is at the St James Theatre from 3 September to 4 October 2014. Book tickets