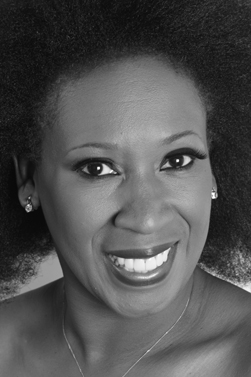 The limitless Angie Le Mar, television and radio personality, actress, writer and renowned stand-up comedienne, steps into her shoes and performs as she has never been seen before, under the direction of the esteemed, Olivier Award nominee, Femi Elufowoju, jr in a theatrical tour de force that transports her straight to comedy's edge.
Your new play In My Shoes is a one woman production. Where did your passion to play this role derive from?
I've always wanted to do a one woman show. I'm playing different characters which is something I never felt ready to do before. People know me as a writer, director, radio show host - the whole lot. But the one passion I've always wanted to do is stretch myself to tell stories through characters but through their shoes.
What should we expect from this show?
Angie as you've never seen her before, when I say that I really means it as I've never done it before. I feel quite scared, I'm writing it and I'm thinking, why would I write about this- that means I have to perform it? Femi Elufowoju, jr, the director said to me 'if the show is really Angie how we've never seen her; let's have you with your afro'! My initial reaction was your taking the Mickey right? He was like 'no let people see you how they've never seen you before'. So at the photo shoot I took out the cornrow, blew out the afro, took this photo and thought – that's a bit dramatic, but it was quite therapeutic.
You play the roles of a diverse range of characters such as a spiritual life guru, a teenager battling OCD and his best friend's tortured soul and a wannabe model amongst other things, which one of these characters could you most relate to or felt necessary to portray?
I can relate to all of them really because you don't know how you can affect somebody. Me doing this show is about me saying, I have stories to tell. The characters are very dark in areas but they have human qualities that others can say, yeah I know that person.
You show is called, In My Shoes. Whose 'shoes' would you like to walk in for a week in terms of inspirational leaders or pioneers?
Diane Abbott MP, because there's something about her and what she does and her consistency throughout her battles. Many times Diane has helped me out, just by being that solid black woman. The other is Oprah, now those are shoes I'd loved to walk in, even to walk into her wardrobe-, because I just love shoes. I see her in shoes and I'm thinking, you won't wear that again do you Oprah, I would even like to write a letter and say, you look like you take the same size as me. You see someone that you watch and you draw your life from her, when she's going through her stuff you're going through yours. She told you to read it; you read it and the things she told you to think about you thought about it.
For aspiring comedians/playwrights and those who are afraid to dream too big what advice would you give them?
Too big? You better dream as big as you can go. If you don't have a dream? Good night, have nice sleep. I haven't stopped dreaming yet, you don't think I'm trying to meet Oprah? I met Whoopi Goldberg, but I want to work with you Whoopi now. My dreams are so big, and the minute they get small I might as well say come and take me God. I don't want to get to heaven and God says to me, oh you didn't do much come and do some work up here! I would like him to say, you look mash-up! Come on go and get some rest because you've lived your life, because you've dreamed big.

These kids right now don't have hope, they're not holding onto anything they think they're life expectancy is 18, that's why they can kill each other at 14, somebody is telling them their dream is over but their dreams have just begun. My message to young people is whatever you dream, plan it out and if you need to get a degree go and get one, and if you need work experience go to where ever it is and stand outside that place and wait for them to walk out and tell them I've always admired your work I'd like you to mentor me, because most people don't say no. Block out the world, block out the rubbish music and block out the news.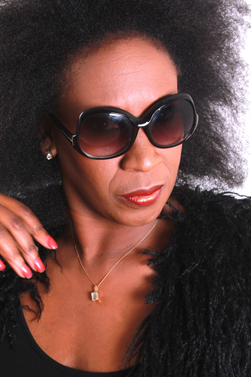 As a child you battled with dyslexia which almost aided you to use your jokes as a method of escapism from the words, unfortunately this lead to your expulsion from school. If you could go back how would you change this time?
It was only when I was diagnosed from school I actually felt quite upset, like oh no so there was a problem, I didn't know there was a problem. I know that when you're dyslexic and you hear somebody tut as you try to read, it breaks your heart because for that minute you feel stupid. If I could go back I'd like to go back for the education I think I deserved. I was too busy getting kicked out and cracking jokes. I never new what it was, it wasn't until one day I was doing piano and singing lessons at 18-years-old and my teacher asked me if I could see what I was reading? I was like yeah and the frustration of her recognising that I was stupid, made her tell me not to worry, don't throw a tantrum I just think you might be dyslexic and I'm thinking I don't need a wheelchair what's that about? To make matters worse is the hardest thing to spell is dyslexia for a dyslexic person.
What inspires you to carry on – who would you call your motivation?
I really love what I do, if you said to me you'll be on stage at the West End for the next five years I'll be like wow that's amazing. Give me a stage and an audience and pay me. What keeps me going is the audience response, to know that I thought of something, wrote it down, performed it and the audience applauds and says yes we agree, you can't buy that, and that's what keeps me motivated I really love it.
You have three children how have you managed motherhood and your career, have you created a balance?
I think I have created a balance, some people say you can have it all but you can never have it all because something will always be loosing out. My children are really balanced, I was surprised when my son left university and said 'mum I want to do standup'. I said why the hell do you want to do that for? Now he's doing that now and my second son is off to you uni and he does singing and he's becoming a standup, I can see it and my daughter's hilarious. Her timing's second to none- she'll have you coughing your food out. I've got a balance because I can work from home, I had a bit of a rebellious streak when I had my first two boys but when I was pregnant with my daughter I wanted to get married and for her to come home everyday and see me there and smell cakes even if they were bought from Greggs.
Where do you see yourself in five years time?
Not here! In the sun for me if I could, I'd be in the Caribbean sun tomorrow. My parents are alive and I'd like to be with them in Jamaica. The way my mum built her little dream Dynasty and Dallas home, when I go there I think to myself why am I in England again? I've pretty much had it with England right now, I don't want to say this is it or I don't want to do it anymore. I just know that I don't want to do it like this. I can't be sitting here in ten years time doing an interview at the Albany, because something has not moved on. I'm not getting any younger and I don't want to be running up and down shouting remember me! That's why I've got Straight into Audience Youth because I'm training up young people to produce and direct so they can know what I do. I give them the tricks and show them this is how you do it - forget what they told you, because it's there to confuse you. There are also plenty of opportunities in the USA, they can't wait to experience this show. Atlanta, Manhattan, and Washington DC is where the show is going. They can't wait because it's going to say 'UK' and they'll experience a black woman who looks like them – but speaks like this.
Info: Angie Le Mar's In My Shoes is at Soho Theatre from 15 Oct – 5 Nov, 9.30pm | www.sohotheatre.com
---
Related links
Angie Le Mar's official website
Do You Know Where Your Daughter Is official website
More on Angie Le Mar on Afridiziak Theatre News
Afridiziak Theatre News interview with Femi Elufowoju, Jr.