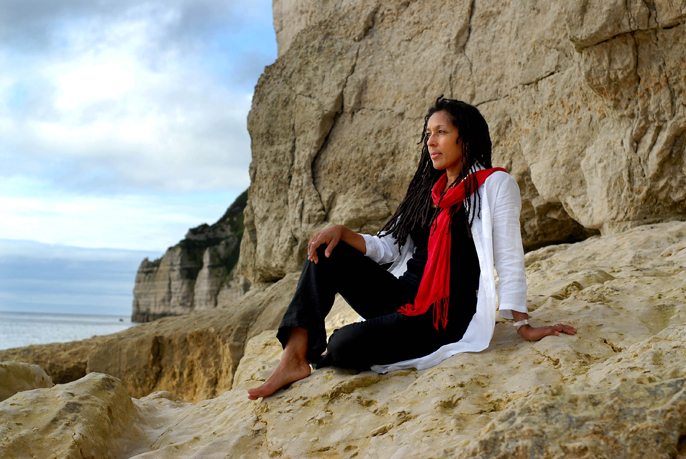 Deborah Baddoo MBE is married with two children, aged 16 and 10. She is artistic director of State of Emergency Production which was established in 1986 and works with her partner who is the director. Deborah has championed black choreographers for more than 20 years and has initiated careers and set a precedent.
This autumn she will be promoting a tour for under fives called Mini Mission from State of Emergency, following 2009's Mission Possible and other previous Mission themes. The tour kicks off this month and we were keen to find out more about this phenomenal woman and her journey and impact on the dance industry. Deborah also commissioned internationally acclaimed South African choreographer Gregory Maqoma to create Desert Crossings a unique work inspired by the Jurassic Coast World Heritage Site, which will tour nationally in spring 2011.
State of Emergency provides opportunities for performing artists in the field of dance and music covering a wide range of projects, including events, tours, vocational and educational training, festival, recording, choreographic commissions etc. The organisation is at the forefront of pushing the boundaries in the profile and the development of black dance in the UK by making positive changes in the national dance ecology and working both nationally and internationally towards creating a strong place for black dance in the national culture.
What finds you in Scotland at the moment?
I'm at my mum's as she lives in Glasgow and I'm going to combine the trip with some schmoozing. When my dad died she married a Scottish man and I'm here with my daughter. It's good to be here at the moment as I'm going to the Edinburgh Festival then I'll be going back home to Somerset. I used to be a London girl but moved from Hackney to Somerset about 13 years ago which is where State of Emergency is based and we have a high profile up there. My MBE is opening doors but I feel that some people didn't realise what State of Emergency was and now they look at us more closely.
What was your childhood like and how did your family feel about you pursuing a career in dance?
I studied ballet from the age of four. My grandmother was a dancer and my mum was also into performing arts and theatre. It's in the family. As long as was able to look after myself mum was happy and thrilled with me taking up dance. By lecturing I used my subject in a more sensible way and not just as a performer.
What are the struggles of being a dancer?
Being black you always felt your body was wrong for ballet. This comes up a lot with black dancers; there is an aesthetic on what your body does. I remember pointing my feet to the point of almost breaking. I've known dancers who have had breakdowns because their bodies are wrong and they loathed themselves because their body didn't go the way they wanted it to. It was a struggle but I've used that energy and rebellion to push myself forward.
Is it difficult working in the dance industry?
It's an insecure, badly paid profession to go into. In the commercial sector there's money but to be an independent dancer it's crap really. State of Emergency employs dancers for tours but it's job by job. It's going for auditions and putting your soul on the line. I hate auditions as you see people working their butts off but you can only choose a certain amount of people. I feel moved at auditions and hate saying 'you haven't got through'. It's a damn hard job and I know a lot of the dancers auditioning so that's another struggle. For Mini Mission, we had 140 applicants and 90 per cent were excellent so we had to look at what would fit as a company. It proves two things - that people feel we're a good company to work for and there's so many dancers looking for work. We pay equity rates and that's not well paid. The selection process is awful. You have to have a passion as dancers do it because they love it.
How do you maintain a certain level of fitness?
Being a dancer is physically demanding and you have to still train when you're not working by going to classes at least three times a week. I go to the gym three or four times a week and you have to eat properly. I'm quite obsessive as being a dancer makes you quite body aware. Fitness wise I'd like to think that I still have something to say with my body. I nurtured Bawren Tavaziva's (Tavaziva Dance) career and helped him showcase his work – that's a great example of investing in people.
Earlier this year you were made an MBE on the Queen's Birthday Honours List for your contribution to British Dance. Congratulations. How did it feel to receive such an accolade?
When I got the envelope with her Majesty's stamp on the front, I was totally thrilled and amused that little old me was going to meet the queen. Part of me feels it's the monarchy and if I was Lemn Sissay I'd give it back. But it's nice to be acknowledged, it's a recognition which gives a bit of status in some areas. I'm going to make it work for me. It's nice to be recognised after so many years grafting away. It's given me a lift and I've been on a momentum since then with this renewed energy. In a way, my mum is more thrilled than me. It was a breath of fresh air and people have emailed me and written to me with congratulations and it seems to be that those three letters give you more credibility in certain circles. I was written to by a Dame congratulating me on this headed paper, so perhaps I can get sponsorship for State of Emergency if I can nurture these circles. When you go to other countries like the US and South Africa it means more abroad than it does here.
Who are the people that you admire in the dance industry?
Bill T Jones'– I've followed him since the Eighties. I like his left field approach to choreography and his multiracial casting.
What is your favourite form of dance and why?
I like a fusion of style, I like contemporary dance that fuses other influences. Traditional dance forms don't do it for me. Black choreography in the UK is more interesting and cutting edge. I'm into dance with emotion and a lot of dance now is sterile and formulaic, with Western and European audiences they don't like emotion. I remember being in South Africa watching a piece and this German woman next to me loathed it because it was too emotional. This company Salia Ni Seydou, Bakina Faso, they combine African dance with contemporary in a very spiritual way using live music and it's very symbolic. I went to the Dance Umbrella festival in 2008 and it was so special I was speechless.
How has the black dance industry evolved over the years?
State of Emergency has done research called Altered States where we interviewed 75 choreographers around the country. The research has been very eye opening. Now we're working with the Arts Council to develop things over the next ten years. The report shows in black and white what's actually happening.
So what changes would you like to see in the dance industry in the future?
There is loads of biased and racism in the dance sector whether it's inadvertently or not. Perceptions are bound that there's not a lot of good quality work in the black sector and there's not a lot of good work from black choreographers. It's crap and I fundamentally disagree with that generalisation. I'd like to have a more comprehensive easy to see infrastructure with organisations supporting each other and having specific roles to facilitate the development of black dance by mapping the sector and working together more. I'd like to see a whole tour friendly network for black dance forms and the development of middle scale black dance. I'd like to see national dance agencies with more engagement in diversity. A few do but a lot don't. The racial equality action plan isn't being enforced across the board. I'd like venues to go and see more diverse work and to report back that they've programmed diverse work otherwise nothing will ever change.
You commissioned choreographer Adesola Akinleye to create a magical children's show Mini Mission: The Jingle Dress, which will be touring nationally in the autumn. What's it like working with children?
As a choreographer Adesola Akinleye, who has worked with the Dance Theatre of Harlem does a lot of work with children. She's tuned into how children learn. Jingle Dress is based on a native American story and it's about the healing power of this dress, finding your own voice and being happy with who you are, she devised a lot of it and worked with children to see what worked and what didn't work. It's an interactive piece where the children in the audience join in. It's a gentle show as I find that some children's productions can be quite brash. There are also workshops held in tepees which have culture baskets which include things from the show. The tour includes 23 dates and we hope to take it to America and Canada.
---
Related links
www.stateofemergencyltd.com
Afridiziak Theatre News review of Mission Possible: Dads and Lads Move (2009)
Tavaziva Dance presents Heart of Darkness.