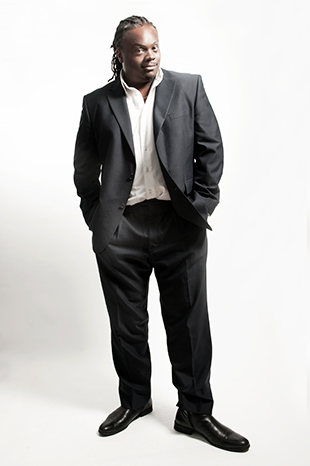 Since 2005, stand-up Quincy has been tickling audience's funny-bone with his particular style of meditative musings. The former MC and BECA award winner has a uniquely open approach to comedy. No subject is off limits as the presenter uses his routines to share his own experiences of loss and being a single father. Currently touring as a double bill with Dane Baptiste, new show Black to Black is inspired by Quincy's own upbringing in 1970s East end. Very much living up to his title as the Cockney Prince, the Canning Town native greets me with a booming "'Allo love!" As we discuss troublesome teenagers and growing up next door to the National Front, Quincy is irrepressible in his desire to see the funny side.
Are you showcasing any new material in Black to Black?
It will be a mixture of new material and there's a theme to do with it as well. My set will be family orientated about my experiences with my mum and dad growing up in a West Indian household in the east end of London. There'll be just general stories about raising my boys. Also a lack of general understanding of the British public with dogs and things like that so various subjects.
There's some personal things that I've gone through with my boys that I've turned on its head and made into funny stories. I always make sure my shows are relatable to the public.
How many children do you have?
Two boys and a young girl. They do come into my sets a lot because my comedy is personal. You could say emotional. It resonates with parents who are currently experiencing the joys of raising teenagers and it reflects to teenagers of what they're possibly doing to their parents. So there's some personal things that I've gone through with my boys that I've turned on its head and made into funny stories. I always make sure my shows are relatable to the public.
How do you go about turning a painful event from your life into a stand-up routine? Is there a process?
My show Quincy: Single Mum was a healing process and I'm a believer in that you can turn anything into a positive. I'm not the only one unfortunately who's experienced loss. I'm not the only one who's experienced teenagers going off the rails. When you go back on it and have addressed the issue and gone 'I can't believe I done this' you can laugh about it. So when you readdress past issues it's easier to make it into a routine and it's far more relatable as well 'cos the audience are far more in your world. So it becomes things that they can think about when they leave the theatre.
Is there anything that you wouldn't talk about in a comedy routine?
(Instantly.) Nah. (Laughs.) If I can talk about the loss of a partner I can talk about anything. For me there isn't a subject matter I wouldn't talk about, but it's how I talk about it. I wouldn't talk about serious matters and cheapen it with cheap gags for shock value. For example right now I wouldn't talk about Ebola. I might talk about it in the future, but I will treat that particular subject with the delicacy and the gravity it deserves. Everything I talk about is true to my life; I always tell my boys and my daughter what's going on, and they know that as a comedian I will exaggerate the story to give that comedic effect. They have no problems with it whatsoever. I talk from the point of view of making people aware. If I can make people aware of something and they're laughing about it and thinking about it, I've done my job.
Do you consider being a thought provoker part go your job as a comedian?
I wouldn't say a thought provoker. I would say my material is open and emotional. I find the feminine gene of engagement within geezers. I say geezers, I mean men. (Laughs.) I always say when I'm on stage that I have a feminine side to me. When I'm in a room full of stags or men who are typical lads and I talk about my relationship with my children and sensitive subjects they're able to relate. When people see my appearance and what comes out of my mouth it highlights more what I'm saying. I always find the feminine gene within lads.
You are the Cockney Prince, so it's a great honour to be speaking to you. Do you think there's a particular kind of comedic spirit that comes from the east end?
I think when you have areas that are potentially deprived or have experienced struggle they tend to have the best comedians or artist so to speak. When you've experienced struggle you do want to laugh, you do want to try and look at the brighter things in life. You find that with a lot of successful Irish comedians who've experienced hardship in their life; Irish people are known around the world as comedians. You find that a lot of black comedy is based on experiences though history, and Jewish people as well; they've turned it around through humour. Humour has been a forefront of most minorities to get them by. In the East end, growing up it wasn't easy. I was one of only three black families in my neighbourhood in the 70s. In that area I had the EDL and National Front as neighbours; I went to school with their children. It was really weird because one on one they treated me and my brothers as one of their own, but they'd be marching on a Saturday afternoon.
So because of their politics, your neighbours could be friends with you privately but not publicly?
I don't really know what their viewpoint was. One of the best stories was I was playing football with some friends in the park when I was about 11. There was a big rally with placards and chanting and I knew nothing of it. One of my neighbours met me at the corner and said to me and my friends "You've gotta go home. Just go home." So he sent us home and we walked away but when I turned around I saw he was actually now standing with the marchers. He was part of the rally. I'm of age now where I can see the funny side of that. He didn't need to come and warn us. He was a stereotypical skinny kind of guy who could have been in trouble if he was seen speaking to us. He obviously had some kind of love in his heart. So including that in my set I would call emotional comedy writing. I've given you different levels of emotion. I've given you the emotion of the hard-core skinhead. The emotion of young black boys in the area. I've given you the emotion of compassion with him warning us to go home. Then his returning to the hard-core being in the march doing Nazi salutes. (Laughs.)

Originally you were a DJ. Do you ever miss being part of the music scene?
Occasionally, but that was a different part of my life and I love what I'm doing now. Originally I DJ-ed with Idris Elba. We grew up together and he's a good friend of mine. We played clubs like Twice as Nice. As a group of friends all of us have gone off and done different things in the arts. Myself, I've gone into comedy. Idris is well established actor. Another friend of ours is now a singer and is currently in the Lion King. Another friend became a model, so it's all forked off in different ways. The beautiful thing about it is that when we do see each other we just talk about what it was like growing up. We don't talk about work; we're just lads again.
For example right now I wouldn't talk about Ebola. I might talk about it in the future, but I will treat that particular subject with the delicacy and the gravity it deserves.
How did you go from being a DJ to a stand-up comedian?
Well when I was a DJ-ed I always used to be on the mic, so I was always chopping it around a bit. At any party there's always one friend who tells jokes or livens the party up and in my group it was me. One day when I was DJ-ing for a party the sound system broke down and to keep the crowd there I started talking to the audience and telling jokes. My friends said 'Quincy, why don't you do this on a full time basis?' Then when my partner passed away I didn't know what was around the corner for me. Next thing you know I went on a course, a six week course at the Keith Palmer's Comedy School in Camden and the rest is history. You were told 'We can't teach you to be funny, but we can give you the tools.' I do believe that stand up is a very individual art and I do think you have to have some kind of personality and people skills to do an art form such as that. It still amazes me when I go into an arena and can make people laugh, and I've been doing it full time since 2005.
Are there any comedians who've inspired you in your own work?
Dave Allen. He was one of the first comedians I saw who my Dad used to watch. I got the latter stages of Richard Pryor, but for my generation it was more Eddie Murphy. The Dave Chapelles, the Chris Rocks. The Steve Harveys are very influential in what I do and my style of comedy.
Why should people come and see your show?
People should come and see Black to Black because you are getting two comedians who are headline comedians. Two comedians who I would say by this time next year will be up there with the best on TV. You are seeing a show with a difference. You will see a show with depth, emotions and personal stories. You're getting a show which I guarantee you'll be thinking about in a positive light when you leave the theatre. You'll be thinking but you'll be laughing.