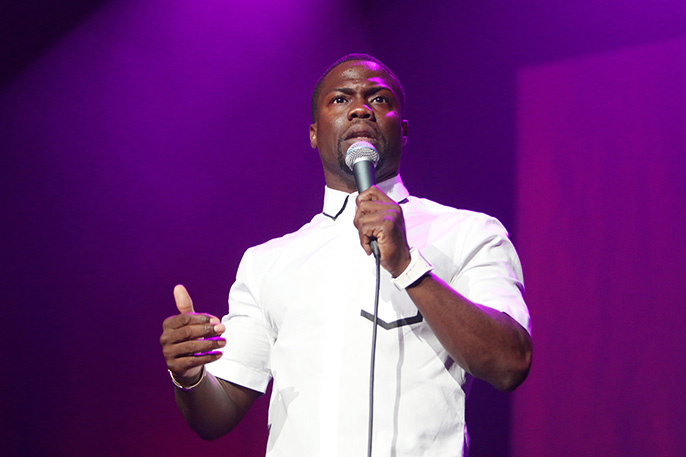 So before all the madness of his Hartbeat Weekend, Kevin Hart was able to spare a few moments of his time to speak to us journos. He spoke to us about HartBeat, comedy, his love for the UK and what's on the horizon.
Hartbeat Weekend is an opportunity to come to London and bring other people that have not had the opportunity to come before, with me.
There was a cacophony of noise while we all waited for Hart to enter the room to start the interviews. We were all poised, licking our lips to be the first to greet him on his entrance. As the doors opened, he strides in, cool, calm and collected, because to him this is not his first rodeo. He knows what he needs to do. Not only is he a successful comedian, Hart has developed himself in many other fortes, he writes, produces, gosh he even acts. He identifies himself as a brand, and he does not disappoint.
Diminutive in size but not in presence, he certainly held his own in a bevy of frenzied questions. He greeted us all with a smile as he walked over to the red leather couch; we all greeted him in unison.
The interview was ready to begin and we fired at him from all directions. We had been all vying our time to ask the right question, our questions. What struck me about him was, he just seemed so down to earth, there was no ego and he appeared funnier in person than he does on screen. He comes across as driven and humble.
He answered as many of the questions that he could and knocked them out the park.
Stand up is a rehearsal of stories that you practice over and over until you get the right recipe - the right taste. Not everyone is going to like the taste, but you want it to have a lingering affect. Here he was able to give responses, that weren't rehearsed for comedic intent but to draw you in. His conversation showed inklings of his humour but also of the person he is.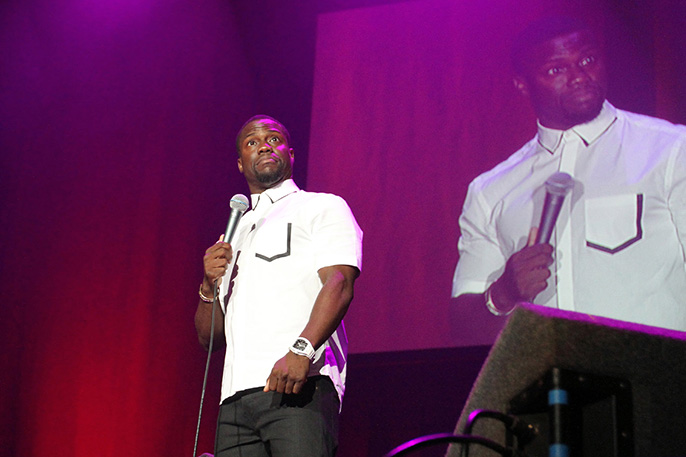 Hartbeat, is what Hart describes as 'An opportunity to come to London and bring other people that have not had the opportunity to come before, with me.' Thankfully for us, he chose London as the place to showcase this talent. HartBeat is all about branding and he felt like the UK was a great place to push his brand. He already has a following here, so why not give the people what they want? SSE Arena Wembley was packed out; people came in their droves. Although Hart was not the sole headlining act, his name was enough for people to buy tickets and turn up. It didn't matter in what capacity- a little bit was just enough. It just goes to show the sheer magnitude of this branding so far. It is definitely something that he plans to bring back every year, 'Bigger and better.'
Out of the four acts that were chosen to perform, Kojo was the lone British act flying the flag for us. What was it that Hart liked about English comedy? He honestly saw no difference, to him why add the title 'English'. Comedy is comedy. It was clear that Hart loves comedy because to him it comes in all shapes, sizes and colours. As a comic himself, he is naturally a fan of the ability to make a joke that everyone can get. There is no distinguishing between USA and UK, comedy is universal. He is not satisfied with being known as funny in America, but funny wherever he goes and hence why London was top of his list to come.
Some advice from Hart to those future comics out there: "appeal to everybody; stay focused and understand it is a lot bigger than where you come from".
"I am at a place now, I can go on a world tour, travel the world doing stand-up comedy and making everyone laugh."
I am at a place now, I can go on a world tour, travel the world doing stand-up comedy and making everyone laugh.
So, what does Hart have planned for the future? We know he has some films on the way, look out for him staring with Will Ferrell in "Get Hard" and another film coming out in January called "Wedding Ringer". He even confirmed his role in the remake of the 'Intouchables'. He will be working alongside, Oscar winner, Colin Firth - someone who he cites as an 'amazing actor'. This movie will give us a chance to see his skills in a dramatic, rather than a comedic role. It is a role that does not daunt him; he firmly believes that he has the 'chops for drama'.
"I believe that that everything happens when it is suppose to. You don't rush it and this is a prime example of what happens when you are patient, the right thing will come along and this is definitely the right thing."
This man is not content with making movies; he already has plans for the year ahead with his comedy tour next summer, which he will be touring through to 2016. He says he will bring his world tour over here and looking to do multiple shows at the O2- so, watch this space. For those that love, love 'The Real Husbands of Hollywood', expect season three to be the 'best season' yet. He not only acts in it, as a persona of himself but produces and writes it too.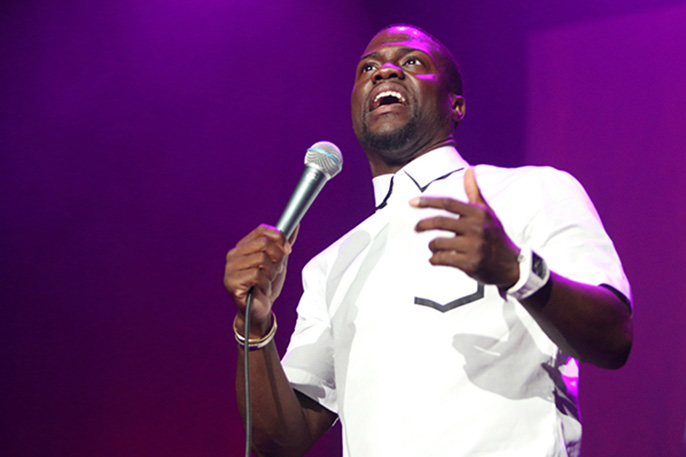 As a self-proclaimed hard working man, here are a few words for those aspiring to be more: "actions speak louder than words, put your best foot forward and work at your craft. I don't sit down and take a minute off. I read books and the hard work pays off".
Although he is a multitalented man, he got here and stays here because of his determination and drive. He works hard at what he does and is a force to be reckoned with. He's known as someone who studies the successes of people and also the failures. To not only know the sum of the person but the possible pitfalls of success and how to be better.
As he concluded the interview, thanked us and made his way out of the room, I felt like I had a glimpse into the reality of what goes on with famous people and the true hard work and tenacity that keeps them around longer than that 15 minutes of fame. Being known as one thing is not enough, being funny is not enough, and you have to brand yourself to be many things to have a successful career. He is a fine example for all of us.
Related links
Hartbeat Weekend August Alsina live, hosted by Kevin Hart has been cancelled