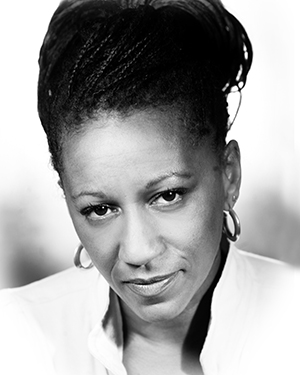 Her roles in EastEnders and Family Affairs have made Clare Perkins a familiar face on British television screens. Her upcoming role in Marcus Gardley's new play The House that will Not Stand is a world away from Walford market. Set in 1836 New Orleans, Perkins describes the historical elements and magical tones of this mostly female production. As we discuss the show and her role as Mary Josephine it is obvious that the Lewisham girl has done some serious delving into the Louisiana background.
Enthusiastic and warm, Perkins laughs a lot throughout the interview despite it being her lunch-break. As I am educated on plaçage, American Indians, Voodoo and ground-breaking 1980s theatre, I find out what makes this "A peach of a part in a dream of a play."
How would you describe the play?
First of all as a wonderful, magical piece of writing. It's an amazing story and the characters are just amazing. There are six female characters; three of them being over 40 which is great. Everyone says about there being a lack of roles for women of a certain age, a lack of roles for women of colour and this play has it all. It's also got great history. It's based on historical facts about New Orleans and the system of plaçage. It's sort of like being a mistress; it involves wealthy white men marrying or having relationships with women of colour, but it also enabled these women to be relatively free financially and to own property. It's an interesting period of American history where Louisiana was owned by the French, sold to the Spanish, given back to the French and finally sold to the United States. So that meant for people of colour everything would be changing.
here are six female characters; three of them being over 40 which is great. Everyone says about there being a lack of roles for women of a certain age, a lack of roles for women of colour and this play has it all.
In Louisiana there were a lot of European men who had no problem marrying women of colour. In other states you couldn't even be free. So it's like a little pocket of the states that was an antidote to what was happening in the rest of America in terms of slavery. I'm not saying these women had fantastic lives; the system of plaçage was a kind of slavery for some. That's fascinating and the play also has elements of magical realism which I love. I can't big it up anymore. I just read the script and decided 'I want to be in this.' Originally I went up for the part of La Veuve but then there was the part of Mary Josephine; the mad sister. I was like 'I want that part!' So when I got given it I was happy. (Laughs.)
So your character is the mad sister?
She's kind of like the mad sister but there's been a lot of debate in rehearsals about 'Is she mad?' (Laughs.) Basically she's been in the house for about 20 years for various reasons. I'm not sure I should give too much away, there's many elements to it.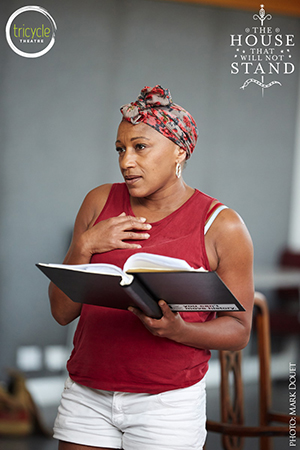 From a historical perspective, what sort of research did you have to do to play this character?
I've looked at the social structures and the systems that were in place at the time. There's a few books in rehearsal about the free people of New Orleans. The Creoles saw themselves as not white and not black; so in order to progress in society your aim would be to marry a white or a light skinned man. So for someone like Mary Josephine who falls for a black man, it had to be curtailed as it were. She's rather a free spirit but you can't be a free spirit in those times because of the constraints of society and family. I suppose it still happens in certain cultures today.
You have to be seen to be making the right choices in life; ones that don't go against the cultural and traditional standards of the day. Sometimes that can be very dangerous and detrimental to a woman's life. I don't want to link it to honour killings, but it all comes from the same mentality. 'You will do what's right for your family so we can all be seen to be doing what is perceived as right and proper' rather than doing what you want because you're in love. That strain kind of runs thought the play. Beartrice who is the matriarch of the house has three daughters and has herself has been part of the plaçage system, but she doesn't want her own daughters to be involved in it. It's very eye opening and a bit of hidden history that we don't know much about.
This is a largely female cast. Have you ever worked with a solely female cast before?
I have before. Many years ago I worked at the Women's Theatre Group which was like a feminist collection and later became Sphinx. We did a play called Lear's Daughters which was like a prequel to King Lear and that was a great experience. I also did Fabulation here at the Tricycle and that was all female with Jenny Jules as the main protagonist.
You mentioned earlier how three of the actresses in this play are over 40. Why do you think that's unusual?
I think that people think youth sells and we all want to see young pretty things. But in drama it's much more interesting if everyone isn't young and pretty. Obviously young and pretty's good! Everyone's young once, but we all mature. Drama and theatre and even film and television are all about seeing life reflected in art. So it's a great opportunity to see several women of a certain age on the stage. Also the younger women are strong in their own way. So it's like having role models for all as well as versions and reflections of ourselves and the lives we might have lived in previous times. As well as that there's parallels between the play and the way some women in the world live today. It's a peach of a part in a dream of a play. (Laughs.)
That's a lovely quote! As this is set in New Orleans, is Voodoo and magic a big part of the play?
There is some magic in the play. Just this morning we had a great session with an expert on Voodoo, Santerìa, the African gods and this man explained a lot to us. I think luckily in the cast we're all of the mind that Voodoo is not something to be feared. I think there is a western view of Voodoo that it's all dark arts and raising people from the dead when it's not. There are many religions all around the world and it's only the ones from Africa that are considered demonic. That obviously goes back to black being linked with everything bad and Africa being full of savages and nothing that's intelligent or civilised. We all know that isn't true but the belief about Voodoo does persist. It's about offerings and expectations from the universe and the clearings of obstacles in your life and the doings of good. It's all of that.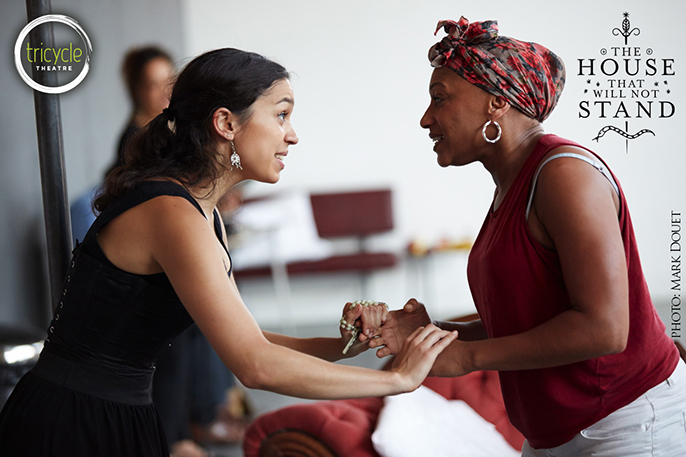 A few years ago there seemed to be a lot of exposés about dark practices occurring in London. It was termed Voodoo. Do think this play can dispel any of those preconceptions?
The Night That Will Not Stand has beautiful women, fantastic actors and an amazing story. You'll be informed, educated and entertained.
But that's not Voodoo is it? It's sick people doing unspeakable acts and then the media or people who are scared of it call it Voodoo. Killing children is murder; it's deplorable and has nothing to do with Voodoo whatsoever. Offerings in Voodoo are more likely to be fruit or water; like the offerings you would offer to deities in Hinduism. I think it's like witchcraft; if you use the word "withcraft" you automatically assume hexes are going to be put on people, a man's dick will drop off and he'll turn into a frog - whereas traditionally witchcraft is about herbs and healing. I do personally believe in magic. I believe in the unknown, but that doesn't necessarily mean raising people from the dead. It could just be that you want your passage to be smooth on a certain day and your wishes are heard by the universe and they're granted. I think this play could be an eye opener for some people about Voodoo, because so often it's all bad press.
What was your first professional acting job?
After Rose Bruford College my first professional acting job was a play was called Stamping, Shouting and Singing Home, which was actually an all-female cast. I can't believe I forgot. (Laughs.)It was about a slave called Sojourner Truth who ended up speaking to congress, with a famous speech called "Ain't I a Woman?" and I played her fictional great granddaughter. It was at the Watford Palace Theatre and we were the first cast to put on that play. So that was brilliant and that was how I got my equity card. In fact one of the actresses who played my sister is still my best friend to this day so it was a fantastic experience.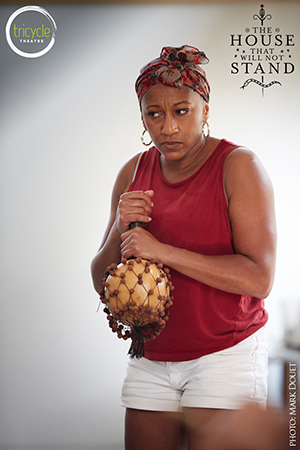 This is a historical narrative. You're probably best known for your television and film work in urban dramas such as Bullet Boy. Do you have a preference?
Yeah, I suppose I am. I don't know if you remember the play Ragamuffin, but I was in the cast of that and sometimes on the street people really surprise me and go 'You're that woman from Ragamuffin!' (Laughs) Which I love. I was 22 at the time and it's amazing that a piece of theatre has stayed in peoples' minds for so long. I love it all in terms of work. I'm a more than avid reader; I love stories so to be part of a good story and to be working with people that inspire you is one of my greatest joys. If I had to put it in order I would say theatre, then radio then film or TV. TV is great, but I don't want to be playing the same role for many years, I quite like variety.
Do you have any favourite authors?
It's funny you should ask, the other day we were talking about Alice Walker's Meridian. I've loved that book since I was a teenager and I got to play Meridian in a production directed by Paulette Randall. We got to perform it for Alice Walker; she had tears in her eyes and kissed us all and that was a highlight in my life. Recently I've had a whole thing about Cormack McCarthy. It's gorgeous writing and it's all about the American dream and cowboys which is funny because it all bleeds into each other with my work. I've just read this book about the Comanche Indians and in this current play's setting, Louisiana was a place where many runaway slaves would be taken in by Indian tribes. A lot of the people in New Orleans have Native American heritage as well. It's odd; sometimes I'll read a book and be interested in something and then an acting job will come up that's somehow related to it. Maybe that's a king of Voodoo. (Laughs.) It's all in the cosmos and it all flows in together. I have to take it as a sign that I'm going in the right direction.
Why should people come and see The House that will not Stand?
Because it will be a night at the theatre that will have everything. It's got beautiful women, fantastic actors and an amazing story. You'll also be informed, educated and entertained.
Related links
Afridiziak offer – Special £10 early bird offer for performances between 9 and 18 October 2014.