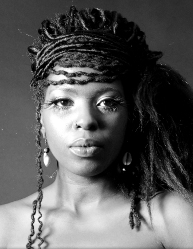 Currently on a national tour with her solo show Amsterdam, poet Chanje Kunda is exceptionally busy. Inspired by her own experience within the eponymous city, Kunda explains how she sought to revolutionise the poetic form with this work. Talking to Kunda from Paddington station, the artist speaks animatedly giving an insight into her vibrancy as a performer.
As she describes leaving Manchester for the Netherlands in pursuit of love, the interview is full of anecdotes and laughter. When I ask what happened with her Amsterdam Amor, Kunda tells me to come and see the show where all will be revealed.
You're touring and have travelled a lot with your work. Do you have a favourite place that you've performed?
At the Calabash Literature Festival in Jamaica, on Treasure Beach. I had a podium on a golden beach and a turquoise ocean behind me. (Laughs.) So that's my favourite so far.
It's live performance poetry, but Amsterdam is also an epic narrative with a dramatic structure and obstacles and suspense. It has all the classic features of theatre and film in that it's taking the audience on a journey but the language used is specific and poetic. Pull quote: I'm performing Amsterdam in small-scale venues where it's intimate. I will recite for them, I will dance for them, I will move them and I will take them on an emotional journey to another land.
You spent a year's artist's residency in Amsterdam. How did that come about?
Well, I went for a weekend break to Amsterdam with some girlfriends and on the last day I met a Surinamese man who I found rather charming. So we exchanged email addresses, got talking and a long distance relationship started. I wanted to see if I could get some performances in Amsterdam and make some contacts so I could visit him. In Manchester there was an international arts festival called Contacting the World and the woman who runs Poetry Circle Nowhere in Amsterdam came to it. She told me about the Black Magic Woman Festival in Amsterdam and after performing there I began getting more work in Holland. Then as my relationship was progressing I decided that I wanted to move there and was told about this creative community called Heesterveld in Amsterdam which was offering an artist's residency. So I got the post and me and my son moved to Amsterdam for a year. While I was there I performed in different parts of the Netherlands like in Rotterdam and Eindhoven and wrote this collection of poetry.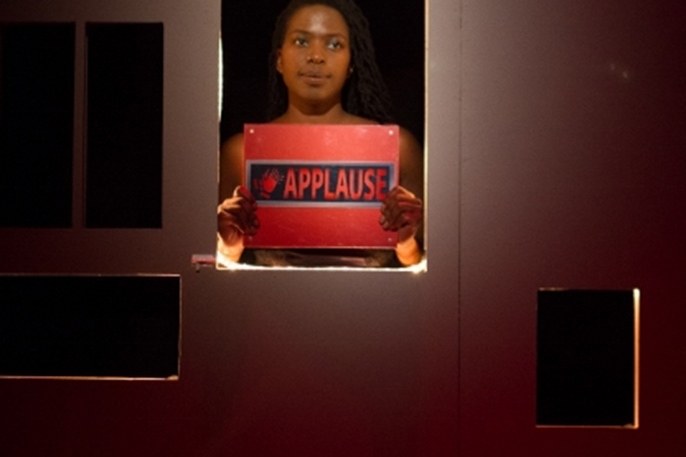 How did your son react to the move?
Really well. That was one of the amazing things about it; I've not heard of an international artist's residency where you're allowed to bring a child. It was an amazing opportunity for me and for my son to live in a different country. He was glad to come home so he could see all his old friends and his family, but since being back he loves reminiscing about the things we got up to when we were there.
Did you learn Dutch during your time there?
Everybody in Amsterdam speaks English. Amsterdam is a hard place to learn the language because when you meet people they want to practice their English. My son was nine at the time and the children don't learn English until high school. So he learnt Dutch while he was there which was amazing. Sometimes he would do the translating for me, so I'd be like a typical African parent whose child is translating so that was funny. (Laughs.)
Obviously this collection of poetry is about your experience in Holland. What are the main themes of the work?
Really, the Amsterdam journey was about a love story, but I also fell in love with the city. The beautiful canals and the 17th century architecture. They've got gorgeous lush green parks and a really vibrant night life. They've got so much culture and so many opportunities for artists both in Amsterdam and in other cities in the Netherlands. However in the play it also features my mum and other voices who were warning me against moving away. Lots of people said that Amsterdam was no place to raise a child. Also in the UK I've had a very successful career. My son had been growing up there and I had a house and so it was quite a risk to leave behind my home and all my possessions and take my son away from his extended family. So the story of Amsterdam is about love and lust and the dichotomy of being a mother but also being a woman and how you can be able to pursue your own dreams and desires and juxtapose that with responsibilities.
You combine many different elements in this show. How would you describe this work?
It's live performance poetry, but Amsterdam is also an epic narrative with a dramatic structure and obstacles and suspense. It has all the classic features of theatre and film in that it's taking the audience on a journey but the language used is specific and poetic. It's directed by Juliette Ellis who also directs film. Her directorial style is very pictorial and abstract so the performance is presented in a very live art style. I've also got a movement director Darren Pritchard so the show is also very physical. Dan Steele is the sound designer and he's created a wonderful cinematic soundscape to go with the piece. What I've also aimed to do is revolutionise the form of poetry and spoken word. I'm not standing behind a mic; I'm moving, I'm dancing, I'm interacting with the props. A Dutch visual artist called Melanie Bonajo did an exhibition called Furniture Bondage and we've taken some of the visual elements of the exhibition to express part of the story. So as well as having a very engaging and emotional story, it's also visually and phonically absorbing.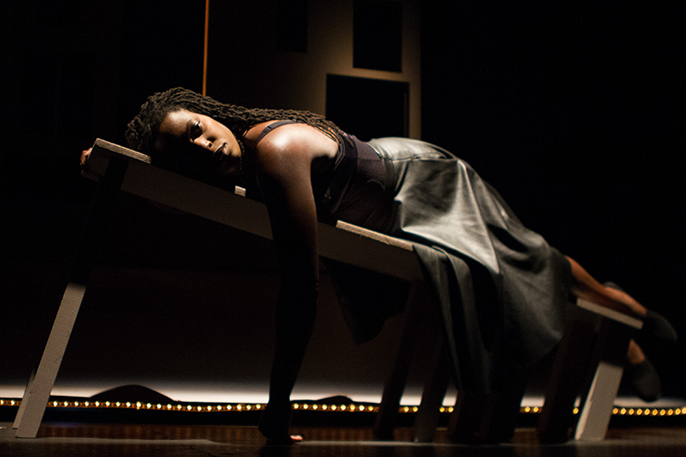 What do you think performance poetry can express that other art forms can't?
I think that with poetry it's to do with exploring the beauty of words and what words can do. There are many similarities between poetry and music such as rhyme, meter and simile and metaphor. It's a way of being able to express things that are emotional in a way that people can engage with. I also had a review from Write out Loud who said that the poetry in this piece is "gorgeous." I wanted the language to be very lush and rich and flowing, so I'm very pleased it achieved that. Really, poetic language is beautiful and takes you away from the mundane.
What have been the main inspirations for you as a poet?
I first got into poetry because of a book by Maya Angelou called And Still I Rise so she was the person who triggered my love affair with poetry. Also with nineties hip-hop like Wu-Tang, the artistry within the rhythms gave me a love of language. I was really inspired by Ol' Dirty Bastard. (Laughs.) I think he was gifted; he had such an unusual style which nobody has had before or since. The humour in his lyrics and his word play was so exciting. Lyrics like "I dipped my dunkin' between your doughnut." His use of alliteration and the metaphor of something sweet and delicious, as well as his humour was just so fantastic. Few people can express sexuality using poetic devices and combine it with humour and machismo. Recently, working with Juliette Ellis who has directed a lot of live art, she's inspired me to combine live art with poetry. She really motivated me to move away from traditional poetry and use performance as part of my work. So that's rather metamorphosed what I'm doing with my life.
Can you remember the first poem you ever wrote?
I always used to write journals, back from when I was a teenager. I think I always had the urge to write; whatever I was thinking and feeling I would write it down. Then when I was sixteen someone gave me the collected works of Maya Angelou and I was inspired by her poems, especially Phenomenal Woman and that gave me the desire to want to write poetry. I did theatre and media studies at Huddersfield University and while I was there I was getting commissions to write poetry for festivals and things so it really took off from there. I have spent my entire career as a poet. I've been able to start a poetry business and live a good life being a full time poet so I love poetry for that reason. (Laughs.) It's done a lot for me.
Where's your family from originally?
I was born in Zambia. I came to the UK when I was seven-years-old and grew up in Manchester. I do go back to Zambia to visit relatives. Even in my play Amsterdam I do refer to Zambia as well; that's part of my heritage.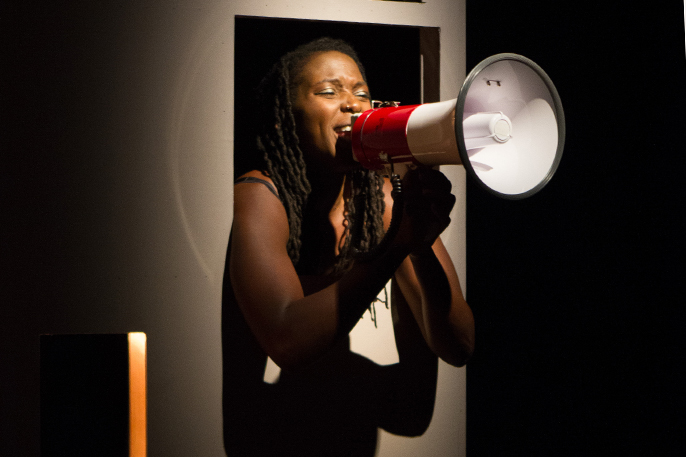 Has that transition from Zambia to the UK at such a young age informed any of your work?
I have written about it in some poetry. Looking back it was quite a shock to the system. I had never experienced what it felt like to be cold; the only reference I had to cold was things that are in the fridge. Also being the only black child in the school; the response of the other children was difficult. So I have written about it in some work and I am also part of this organisation in the north called Global Link. As part of Black History Month I do workshops in schools where I talk about Zambia and share poetry about my experience being a young African person and coming to the UK. What I think is good about the workshops is that black history is usually centred around slavery, but Zambia is a landlocked country and so never had slavery. In fact the Lunda tribe where my mum is from conquered the land they're on in the fifteen hundreds and it's stayed as their base. So my African heritage definitely plays a big part in the work I do with poetry and young people.
Why should people come and see Amsterdam?
I think living in a digital age where people are glued to their iPads it's a wonderful experience to come to a live event and have people perform for them. I'm performing the show in small scale venues where it's really intimate. I will recite for them, I will dance for them, I will move them and I will take them on an emotional journey to another land.