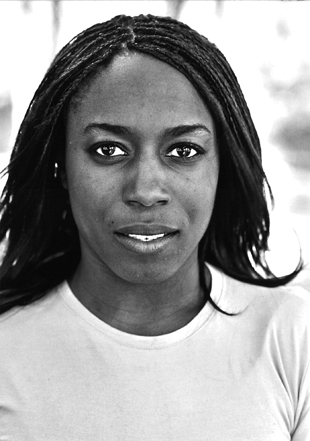 British actress Sharlene Whyte is preparing to tread the boards for the first time in five years. The Nottingham born artist has been rather busy filming, her most famous roles being in award winning BBC series Waterloo Road and children's drama Tracy Beaker. Whyte admits she is nervous about her upcoming role in debbie tucker green's new play nut but is up to the challenge. She begins the interview with an apologetic heads up that she can't say anything about the play, inkeeping with tucker-green's usual approach to press. With me choosing my questions carefully we discuss tucker green's writing, Whyte's career thus far and her future plans to found her own drama workshop. Whyte is charismatic, her voice rises and falls throughout the interview giving a sense of her dynamacy. In an interview with a distinct tone of mystery, Whyte ignites my curiosity about this exciting new production.
How are rehearsals going?
It's relaxed at the moment. It's the first day of getting it up and seeing what it looks like and walking and talking at the same time. Lots of multitasking! (Laughs.)
Can you describe you're a character in nut?
Yes I can, briefly! She is a working professional person. She's about 35 years old and lives in London with her daughter.
Obviously the plot of the play is being closely guarded. Why do you think that decision was taken?
I don't think debbie tucker green gives much away generally in her productions. In my experience of her stuff it's a case of turning up and seeing what happens. I suppose it's to maintain the story so when you come it's a story for you to discover for yourself rather than it being spoon fed. I've only done my bit so far I've not seen what the other cast are doing. Obviously I've seen the script but I don't know how it's gonna be staged or what they're going to look like. I'll find out in rehearsals and it keeps you on your toes because it keeps it all fresh and exciting.
Have you seen any of debbie tucker green's plays before?
I was in one of her first productions about 10 years ago, I was in born bad. I've heard a lot about truth and reconciliation, which I heard, was brilliant but I wasn't able to see it. Her stuff tends to be a little more challenging for the audience. I've not seen her work recently so I'm excited to see what she's gonna do in terms of staging and lighting and all of that.
A decade on how do you feel you have changed?
I think it takes a while to hone your craft anyway; I'm a different actor now than I was then. In fact I was pregnant during her show. So it's funny this time around my little boy turns 10, so he's too young to see the show. I'm just a different actor, maybe a slightly different approach, but then saying that 10 years ago I'd not long left drama school and you tend to be a bit fearless and confident. I think I've just come back a little bit older and am a little more jaded, not so excitable as I was once upon a time.
How are you feeling about being on stage again after mainly working in television?
I am nervous, I'm not gonna lie. It's been a while. I haven't been on stage since 2008 when I did Treasure Island at the Haymarket Theatre. It's a great challenge, I am really looking forward to it. To just have that instant gratification; that instant reaction from the audience that you don't get in telly. If something's funny when you're filming nobody can laugh or make any noise but in this you know if your performance is effective or not. So I'm excited about not being able to go for a second take. Also the play is being performed in The Shed which is so intimate; it's only 235 seats so people being in such close proximity is adding to the pressure. People can see the whites of your eyes and you can see theirs. But as I say, I'm looking forward to playing in that spot, it'll be like being back at my drama group when I was a kid.
Which drama group did you go to?
It was a little group in Nottingham called The Television Workshop. They were in the Independent the other day actually. Lots of people have come out of there, back in the day Samantha Morton went there and more recently Vicky McClure went there. Quite a few people have come out of t.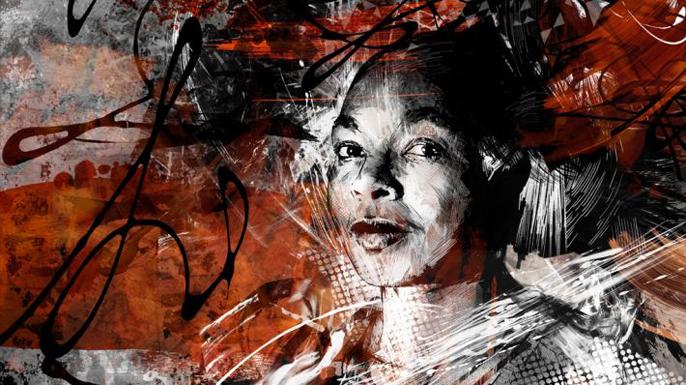 Is The Television Workshop how you initially got into acting?
Yeah, it is. I went to The Television Workshop when I was 12 and continued doing my little bit of acting for years. I've made so many good friends; a lot of my friends in adulthood were made from there. That's where it started off and casting directors would come down and they still do. If a writer needs ideas they'll go to the Workshop and brainstorm. It's a good little spot.
Did you have any inkling that acting would be your future career?
Absolutely NOT. I was only doing it for fun! But my mum sent me to tap and ballet school from when I was three, so she knew something even if I didn't. I wanted to be a lawyer which is still something to do with the stage and performance in a way. I got a spot at university to do law and a place at RADA. There was a moment when I was like 'Should I do law or should I go run around London and pretend to be an animal?' The place that was offering law was close to my home town which is Nottingham and RADA just seemed nice and far away so I thought 'Let me see what's out there.'
Your two most famous characters in Tracey Beaker and in Waterloo Road are both involved in social work. Do you think that's reflective of anything?
Well I was only 25-years-old when I got Tracey Beaker; I was a kid! But I don't know, I guess I must just look mature and responsible. It would make it sound like it's not far from me or the person who I am, but it's just an acting job isn't it? It's a facet of who I am I suppose; I used to get a lot of auditions for lawyers as well strangely enough. I must just have an authoritative face and voice and exude some sort of authority. I think I do; I work with kids anyway. When I'm not acting I'm teaching drama. At the moment I'm working in supply but in the future I want to set up some sort of drama scheme. I do work well with kids and kids respond well to me, so working on these kid's programmes is great in terms of getting to work with young people.
Why should people come and see nut?
You should come and see nut because if you know of debbie tucker green you'll know you'll be in for some theatre that will have an impact and if you don't know debbie's stuff then it's time to get to know it. It will be amazing; the writing is as ever phenomenal and you will be in for a treat.
Info: nut by debbie tucker green is at The Shed, National Theatre from 30 October to December 5, 2013 | book tickets
Related links
nut by Debbie tucker green – Afridiziak e-newsletter