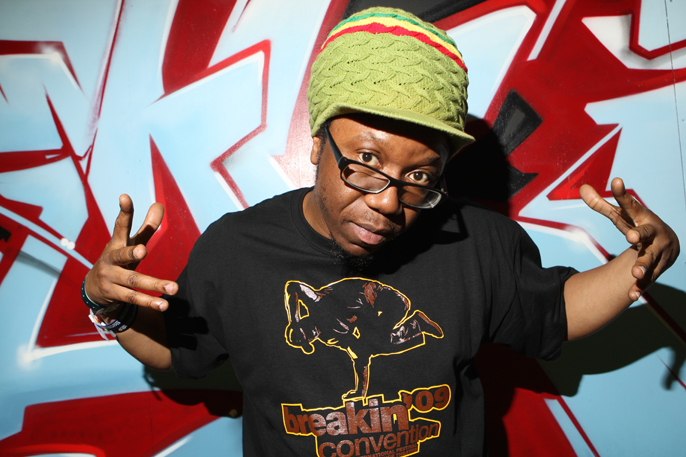 Jonzi D has been at the lyric-spitting forefront of the British hip hop scene for almost three decades. Jonzi devised and directed TAG… just writing in name in 2006, IVAN in 2006 and Markus the Sadist, a rap theatre piece in 2009. All pieces toured the UK to critical acclaim. As an MC and poet, Jonzi has worked with The Roots, Steve Williamson, Mannafest, Lenny Henry and toured with Gangstarr. He appeared in HBO's Def Poetry Jam, Channel 4's Faking It and his pieces Silence da Bitchin' and Aeroplane Man were screened on Channel 4.
In 2007, Jonzi was listed as one of the top 10 positive black musical role models by MOBO. As artistic director of annual festival Breakin' Convention Jonzi has been a key player in pioneering hip hop dance theatre in the UK. His upcoming tour of triple bill production Lyrikal Fearta includes new piece Broken Lineage which Jonzi has collaborated on with emerging artist Ivan Blackstock. During the interview the renowned choreographer reveals how he feels hip hop has changed throughout his career and how his own dedication to the culture inspires his work.
How would you describe your new piece Broken Lineage?
It's an abstract piece but still we're being quite obvious about the stuff that we're playing with. Basically we're looking at generations and the difference between old skool hip hop and new skool hip hop. I'm working with Ivan Blackstock who is one to watch in the word of contemporary dance. I'm excited about working with him on this project because he is I guess from the new skool generation so we're bringing a lot of our own stories to it. Interestingly there is another layer of meaning on this and that's to do with father son relationships.
Do you consider yourself part of the old skool?
I think that's pretty undebatable, even though I'd like to consider myself part of the new skool simply because I'm here, but I was here in the first place of Hip Hop in this country. Just because I look 22 doesn't mean that I am. (Laughs.)
What would you say the main differences are between the old skool and new skool?
Movement is a language as well as the spoken word so when I'm in a theatre space I'm interested in using many forms of language; so I like to use text but I also like to use my body.
I think that in the old skool in Britain, which is basically early 80s, unlike in New York, which was early 70s, the experience here was that we didn't know what it was. We were discovering it as we were learning it; the little bits of images we'd see on TV, the few records that were released and the few people that would travel to New York and come back and tell us about culture. It wasn't handed to us, we had to look for it. Now it's completely in your face; so much in your face that I believe it's been co-opted and a lot of the original values that had been set up with hip hop have been compromised and have become corporate now. A lot of the energy around hip hop now is around how much money can be made for record companies, for TV shows or for fashion houses as opposed to the relevancy that it has for the community which was what it was when I first got into it.
Your piece The Letter is a response to being offered an MBE. Why did you decline it?
The name. Empire for me is not cool. I am opposed to the idea of empire; that one nation has governance over other nations and usually that governance comes at the end of a knife or the end of a cannon. So for me to then wear a badge of excellence about my own personal abilities and to have this 'empire' name associated with what I've been working hard for as a black person in this country wasn't something I wanted. As someone who's gonna present a dissenting voice to a lot of what this society throws at me to then say I'm a member of the British empire feels hypocritical.
Why did you choose to do The Letter as a choreopoem as opposed to straight monologue?
Movement is a language as well as the spoken word so when I'm in a theatre space I'm interested in using many forms of language; so I like to use text but I also like to use my body. Sometimes I also like to use music and projection, but the point is all of these formats are a part of expression. So long as they're all contributing to the same narrative I think it's much more interesting to see a message conveyed in different ways.
This tour is a triple bill, your two works and 'a top Hip Hop artist.' Is the third performance going to change throughout the tour?
Yes it is! This tour is really about giving some amazing artists a platform for their work, so throughout we're going to have some incredible new faces rapping, dancing and bringing their new stuff to the audience.
You're an associate artist at Sadler's Wells. Do you feel the company is supportive of contemporary and non-classical dance?
I think increasingly it is. I wouldn't say ten years ago, but since Alistair Spalding has been artistic director he's made a real big effort to present new dance and new perspectives. I feel what they've got here is a good balance between commercial ideas and art.
This is the tenth anniversary of hip-hop dance theatre festival Breakin' Convention. As the artistic director of the project, what are you trying to achieve with it?
I think it's trying to say that excellence comes from many different parts of society and hip hop as a discipline is so excellent and so amazing that I've always questioned 'Why is it not in spaces like this?' So for me it's about bringing this excellent culture and modifying it as in presenting theatre with hip hop discipline, which is something that I think we've always been doing in the streets anyway. In the context of theatre we can work with lighting and explore different types of music and narratives so it's about saying to the world that hip-hop is relevant to the arts scene.
You've mentioned how a lot of your work is about the experience of being a black man in Britain. Would you say that the hip-hop culture is inclusive in terms of being welcoming to non-black people?
Um, yes. Simple answer. If you go to any hip-hop event in London the answer will be there in your face. At most hip-hop events there are more white people than black people.
You're taking Lyrikal Fearta to places like Inverness and Lyme Regis on this tour. In the past, how have more provincial areas responded to urban theatre?
They've responded with an overwhelming amount of joy and satisfaction particularly 'cos a lot of their children are able to connect with Breakin' Convention. A lot of other art forms might be patronising and not the most exciting thing for an adult to watch. Breakin' Convention is truly a show for the community, there's something for everyone. So actually in these provincial areas I think we help families in that they'll go to the theatre and the kids will think their parents are the coolest people in the world and then the parents feel really cool as well. So I think it's all very positive in terms of the Breakin' Convention experience now. Jonzi D; that might be slightly different because of the political nature of my work. Sometimes it can be difficult for people to hear some of my more militant views. I don't know as I haven't toured this particular Lyrikal Fearta work yet so it's hard to say.
What do you consider your most militant views?
If you want an alternative viewpoint performed with honesty and ambition, with amazing music from Kwake Bass and amazing vision from Ivan Blackstock, then come and see Lyrikal Fearta.
I find it difficult because I personally don't think that my views are militant, it's only when I have a conversation that I come across as a raving lunatic. (Laughs.) Let me say that diversity I don't think is about diversity; it about being non-white. Whenever I hear a diversity argument I'm really not convinced that it's about anything other than the status quo being challenged by people at the top. So within the arts for example, when we see 'diverse art' all of a sudden we see people of colour but typically when we see art we see white people. When you look at the classical ballet, or other classical art forms be it opera or whatever you might get some Asians in there but usually it's European people. I think it's a response to the lack of colour that there is, especially where funding is concerned. I mean the ballet companies and stuff get shedloads of money every year with no argument but whenever there's anything to do with the diaspora or anything non-white then funding is more of a struggle and it goes into the diversity basket.
Why should people come and see this production of Lyrikal Fearta?
If you want an alternative viewpoint performed with honesty and ambition, with amazing music from Kwake Bass and amazing vision from Ivan Blackstock, then come and see Lyrikal Fearta.
Info: Lyrikal Fearta is on tour until February 8, 2014. See listings
---
Related links
Lyrikal Fearta – Redux, review