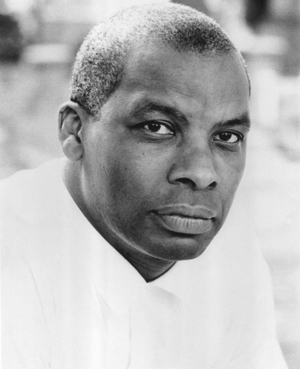 The most fitting word to describe acting veteran Don Warrington is charming. Currently playing the iconic role of Hoke Coleburn in a national tour of Driving Miss Daisy, Warrington appears to have a great affinity with the character. Having worked with the National Theatre, Royal Shakespeare Company and in countless television series throughout his 38-year career, Warrington is refreshingly honest. The actor turned director candidly shares details of his childhood and how the live dance offs on Strictly left him utterly terrified. Genteel to the last, upon ending the interview Warrington humbly discloses 'It's really a rather good play.'
How do you interpret your character Hoke Coleburn?
I think he's a man who has a lot of personal integrity. I think he's a very simple man, he's an honest man and he's a man trying to survive in a very unfriendly, unfair world. But he kind of gets on with it, he's carved out his way of doing things and that's what he does. He's a guy who wants to provide for his family and wants to live with dignity and respect which was very difficult in those days in America, because segregation was rife. He couldn't live in white apartments, he had to sit at the back of the bus; all the things which we now see as history was his everyday reality.
My mother died in 2005; so I took the MBE on her behalf. She would have been very proud.


Growing up in England, how easy is it for you to relate to the race relations in America?
Well it's not hard. A lot of the information one has automatically. We knew a lot about what was going on and the struggle that was taking place in America. I think every black person identified with it in one way or another, so in one sense what happened is quite clear in my mind. I mean not in terms of experience but in terms of getting the information and remembering those great figures, those martyrs, people who put themselves on the line; that's ever present. I don't think one loses a sense of that at all.
How do you feel the relationship between Hoke and Miss Daisy develops over the twenty five year period that the play covers?
I think what happens is she's antagonistic towards him because he represents a loss of control for her that she doesn't want to relinquish, and the more she gives to him the more she realises that she is losing it as it were. She wants to hold on to all the things that keep her independent, she's a fiercely independent woman, and he works to make sure that she is looked after, that's what he's been employed to do. He's very pragmatic, Hoke, he doesn't see that there's anything wrong with her having a driver, she can afford it, why not? So it starts off on that kind off on that kind of level and I think as with any relationship it grows over the years, to the extent that they become, as best they can, friends. She becomes dependent on him, him less so on her curiously. He decides to visit her, he decides to be nice to her. I suppose in a way it's symbolic of that relationship between black America and white America, one can almost see it in those terms in that there is this dependency, that exists and towards the end of the play, one sees that.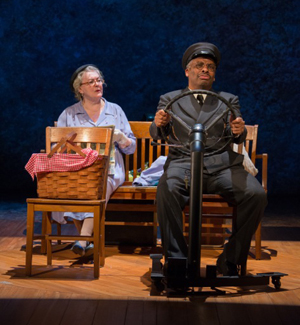 This is the second time you've played the role of Hoke; the last time was in 1993. How different is it portraying this character with that much more experience?
Well it's also about age, I'm several years older than I was then so I suppose in a sense I understand the aging process much better than I did then. Things I would need to do then I don't need to do now. It was a long time ago so it's quite hard to remember, so in a way locked in me somewhere is the sense memory of having done it, but in another way one has had to start from the beginning again and try not to think about how it was then.
Do you consider age to be a levelling influence?
Well it depends in what sense you mean, I mean we all get old. But I suppose if you're talking about privileged and not privileged I think the thing about aging is that if you have a good life then the aging process is probably easier. If you're a manual labourer or have to do hard physical work your body suffers more. Illness aside. So it's not a leveller in that sense but in a diminutive sense of course it is.
You immigrated to Newcastle from Trinidad as a very young boy. Do you remember any of your life before you moved to England?
Yes I do. Yes I do. It's very vivid with me. I was five or six, certainly very small. I think the removal from Trinidad to England was a pretty powerful event, I suppose it changed my life forever. I don't think one forgets that or if one does it eventually comes back to you. It was pivotal in many many ways.
Well when I became an actor I was very naive and I thought that all actors had to sound vaguely posh, so I imitated the actors I came into contact with and ended up with this voice.
In what ways was it pivotal for you?
Well I think that every immigrant had to cope with the shock of arrival and that has a powerful effect. I think that shock goes on throughout life really, because you have to develop a way of living that you wouldn't have had you not made the journey. It becomes more vivid the older I get. I think there was a time when it was better not to remember because one was busy getting on with what one found, then there comes a point where one starts to put the pieces back together. I think it has been helpful; we all have to come from somewhere so it's quite good to know where we come from.
Has your entire working life been spent as an actor?
It has yes. I'm diversifying a bit now; I direct a little and I try to produce a little. I directed a play called Rum and Coca Cola and last October I directed a play called The Coloured Museum. These things more often than not are a case of opportunity. Somebody asked me if I would and I said yes because I wanted to find out how it would go and it has been a very happy experience.
Has your own experience on the stage been central to your work as a director?
I think it's important; I'm not sure how central it is. It is important because one can understand what actors go through, so in that sense one has a degree of empathy. But directing is also another skill in being able to be objective about the whole, to have a way of interpreting a play.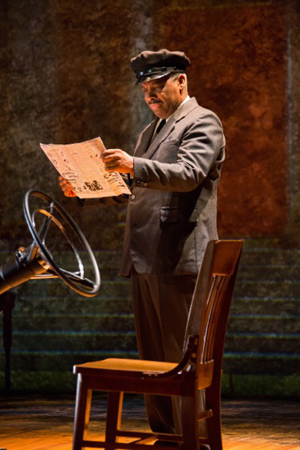 You're probably best known for playing Christopher Smith in the sitcom Rising Damp... (I hear a good natured sigh down the line) Oh dear, do you mind?!
I don't mind, it's just a long time ago and I don't think about it at all. It always amazes me that people still associate me with it but they do.
I suppose it's so memorable because it had a principal character who was black but wasn't just there to facilitate awkward social scenes. He was a character in his own right.
I guess that's its appeal. But for me, I did it them, it worked I think people seemed to like it and it's hung around ever since. It would be nice if other things stood out too, I don't suppose anything will stand out as much, but I'd like other things to be remembered as well.
You have a wonderfully distinctive speaking voice. Is that something which you put effort into or did it come naturally?
Well when I became an actor I was very naive and I thought that all actors had to sound vaguely posh, so I imitated the actors I came into contact with and ended up with this voice. Who knows what my natural speaking voice is, one has many speaking voices I think. I'm Trinidadian, I'm Geordie, I'm an actor. We've got loads of different voices really and I suppose I move from one to the other according to what is required.
How did you get into Strictly Come Dancing?
Again, I didn't really know what it was. They'd asked me a couple of times and I'd said no, and then my agent said 'Why not?' and I thought 'Well, why not?' and I loved the dancing. I loved learning to dance, I love that discipline and that challenge but I found doing the show on a Saturday night utterly terrifying.
What made you say no originally?
I'm very whimsical it depends on my mood. But it was a wonderful experience. Hours and hours were spent rehearsing, you were training your body to do things it wasn't used to doing, and it's all about muscle memory. But worth it. Sadly I haven't used my dancing skills much, but should it be called for I think I could hold my own.
You were awarded an MBE in 2008, what was your reaction to that?
I didn't know what to make of it really; it's not something one expects. A letter came saying 'We've awarded you this' and I thought at first 'No, I don't really want this.' Then I thought if my mother was alive she would love it. So for her I accepted it. She died in 2005; so I took the MBE on her behalf. She would have been very proud.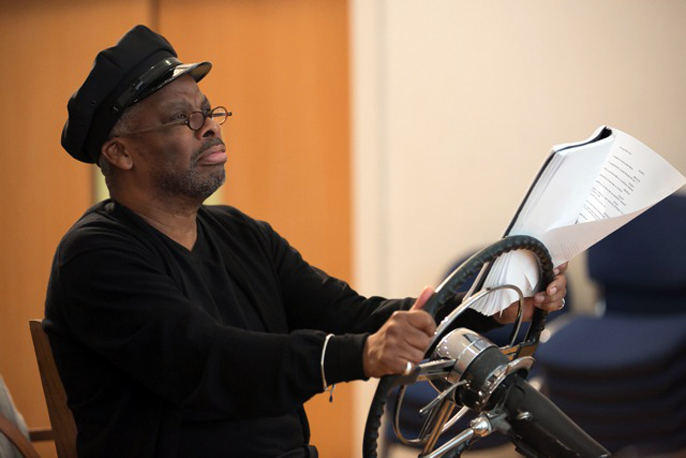 Related Links
Driving Miss Daisy is on tour until December 1, 2012
Driving Miss Daisy review, Wyndham's Theatre
Don Warrington interview, Rum and Coca Cola