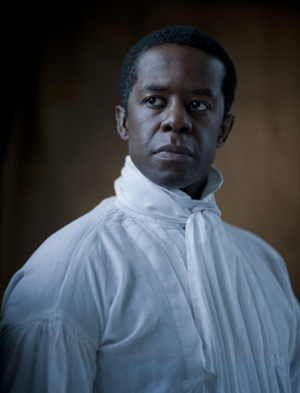 After eight years playing philanthropic grifter Mickey Bricks in renowned BBC drama Hustle Adrian Lester is returning to the stage to perform in Lolita Chakrabarti's new play Red Velvet.

Olivier Award winner Lester will be playing the role of nineteenth century Shakespearean actor Ira Aldridge; a role, which calls upon Lester's own extensive experience as an acclaimed Shakespearean actor. Having worked as both a director and writer, Lester demonstrates great perspicacity for his craft, which is reflected in the diversity of the roles he has played ranging from ageing football heroes to secondary school English teachers. Speaking to Lester during his lunch break I find him forthright, astute and deeply insightful about the character he is about to play in this intriguing new production.
Tell me about the new play Red Velvet?
It's about Ira Aldridge who was a black American actor and it looks at certain aspects of his life. Of course because we don't know all the facts the writer has imagined the responses and the mindsets of everybody at the time. The play shows you the period when he took over from Edmund Kean at Covent Garden to play Othello in 1833.
What sort of research have you had to do to play this character?
Reading his book, looking at the acting styles of the time, visual research in terms of what was happening with the politics of the time, where the abolition movement was at the time. All these things factored in how he worked and how people responded to him as an actor.
How easy is it for you to relate to Ira as a struggling actor?
The circumstances that greeted him and how they informed his performance I think are quite alien to me. It's interesting looking at the way in which he was received. People negated his drive, they negated his talent, and in a way I think he had to negate his personality and reduce what was special about him in order to make himself more acceptable.
You mentioned the challenges that Ira came up against in his career. Do you feel that you've come up against any challenges in your own career?
You're talking about colour aren't you?
Not specifically, but colour is one obvious factor which connects you both as actors.
Well I can only view things from my own perspective and my own experience. When I've gone into an audition and I haven't got the part I don't know what objections they had to casting me, so I can't definitively say it was because of that. I really couldn't say if that has ever been a challenge for me because I have nothing to compare it to.
Red Velvet is written by Lolita Chakrabarti, who you're married to. How has it been working together on this production?
I've always been involved in performing. Not just acting, also song and dance. I actually began as part of a church choir, which led to me joining the Birmingham Youth Theatre. Then when I finished school I auditioned for RADA
Well we've actually worked together several times before. We did a documentary in Coventry called When Romeo Met Juliet and we ran a theatre company together in 1996 and put on three plays. There have been several other joint projects. Many people in relationships work together, not just creatives. Good communication and shared goals are part of the domestic setting and they extend extremely well into a work setting. Many people own shops, run large corporations and have family businesses very successfully.
How has it been getting back into theatre after so long working mainly in television?
It's certainly required me to engage with a different style of performance that's particular to stage acting. There's that sense of immediacy being in front of a live audience who expect to be entertained and moved, so there are definitely some butterflies!
Do you not get butterflies when someone says 'Action'?
It depends. Of course you still need to understand the role and put in the same level of effort and research, but it's a completely different art, a different genre of drama. What was so enjoyable about playing Mickey in Hustle was the range of different characters I got to portray. It was a great experience.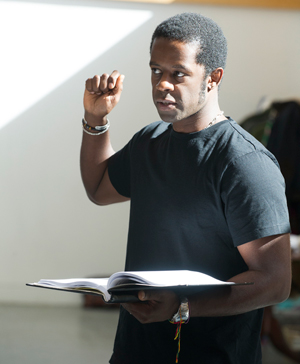 How did you first get into acting?
I've always been involved in performing. Not just acting, also song and dance. I actually began as part of a church choir which led to me joining the Birmingham Youth Theatre. Then when I finished school I auditioned for RADA and did my training there and have been working as an actor ever since.
Coming from the West Midlands and training as a classical actor was there ever any pressure to shed your accent?
I still have a Birmingham accent. People often ask me this and fail to realise that I'm speaking with a Birmingham accent. There was never any attempt to change it at RADA; your speaking voice is your speaking voice, but there was vocal training and a lot of pressure to be able to assume different accents whether that be American or German. If you got it wrong, they would not let up; they would keep on at you until you were perfect! The standard southern English accent was one that once you'd mastered can be easily adapted to regional or foreign accents, so in that sense RP was a style you had to grasp, but as a vocal technique, not to replace your own speaking voice.
This is your first time at the Tricycle. Do you feel that new artistic director Indhu Rubasingham's objective of telling untold stories is going successfully?
Only time will tell. But I'm certainly enjoying working with her as a director and the season is all about seeing the world through different lenses. Red Velvet is a play about a black American actor in 1830s London, the next play of the season is a modern version of The Arabian Nights, One Monkey Don't Stop No Show is about a black American family and then we go to Israel and look at Filipino workers in Paper Dolls so that definitely sounds like a diverse season to me! You can't really get more cosmopolitan that that.
Info: Red Velvet is at the Tricycle Theatre from 11 October - 24 November 2012.
---
Related links
Indhu Rubasingham launches her inaugural season at the Tricycle
Afridiziak Theatre News review One Monkey Don't Stop No Show