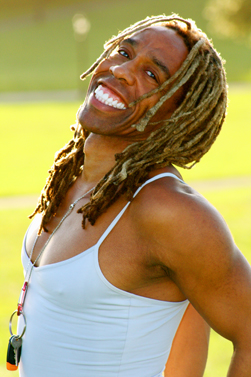 Rikki beadle Blair is a man with a mission. Not only is he directing his new play Shalom Baby at the Theatre Royal Stratford East, he is also squeezing in designing the set and composing the music.
In between chatting with the actors and spray painting the floor he manages to give me a little of his precious time to talk about his new play and the ongoing mill of creativity that is his life. Articulate, passionate and incredibly humble, he was an absolute pleasure to interview and his play Shalom Baby certainly sounds every bit as dynamic and fascinating as the man himself.
What's your new play Shalom Baby about?
It's a play set in two time zones following two identical Jewish families. The family in the late 30s are already in the grip of Nazism in Berlin. For their Shabbat dinner as they're not allowed to deal with Arians they hire a black guy as a Shabbes Goy, someone to perform all the tasks they're not allowed to do on their Shabbat, and he and the daughter fall in love. So it's about that love affair and how the family respond to them whilst the holocaust is growing around them. Meanwhile in modern day Brooklyn, another family which is basically the original family reincarnated, are having issues with the eldest son who is a crack addict, and the they decide to have a Shabbat dinner to bring the family back together again and it's all about the repercussions of what happens next.
Is the Shabbes Goy character German?
Yes, there were lots of mixed race Germans from the First World War; soldiers who stayed, married German women and had kids. In fact one of Hitler's methods of ethnic cleansing was to round up the mixed race children, about 50 000 of them who he called the 'Rhineland Bastards' and have them all sterilised. But that didn't happen to every black person in Germany. There were definitely black Germans, relatively rare, but still in the tens of thousands.

Digging into it as a play, every now and then I'd be assailed by the enormity of what it was I was looking at. I really wanted people to see that the Nazis are not just this anomaly; the Nazis learned all their ideas about concentration camps from us. They studied America for how to institute effective laws of segregation, we are not blameless in the rise of the holocaust, we were teachers and enablers.
Why did you choose to set the modern day family in America?
A couple of reasons, one is that the race relationships in America between black and Jewish people are much more complex and intense than they are here. Also, I thought it would be nice to show that a black British writer can write about something other than growing up in Lewisham or Hackney. I wanted to show that we can have epic visions or at least international visions from our perspective.
This play seems very different to a lot of your work. Are you trying to break into a new area as a playwright?
Well you do with everything; I don't really like to write about anything unless I have trouble understanding it. For example I've never taken drugs so I love to write about drug addicts. I don't think of myself as a bigoted person so I'm fascinated by people's bigotry. To try and connect with that and lose judgement and foster understanding for me is crucial.

Research for this play has been the most research I've ever had to do for anything. It has been a stretch; to me it seems a continuation of the stuff I've done, like Bashment which was about people who I felt had bigoted ideas and trying to understand it better. Also I did a movie called FIT which is about bullying, exploring why people bully, and so in this play we can see that the Nazis were just epic scale bullies.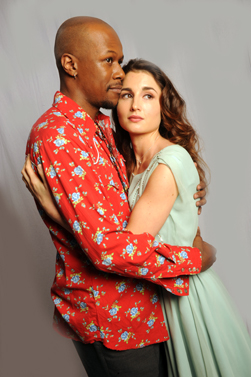 Your film FIT about bullying and homophobia has been distributed throughout every school in the UK. That's an amazing achievement.
It is amazing, it's saying 'Accept that other people are different from you.' Putting it into a context, FIT isn't just about sexuality, some people are bullied because of their perceived sexuality, they may not be gay but they read too much or they're a girl who likes football. I really wanted to put it in a wider context and have the audience look at the way we separate ourselves from each other. And then see how useless and impractical that is as a way of life and how homophobia is impractical.
Are there any gay characters in this play?
There are, I didn't think there was going to be at first. I cast first then I write the script, so the actors and I have these rambling conversations while I sample their DNA and create characters that will challenge them. We talked a lot about the range of people who were in the holocaust; gypsies, Jehovah's witnesses, communists, mentally ill people, disabled people, homosexuals and blacks of course. So it seemed an appropriate theme to put it in there. I thought it would be a really great opportunity to see how differently people do or don't feel about themselves with seventy years difference, so sexuality does come into the play in very subtle and blatant ways.
What advice would you give to someone who wants to follow in your footsteps?
Walk the other way![Laughs] For someone who wants to create art and make a life out of that, everything that people say is wrong with you is your way forward. Don't wish you were somebody else, make who you are and what you want to say as big and bold and bright and as generous as it can be so other people can run into your arms. When you are true to what you believe you are and see it as something that you're offering, that's a great thing to be; someone who's unafraid of themself.
Are you unafraid of yourself?
I am, yeah. I have my moments, where I think 'Why am I not...' and you list people, but I really don't want to be anyone else. I now look at my own work and say 'I want to do what they're doing only better.' And that's been a fantastic place to get to.
You're a very busy man. Do you ever sleep?
Not busy enough, I like being awake! And when I'm awake I like to make art, and I'm very lucky that people will let me and get involved and encourage me.
---
Info: Shalom Baby is at Theatre Royal Stratford East from October 20 – November 19