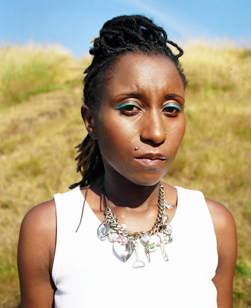 Malika Booker is a multi disciplinary artist, best known as a spoken word artist and poet. In 2000, Malika launched Malika's Kitchen a writers' collective which is still, successfully supporting multicultural writers in the development of the craft.

She has received critical acclaim from the Poetry Book Society for her first book, Breadfruit and was chosen to take part in Bloodaxe's Ten - a project which saw the development of ten emerging voices in poetry. She has written and been published extensively as well as toured in venues around the world. Currently Malika is working on her first full length collection as well as working as Poet in Residence for the Royal Shakespeare Company.

Farhana Shaikh caught up with her to find out more...
Please tell us a bit about yourself...
I am a Caribbean woman writer and I am passionate about my culture; the music, the food, the dance, the religion, the storytelling, the festivals, the musicality of the spoken language and everything that revolves around this. I still take an active part in Carnival Mas in Notting Hill every year. In my house there is usually background music of Soca, and Calypso and hardly a day goes by when I don't speak to my family and these are the rhythms that I live by. I came to this country at the age of 11 on the day after the Brixton Riots and I still feel a strong need to make sense of the confusion and noise of that day and explain the complexities of being both British and Caribbean. My poetry has been included in many anthologies; including Bloodaxe's Ten on their bestseller list for 2010. I have also written a number of one-woman shows, which were performed around the UK. I am currently the poet in Residence at the RSC and also working on my first full collection to be published by Peepal tree press.
What initially attracted you to writing and what were your first challenges when you got started?
I have always loved reading. During my childhood I was a bookworm, one of those children who was forever in their school or local library or walking down the street head buried in a book. Books were my best friends. They have been the most wonderful treasures that I have received throughout my life but I did not see myself as a writer. I stumbled into writing due to a variety of variables; the encouraging teacher, the young passionate woman who could not find a way to express herself and so used writing as an outlet, the community of writers - meeting other writers who came from a similar background and who were writing in a similar way (to name a few).

The first challenge that I had as a writer was the fact that I believed the myth that one has to wait for inspiration to write. I have since learnt that one needs to have a continuous writing and reading practice and discipline in order to be prepared and ready for the gems when they arrive and that their arrival is down to knowledge of your craft and adherence to a persistent writing discipline that you have to cling to or life's demands will erode that precious writing time. Another challenge was a hunger to learn more and more about writing. One of the most important challenges was finding an outlet for the writing that I was producing as well as a feeling that I had the right to call myself a writer or a poet. The main thing was that I was desperate to learn and hungry to develop the skill that would facilitate this writing habit or bug that had bitten me.
What are you working on at the moment and what does a typical day involve?
I am currently writing a series of poems for the RSC Residency and beyond that my life is filled with the final preparations of my poetry manuscript. I have been commissioned to gather peoples personal stories, memories and anecdotes from audience members and the staff of the RSC and then to create poems of the experience. I spent the ending last year gathering stories from the visitors and staff members who were there for the re-opening last year. In terms of writing I am editing my poetry manuscript and building up the discipline to hit the desk by 5.30 every morning. As I have always been a night person. After that I might leave to spend a day running poetry or storytelling workshops at schools, and I also teach adults creative writing classes at City Lit.
Who or what inspires and influences your writing?
Life, my family, and the every day things that I observe or encounter in my daily life influence me. I am extremely lucky that London has a very supportive and rich writing community and that these writers support, challenge and encourage my writing and me. The British writers who make up that community like Karen McCarthy Woolf, Roger Robinson, Jacob Sam-La Rose, Pascale Petit, Mimi Khalvati, W.N Herbert, Bernardine Evaristo, and Patience Agbabi inspire me. I am also influenced by writers like Toni Morrison, Margaret Attwood, Earl Lovelace, Martin Espada to name only a few. Then there is music especially that of the early soul singers like Betty Wright, Millie Jackson.

There are musicians like Sade, Kate Bush, Dolly Parton who have such great story telling skills and have gifted us with such amazing songs. I am influenced by popular culture particularly music, my Caribbean and Catholic upbringing, my family and friends. There is so much. But fundamentally my mother and one of my aunts (who has passed away now).
As someone who has been widely published, could you give us an insight into some of the good, bad and ugly experiences of being a published writer?
I have had mainly good experiences of writing starting with my joy and pride the first time I saw my work in print. The people who have told me that one of my poems have meant a lot to them. Being a writer you do have to deal with a lot of rejection when you send your work out to publications, but that is the reality of being in this industry. I enjoy readers giving me feedback even if it is challenging as it shows me that they have engaged with my work. I would not call any experience bad they are all learning opportunities.
You're often referred to as a British writer of Guyanese and Grenadian parentage. How do you feel being labeled in this way?
I am totally at ease with this description of my parentage / heritage which informs and is an intrinsic part of my writing. My mother is from Grenada and my father is Guyanese and I spent my early childhood in Guyana before moving back to the Uk. This dual heritage as well as growing up in both Guyana and London has played a big role on my writing. I do however feel the need to show that a writer of my background can reach the highest levels of appreciation and respect within the establishment. In this way, writers such as Roger Robinson, Karen McCarthy Woolf, and Jacob Sam-La Rose (whose Bloodaxe collection will be coming out this year) and myself, are opening doors for the young black British Writers following in our footsteps.
Last year, you were published by Bloodaxe Books in Ten, an anthology that showcased ten emerging voices in poetry. Could you tell us more about what the process involved, the mentoring and what the experience taught you?
I was one of ten poets selected for a National Development Program run by Spread the Word Literature organization. The two-year project involved a series of seminars, Arvon weeklong retreats, and intensive one on one mentoring. I was very lucky to be paired with Professor W N Herbert who showed an incredible understanding of my work and allowed me to reach new levels in my craft. As a poet, it was an incredible and rare opportunity to have two years devoted entirely to craft and technique with support from many of the UK's finest poets. This has allowed me to build towards what is now my first collection as well as consider my long-term development as a poet of National standing.
And what impact do you think a project like this can have in the UK, where so little published poetry is from black and Asian writers?
This project has already had an impact in that many of the ten writers have gone on to have residencies, publications, win prizes and teaching positions. I myself am teaching at City Lit, and have also taught at the internationally recognized Arvon institution. It is through these continued publications as well as influencing our students that Black British Poets are able to change attitudes and open doors. It is worth noting that there are publishers such as Peepal tree press and independent and award winning publisher Flippedeye who continue to publish an extensive list of black writers. It is also worth noting that there are significant numbers of black and Asian poets on both Bloodaxe and salt's publication list this year.
In 2000 you set up Malika's Kitchen to support the development of writers - what was your vision and what sort of things do you do to help writers?
I founded the Kitchen with Roger Robinson and Jacob Sam-La Rose and our vision was to build a community of writers from diverse backgrounds who would support each other in all areas from developing craft, performance skills, and publishing. At the heart of kitchen is the idea of family, those who have gone on to successful careers including Nii Ayikwei Parkes, and Aoife Mannix, still return to guide teach and encourage the newcomers. The other key idea of Kitchen, which makes us different from other writing groups, is that we are accepting of writers at any level and in any genre. In our community passion, heart and the desire to learn and share that learning with others is more important than technical virtuosity.
What impact do you think, if any, will the recent Arts cuts have on projects that support BME artists?
As was demonstrated in some of the public response to the publication of Ten there is a tendency in times of financial difficulty for support for BME artists to be the first to be open to critique. However, I prefer to remain optimistic and believe that with hard work, talent and creativity BME artists will continue to take their place at the forefront of British culture, not only the poets but writers such as Kwame Kwei-Armah and Carl Phillips, artists such as Yinka Shonobare and Chris Ofili to name a few.
Going back to poetry what is the perfect recipe to make a good poem and is there are a secret ingredient?
The secret ingredient is always heart. I have to believe that there is a truth in the poem that I am trying to write. For me this is often a truth related to family, and my identity as a Caribbean woman. As for a secret ingredient, I wish there were. The answer is hard work; more hard work and just when you feel you can't do anymore, another day of writing and revising. It's a vocation. A lifestyle and a lifelong commitment
Finally what advice would you give to an aspiring writer?
Read widely and read often. For every line you write, read 1000.
---