Don Gilet, Truth and Reconcilation
Published:

Sunday, October 02, 2011 13:16

| Interview by

Sophia A Jackson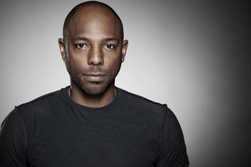 Intelligent, easy going and full of wit, Don Gilet proved to be an entertaining interviewee as we discussed his latest role starring as a Zimbabwean father in debbie tucker green's Truth and Reconciliation.

Previously you might have seen him on the stage in Fabulation (Tricycle) and a whole host of television shows including EastEnders, Hotel Babylon, 55 Degrees North, Silent Witness, Babyfather, and Desmond's to name but a few.
What attracted you to working on Debbie Tucker Green's Truth and Reconciliation?
I loved the language; it's almost naturalist but at the same time it's stylised. Debbie Tucker Green has found a path to fuse these two styles together and I thought 'I'll have some of that'. I haven't done theatre for a long time, I think the last time was Fabulation at the Tricycle Theatre about five years ago so I wanted to come back to theatre and I wanted to be challenged. But, be careful what you wish for because this is like a piece of music. You need to see the script - it's almost in code. It's done in a naturalist way; like how people actually talk to each other and requires almost a technical style of listening.

When I first read the script; I wondered if I could pull it off but I have. And there's a poet spin on top of that with an element of 'wordsmithery'. That's why I wanted to be involved; I knew it was going to be difficult; remembering where to come in… Remembering where to pause… Remembering what the dot dot dots mean as opposed to a dash. The way some of the dialogue overlaps like in normal conversations when people sometimes talk over each other. It's not an easy read but it's compelling; we've had some people say they wish it was longer but I don't agree. It serves the purpose at the length that it is as it's showing there aren't any real answers in these situations. You can't just ask a simple question; get the answer and then get closure – that's the whole process of 'truth and reconciliation'.
How did you research for your part?
We all just sat around a table and we all had to find our own story, which led up to our part in the play – Debbie gave that to us so we could own it and have an input. I enjoyed that as the ball is kind of in your court. We added the meat and life to our characters and discussed our ages and history etc…
Debbie Tucker Green's writes theatre that is short but hard-hitting – how effective do you think this type of theatre is in terms of getting a message across?
When it's on a big stage I sometimes think it's harder to get the message across. The way this has been staged; the audience is up, in amongst the action and you can't help but get involved. With Debbie's style, she's made theatre more colloquial in a way as this is how people speak. She's very good at writing about hot potatoes – things that people are feeling at a particular period in time. Her choice of words and use of language is written in a way that we can all understand and that's why I like it. It's not for a certain 'kind' of audience.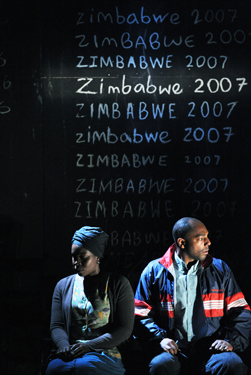 What are the main messages that you want people to come away with having seen Truth and Reconciliation?
What is the truth? You can't have a truth that you want all the time. There's my truth and there's your truth. If it's not what you want to hear does that make it not true because it's not what you want it to be? Reconciliations ask the question; can you really reconcile? Can you really move on? If someone kills someone you love; would you be able to press that button to kill him or her in return? That won't bring your loved one back. Will it really give you closure? Your loved one is still gone.
You've been acting for many years now.
I've been lucky in my career. You think you've done it all then something like this comes along. Sometimes just getting a job is it for me. It means that somebody else believes in you and thinks you can do it. When you do get that job the only person you need to please is the director. You're there as an actor to serve the writer and the director's vision. If the director or writer says you're not getting it then you have to work on that. I still to this day find going for auditions nerve racking.
More recently, you've been working with Diane Parish again – this time on EastEnders. What's it been like working on the British soap institution that is EastEnders and the iconic Albert Square?
I try not to see it as an institution but once you get over that the Empire that is EastEnders you realise that you're a cog in this massive piece of machinery. It's a different process altogether. You go in there; learn your lines and everything is just ticking over. It's in exciting in a way and it's a discipline that you don't forget. They are like a family but there are different families. I was working with just a small amount of people and then you interact with other communities on the show too. Working with Diane [Parish] again, really took the edge of fear off because going on to the EastEnders set is like being the new kid at school.
How did you feel when you landed your first major role starring in the BBC adaptation of Babyfather [2001-2002] by Patrick Augustus and that iconic image of four naked black men was released?
[Laughs] It was supposed to be a bittersweet drama anyway; there was great camaraderie between us. There was no tokenism; it was an eye-opener for all of us to be in that show together. We genuinely all had a good laugh and it was sad when it was over because we thought it might go on longer.
You grew up in Walsall. What were your first experiences of acting when you were growing up?
I think my first time in the spotlight was in junior school and I played a cameo role in Snow White as the 'mirror'. Kids are fearless anyway; when I became a teenager I was very theatrical in the classroom but didn't volunteer myself to do drama. It wasn't cool. I started getting more into acting when I went to college and was a young adult and felt braver and it was a drama course with like-minded people.
What resilience and coping mechanisms have you developed throughout your career because it seems acting and rejection go hand in hand?
[Laughs] I make a wax dummy of the people who didn't give me a job. I've got a lot of wax at home. It's very difficult because sometimes I'm down because I haven't got the job or I haven't got any work. It is about rejection. In fact it's more about rejection; depending on how down you are is probably also a reflection on how much you wanted that job. How much you need to pay your bills. I think I'm an optimist though and believe that before I end up on the bones of my arse someone will rescue me. You can't just do it for the money; you have to really want the job.
Why should people come and see Truth and Reconciliation?
Take a break from The X Factor; there's a place for that which is why we have Sky +. Come and challenge yourself because although Truth and Reconciliation isn't easy; it's enriching and makes you ask what have you learnt and question what is the truth. For an hour you won't feel sleepy; you'll be very much a wake. I can't tell you how you'll feel but you will feel something.
---
Related links
Truth and Reconciliation is at the Royal Court Theatre until September 24
Afridiziak Theatre News review of Debbie Tucker Green's Truth and Reconciliation
Royal Court's Truth and Reconciliation transfers to Theatre Local, Peckham and will run from 29 Sept - 15 Oct