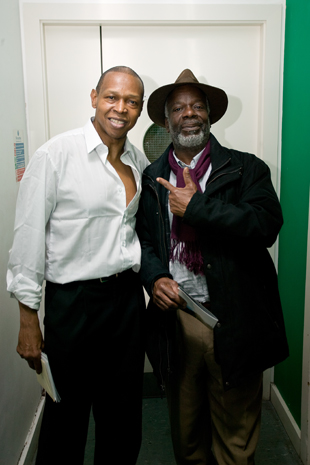 How was last Friday's performance of J.A. Story at the Fairfield Halls, Croydon?
We had our biggest audience to date, the three new songs went down a treat, the audience joined the cast on stage at the end to dance. It was a wonderful show. Let me thank all the actors, dancers, singers and technical crew of J.A. Story. They performed beyond expectation. We are hoping to carry that over to Stratford Circus Theatre for Wednesday's first performance there. People are ringing the box office so I'm happy.
I enjoyed watching J.A. Story last year at Stratford Circus, why did you decide to bring it back?
We started getting calls after last show had finished. Word of mouth had gotten round, people who had missed it, wanted to know when it would be coming back. Then the review appeared on Afridizak Theatre News and we got even more enquiries. Then we received an e-mail from a man in Miami, who told me that there were some 400,000 Jamaicans living there, the second largest in the States after New York, and he wanted to talk about taking the show there. It was out of my hands really, there was a demand so I said why not.
It is a real achievement to have directed, written and composed an entire play. What were the challenges?
Well it was a Labour of Love just to get the research going. For each of the different nationalities portrayed in the play. I had to research their story as told by their respective historians. I went to Jamaica in 2006, when I had a good draft, visited places like German Town to get a feel of what I was going to put on a stage. So I read many different books, then I research where historians differed. The songs had to tell a story, I decided to use the Bob Dylan approach to song writing as I feel he is one of the best story tellers in songs. So each song had to stand on its own outside of the production. Some one at the BBC World Service pointed out that device worked when he heard the music out side of the context of the musical. I also had to prevent my different roles conflicting. For instance, as the script writer, when the director wanted cuts, I could not say, ah no that's my work I am not cutting that out. Then as the composer of the music, I had to make alternative decisions. The composer in me wanted three new songs in for the 2010 run. Then the director kept whispering the show will be too long - so I had to constantly be aware which hat I was wearing and when.
Jamaica sometimes get negative representation in the media, how does J.A. Story challenge these perceptions?
Well I think you put it best in your review from November last year. To paraphrase your words J.A. Story gives Jamaica a make over. The historical facts recreated on stage shows, a totally different Jamaica. This is a story of a people fighting for glory, a fight against oppression, a fight against great adversity. This is a story of world events seen through the eyes of Jamaica. The best part is that you do not have to be Jamaican to enjoy the show. This is theater on a mass canvass.
How does the theatre experience in Jamaica compare to the UK?
Jamaica has a strong theatre tradition that goes back centuries. The Ward Theatre in Kingston is one of my favorite theatres. It was given to the Nation in 1912. All the greats have performed there. I have a few great stories relating to the Ward. When we performed Black Heroes there, just before the show started I was walking at the back of the audience. I approached this figure in an African top and was about to ask him to take his seat. When I looked closer, it was Jimmy Cliff, who had sneaked in to see the show.
He did not want to be mobbed so he was waiting for the lights to dim before taking his seat. So we had a chat in semi darkness - pure magic for a fan like me. The following night Rita Marley came back stage. She had brought some of Bob Marley's grand children to see the show; some were born after his death. Rita told me they asked if they could take daddy home with them. What did you say to them I asked. "I told them daddy had to go back to heaven".
The third night P.J. Patterson came he was not Prime Minister, but everybody knew him and he took the time to have a chat with me. It went on and on. Then when some members of the cast visited Hope Road where the Marley Museum now stands, Ziggy Marley came round and took us around the place - a guided tour in Bob's former home. Yes the Ward Theatre in Jamaica has holds many fond memories for me. I am proud to say I have performed on that famous stage. I am a fan of theatre, of theatre people, of show business and entertainment, really.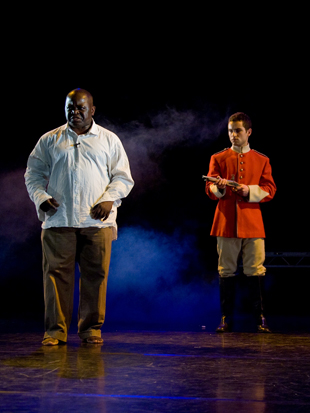 Tell me a bit about Black Heroes, Flip had the idea, you were co-producers, he directed and you took script duties?
It was a collaborative idea after Flip had the concept. He is a genius. The challenge was to get a script together that would stand. The script brings the vision out. It still worked in 2007 20 years after the first show.
Is theatre the best way to celebrate African-Caribbean history?
It's the most immediate way. We come from an oral tradition so plays and words in performance will always reach many people. I would not generalize for this reason. When Minister Louis Farrakhan came to see Black Heroes in Chicago, he invited the entire cast to his mansion. When he spoke to the cast he said "What Black Heroes can do in one night in reaching people's consciousness it takes him 100 lectures in Madison Square Gardens." But the question is what if the theatre production is not strong enough.
I am often invited to a few writers' homes for dinner; I don't want to upset the hands that feed me. (laughs) I have to say that from the testimony and feedback from many who have seen J.A. Story it seems to have touched them in a more profound way that other cultural, artistic and literary forms. In theatre you can suspend belief and therefore you can touch and reach more of the human senses.
What are your earliest memories of going to the theatre?
I have an older sister who was a teacher; she had a good singing voice. She would take me to shows and the theatre. I remember one night it was a Derek Walcott play, and they were filming the original Dr Doolittle, and in the interval Geoffrey Holder the gifted chorographer passed by and caused pandemonium.
At University I studied Economics but I was always in the English and Drama section reading plays when I visited the University Library. I remember looking for writers that I knew nothing about and would acquaint myself with their work. Albert Albee for example, I must have read every thing he wrote. I remember reading the Death of Bessie Smith. Throughout the play you never see the character of Bessie Smith and the play is named after her. It took me a second reading a year later to realize what device the writer was using. In the script she dies because a white only hospital would not take her in after an accident.
The writer makes her character invisible, because that is how some parts of white America saw black people at the time of her death. I read Pinter, Stoppard, Miller, Weskler, Osborne, then I moved back to reading American playwrights. I would just read and read their plays. Then I started reading the classics. That helped me in my first job after University. I worked for a radio Station in Cardiff (I was employed to make documentaries of local life and events. My boss was Allan Michaels who would later become an MP and the first chief minister for Wales) and I offered my services as a theatre critic. It was my way of seeing lots of plays for free, but it worked.
Why did you choose to go into theatre?
I sometimes think theatre choose me. In my days at University, you could get to New York cheaply on Laker Airline. I have a brother and a sister who live in New York. So I would save my grant money, work a bit, I even cleaned Butlins chalets on a Saturday morning to earn money and I would fly to New York to see plays in the summer holidays. This was the late 1970's and early Eighties. I still remember seeing Fats Waller Ain't Misbehaving when it was revived. That was the most talked about show on Broadway for years. It's still the most impressive set I have ever seen. And I have seen some grand opera sets including Toussaint at Covent Garden. I saw the Naked Civil Servant staring Quentin Crisp off off Broadway, that was magic. Years later it would be turned into a TV movie staring John Hurt. I would look out for David Mamet plays. I saw James Earl Jones in Fences, Cicely Tyson in How Green was my Valley.
All on Broadway. George C. Wolf was at Joe Papp's place near the Village. I was so into theatre that when an unknown American actor came to London with the Negro Theatre Ensemble to star in a play called Home at the Shaw Theatre in the late 1980s I saw it. It was Samuel L Jackson. Then I became a drama officer at the Arts Council and I would go and see even more theatre. So with the knowledge of reading plays, seeing them performed, then finding a job as a drama officer, the result would be write your own plays. I did however start writing a few things at University and they were staged.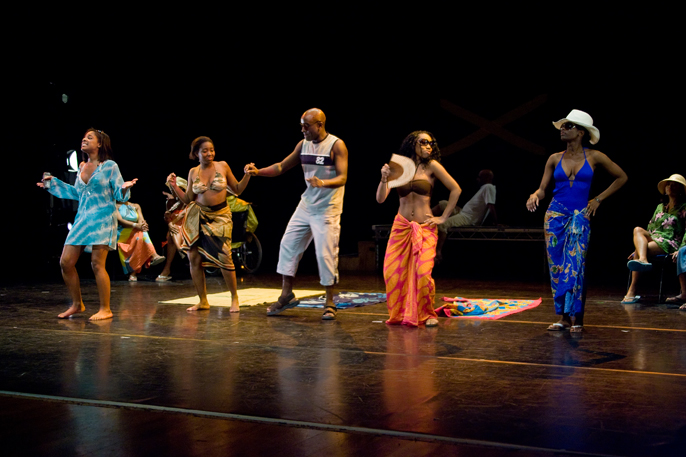 Who do you admire in the theatre world?
Gosh that is a hard question because I do not know who to leave out. There are so many, now in no particular order. Joseph Marcell because he is a fan of J.A. Story and also offered to work on it. He is an unsung hero. I have seen almost all his work in the theatre; the man should be given a Kinghood. At the Arts Council I worked with two of the then, most powerful women in subsidized theatre, Jude Kelly and Ruth Mackenzie I was their liaison officer at the Arts Council, I studied them closely. Carmen Monroe and Mona Hammond, I saw a lot of their early work be it at the Tricycle or with Talawa. To be truthful there are too many to mention. Ralph Richardson on stage was electric, I saw him in a few things. Alton Kuman who started Temba Theatre Company. Rudy [Rudolph] Walker because he has lasted the journey. But one special person has to be Count Prince Miller who plays the commentator in J.A. Story.
What's next for you?
Someone contacted me about writing something on his life. It was out of the blue, I like cheeky people who tend to try something. I can't say too much but it's an interesting topic as it deals with a time when some of the minority community was having it tough. Then I want to direct a piece by a Welsh writer called Binda Singh. The play is called Funkette.
Knowledge is Power -what single piece of advice would you give to someone who wants to follow in your footsteps?
Believe in your self. I would like to think that with my long standing association in the world of theatre , I have gathered enough information, paid my dues, and gained the experience, to come to the right decision more times than not. Sometimes I find people with basic knowledge of the arts form trying to second guess me when I am directing. So you have to be able to hold your ground on all matters. You have to read as much as you can on all things on stage and off stage, all the way to how theatre is funded. And finally you have to be strong in this business and the best way of achieving that is believing that of all the virtues, humility is the greatest strength. Be humble.
---
Related links
JA Story is at Stratford Circus from 27-30 October, 2010
JA Story official website
Afridiziak Theatre News 2009 review of JA story