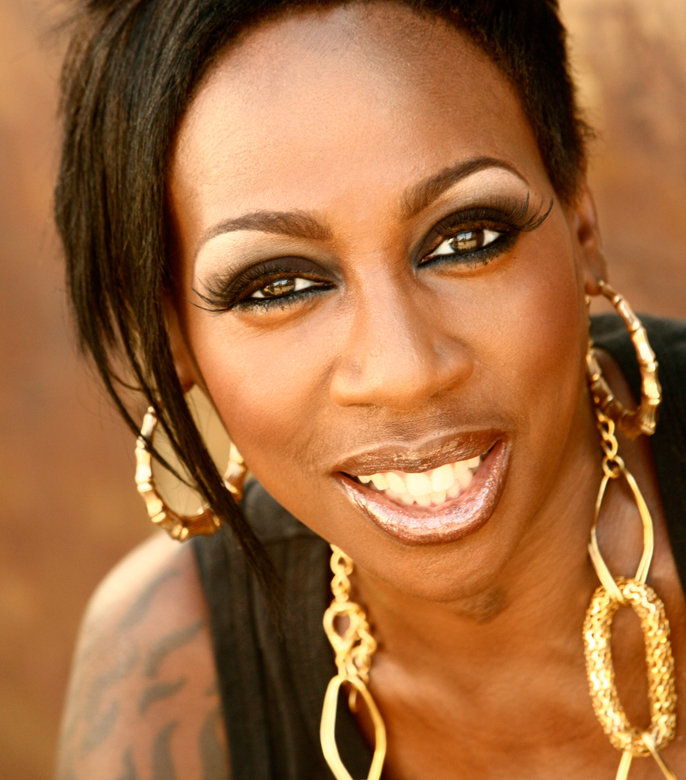 Skinny bitch! Then add the words Gina Yashere and you'll know that we're not insulting you instead we're talking about the British comic's critically acclaimed DVD where she charts hilarious insights into her weight loss and Nigerian up-bringing.

You'll know her too from British comedy shows such as Blouse and Skirt, Up Late with Gina Yashere and her stint as Tanya on the Lenny Henry Show using that distinctive catch phrase "I don't think so". After bursting onto the UK comedy circuit over 15 years ago she's played to packed audiences worldwide and shows no signs of slowing down.

Now residing Stateside in the sunny climes of Los Angeles, we find out why this funny lady went in search of the American dream.
Why did you choose to become a comedian after being a lift engineer?
It happened organically, I left my job as a lift engineer and in the interim while I was looking for another job I did a couple of gigs, people started telling me that I was funny and offered me money to do more shows, I ended up never going back.
Being black and entering a previously male dominated profession, how did you make that break through?
I just worked hard and made sure I was better than everybody else and got better quickly.
You have been in LA since 2008 - was it the right decision?
I like the lifestyle, I like the weather. It gave my career a boost and a new lease of life. I'm having new experiences. I've done Jay Leno, The Tonight Show, Def Comedy Jam and had my own DVD aired on TV out there so it's going good.
You are going to be doing a lot of touring in the upcoming months. Is there a difference between London, LA and Nigerian audiences?
Between the UK and LA not that much, apart from the fact I have to slow down my speech a bit. They think I have a strong cockney accent but other than that, no. Nigerian audiences can be different, I just did a show out there and they don't tend to like outsiders coming in and making jokes about Nigeria so I got a bit of stick.
Do you tailor your material for specific audiences?
Yes you have to cater your material for the audience you're performing in front of.
Where does your material come from?
It comes from the things I've seen, things I've read and whatever's made me laugh.
What support do you get from other comedians in the UK or otherwise?
It's a cut throat business; I don't think there is much support. We do know of each other and respect each other's work, but comedy is a selfish vocation.
How do you hold an audience's attention and are there still nerves?
When you believe and have the ability to do what you are doing, then it's not hard to capture an audience's attention. I don't get nervous; I've been doing this for so long now that I don't care what you think. I know I'm good at my sh*t.
Can you name a defining moment in your career?
My DVD Skinny Bitch Tour and the television special in the US. I got my first 'One Hour Special' in two years of being in LA, an hour of television dedicated to me, that also validated everything as to why I moved to America.
You often make reference to your Nigerian up-bringing; does your mother see the funny side?
She loves it, she loves the characters, and she's been telling me I should pay her commission for using that material.
What is your life like when not on stage?
Boring, I just do normal things, eat, socialise and watch television etc.
Do people expect you to be funny all the time?
People can expect you to be funny, but I tend to tell people I'm not going to be funny today.
What is next for you?
I am doing another DVD, I'm writing it at the moment. But other than that I don't like to say too much until I see it happen so I never talk about it.
Info: Gina Yashere will be performing at the Soho Theatre, 16 – 20 November 2010.
Related Links
Gina Yashere official website
Follow Gina Yashere on Twitter
Find Gina Yashere on Facebook