Denton Chikura – interview
Alfred Fagon Award 2013
Published:

Wednesday, November 27, 2013 1:54 PM

| Interview by

Gillian Fisher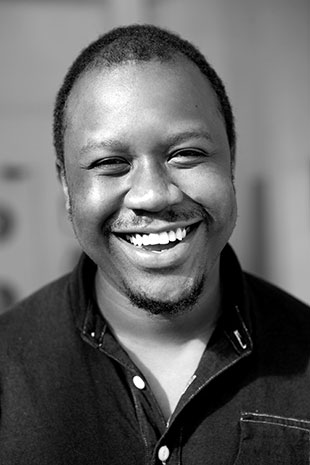 Alfred Fagon Award nominee Denton Chikura, shortlisted for his play The Epic Adventure of Nhamo the Manyika Warrior and His Sexy Wife Chipo talks to Afridiziak Theatre News.
How do you think your comedy about a Zimbabwean warrior translated to an English audience?
I think it translated surprisingly well. I myself have lived here for 11 years and even before I came I had a European sensibility because of my schooling at Prince Edward's school. I've always been in the middle between an African sensibility and a European sensibility. My family has been in Zimbabwe for generations and the language that I think in and my syntax is based in Shona but I know enough about English culture to work in both worlds. I feel I belong in both worlds. There are a lot of things that are in tune between England and Zimbabwe so I didn't feel any culture shock when I came over. Zimbabweans are highly bureaucratic both by culture and by tradition. I think we're also both conservative culturally so a lot crosses over.
Are there any playwrights who have particularly inspired you?
Shakespeare. I enjoy Shakespeare a lot and of course the writing in Nhamo is not Shakespearian at all, but one thing I did take from it was writing in statements. In a lot of Shakespeare's writing each sentence is like a living being; you don't have to imbue the language with any additional elements. Coming from a performance background I liked the idea of being directed by the line. I think a lot of the most successful writing does not need to be exaggerated, it just needs to be said clearly. I liked that about Shakespeare's writing and I tried to draw on that and put it into Nhamo.
Do you miss being on stage at all?
Strangely enough, no. There are elements that I miss; I miss creating pieces which is why I get a kick out of writing. Directing is something I would be very keen to take up but not acting per say. I found with time that acting became fairly monotonous; the whole fun of acting I found was in the rehearsals where you're bouncing ideas off each other. Press night was the peak but after that I often felt it was regurgitating the same thing.
Nhamo is your debut play. Do you have any ambitions for you'd like to achieve in the next ten years?
It's a real honour and it's always good for people to acknowledge something that you've worked very hard on and it's a wonderful feeling
I don't think that far to be honest. I've already started writing my next thing which is a series of stories based on the world of Nhamo. Actually what's really interesting is that a lot of people have thought Nhamo is a traditional fable but he is a creation completely of my own. When I was in Arabian Nights at the Tricycle I used a line from Nhamo and one of the drama team came up to me and said "Oh, that character you used was Nhamo wasn't it? He's a really famous character from African fables." I said "Is he?!" (Laughs.) No I just cooked it up when I was in high school. This play was the first of six or seven other episodes with Nhamo and as it worked well as a play I've gone back to the source material and am turning the stories into a book for children. I'm working in a school at the moment and there seems to be a gap in the market for something that's African and aimed at children but isn't condescending. I will always write I suppose, but whether it will be in the form of a play or a film or a book I don't know. We shall see.
What does being shortlisted for the 2013 Alfred Fagon Award mean to you?
It's very strange; I've never been nominated for anything. (Laughs.) It's really great to be honest; I almost don't want the awards ceremony to come because after that I won't be able to tell people that I've been nominated for an award and it's been great just saying it. (Laughs.) It's a real honour and it's always good for people to acknowledge something that you've worked very hard on and it's a wonderful feeling.
---
Related links
See nominees for 2013 Alfred Fagon Award
Alfred Fagon Award 2013 shortlist
Alfred Fagon Award - official website
Alfred Fagon Award - Twitter
Alfred Fagon Award 2013 competition
Levi David Addai wins 2011 Alfred Fagon Award
Oladipo Ogboluaje wins 2009 Alfred Fagon Award
Paula B Stanic wins 2008 Alfred Fagon Award