Danny James – interview
Alfred Fagon Award 2013
Published:

Wednesday, November 27, 2013 2:35 PM

| Interview by

Gillian Fisher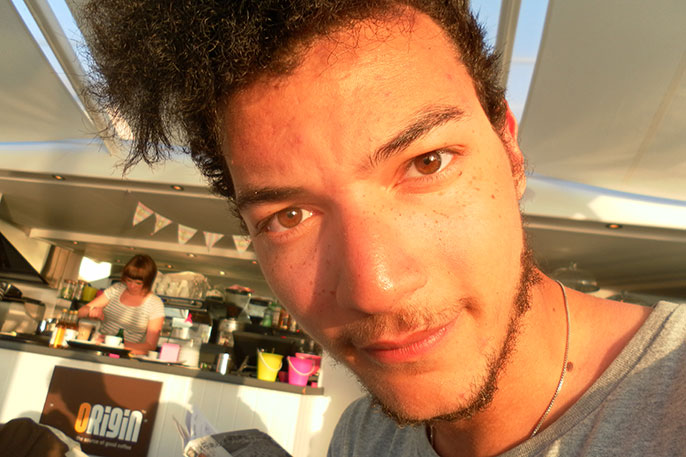 Alfred Fagon Award nominee Danny James, shortlisted for his play Bounty talks to Afridiziak Theatre News.
What inspired you to write Bounty?
It was different things that I'd observed in my family and in different people who I'd spoken to over the years. There are many statements in our society that point towards white supremacy and a lot of them are said by black people. There's a lot of small put downs against our own culture from our own mouths and I thought it was time that somebody actually spoke about it. I'm tired of people saying 'Black people are always late' or 'Black people do this.' I don't feel that's what people dreamed about our future being; us holding each other back. That sounds incredibly politically intense which is really not how I want to come across (Laughs.) But it's something that I believe very strongly in.
Were you worried about people responding badly to the subjects raised in your play?
No. (Laughs.) In a word- no! Not at all, I think that writers are supposed to tell the truth. Theatre is not always about being comfortable. When Edward Bond wrote Saved and Sarah Kane wrote Blasted they were making a statement; they weren't worried about whether people would be upset. So for me plays can be about addressing things that aren't addressed elsewhere.
You originally wanted to be a sitcom writer. Is that still an ambition of yours?
I still do want to write a sitcom whether it's just one or several I don't know yet. There's something I've written recently which is set in Kent and is about a gay couple who want to adopt. One of them is black and one of them is white and it's about them living their lives in this slow moving environment, that's where the comedy lies. Growing up I loved Fawlty Towers, The Cosby Show, Only Fool and Horses; I was like a sitcom junkie, I watched everything! Recently I loved shows like Curb Your Enthusiasm and Nighty Night is one of the most perfect sitcoms ever written in my opinion. If you can get people to laugh with you at something that they may have prejudice towards they will replace the negativity with laughter and attach a good memory to that particular issue. Comedy can achieve so many things.
You're still very early on in your writing career. What would you like to achieve in the future?
Where my writing is concerned I don't shy away from being ambitious. A lot of writers who I know say "Oh, I'm not sure if I should call myself a writer" and I've been calling myself a writer since I was eleven. (Laughs.)The first thing I wrote was called Happy Families and was a comedy about my family. Characters were doing things for no apparent reason but it was funny to me and quite nostalgic. (Laughs.) I've always known that writing is what I will do and if there was one particular thing that I'd like to achieve it's just to get my work seen by an audience. Most of all I'd like to be able to present different points of view to people who may not have considered those viewpoints before.
What does being shortlisted for the 2013 Alfred Fagon Award mean to you?
I'm grateful first of all because I feel like just being nominated will open doors for me and I'm so grateful to them for acknowledging my play. Some of the other writers who've been nominated are amazing and so I feel so grateful. The background to the award is so special as well; the fact that Alfred Fagon was a great icon within my community and within British culture it's a huge honour to be associated with anything to do with him. He was Jamaican and I'm also Jamaican so it means a great deal to me. I would love to win but if I don't it's such a huge honour to be nominated.
Info: The Alfred Fagon Award 2013 takes place on Friday, November 29 at the Tricycle Theatre. There are limited tickets available to the general public. Book tickets
Related links
See nominees for 2013 Alfred Fagon Award
Alfred Fagon Award 2013 shortlist
Alfred Fagon Award - official website
Alfred Fagon Award - Twitter
Alfred Fagon Award 2013 competition
Levi David Addai wins 2011 Alfred Fagon Award
Oladipo Ogboluaje wins 2009 Alfred Fagon Award
Paula B Stanic wins 2008 Alfred Fagon Award