Chino Odimba – interview
Alfred Fagon Award 2013
Published:

Wednesday, November 27, 2013 2:11 PM

| Interview by

Gillian Fisher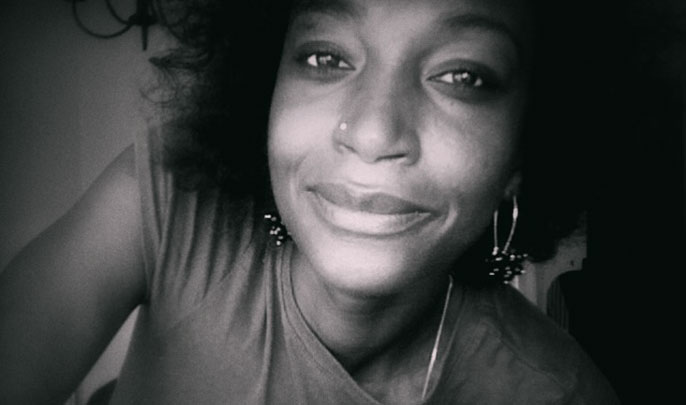 Alfred Fagon Award nominee Chino Odimba, shortlisted for her play The Long Poem talks to Afridiziak Theatre News
How would you describe your play The Long Poem?
The theme that overrides the whole piece is about how people hold onto traditions even tighter when they become displaced. I especially became fascinated in displacement in terms of refugee camps. We hear about these places from afar and they've become part of our modern language in describing what happens in war but very few of us know what these places are really like. So I wanted to explore what happens when you're suddenly taken away from your home not necessarily out of conscious choice. So those are the key themes but the play is also part of a trilogy of work that I've been writing over the last couple of years about what happens to children in war. That's been a big part of my work and I feel very strongly that that's not reported enough.
Why do you think there is a lack of focus upon children in war torn landscapes?
Because it's painful. Because we as adults don't have a language to express what might be going on for children. Because it's very difficult to imagine how much innocence is ripped out of children by war and the constructs of war. We sometimes hear about child soldiers but that's only one fascinating part of the story. There's the children who go from the comfort and familiarity of their home to somewhere that is completely unfamiliar and usually alongside adults that are traumatised by war. I think it's an uncomfortable truth that as a whole culture we turn our face away from. It's one of the crimes that adults commit against children at the moment. As a person and a writer and a mother this was something that I wanted to look at very strongly in my writing.
Can you remember the first thing you ever wrote?
Some of the writers that have been nominated are writers that I've admired for years so for me to be next to them is incredible.
(Laughs.) Yes I can, clearly! I'd written loads of bad poetry as a teenager but the first piece I wrote as a play was called Women Embrace 2 and it was written as a part of some workshops that had been run at the Bristol Old Vic. It was a play about two friends; one from the Caribbean community and one from an African family and how they try and keep alive a friendship that is being destroyed by adult perceptions of each other's cultures. Because African culture is so centred around education there is definitely a misrepresentation from the African point of view about the aspirations of the Caribbean community. You get to see this a lot through adult attitudes. Equally, as a Nigerian growing up in London there was a sense that even though I'd been brought up all my life in the British culture, there was still an assumption that somehow I was still more outside of Britishness. I think the interplay between what adults say and how children translate that stuff can be fascinating.
What inspires you to write?
There's not one main thing. I think I write because for as long as I can remember I've dreamed of being a writer. I still dream of being a writer. I think everyone has a story to tell and as you become more aware of the craft you realise that no two stories can ever be told the same way. Because in effect your interpretation of stories is about the experiences and memories you collect over a lifetime. You see things through your own eyes and no two pairs of eyes are the same. So what inspires me as a writer is not so much what stories to tell but finding stories that only I can tell in the way that I tell them.
What does being shortlisted for the 2013 Alfred Fagon Award mean to you?
Oh God, it's a huge huge honour! I've never entered for any awards as a writer before so this has been a really lucky first year for me! I think for me being nominated is partly the ego side that goes 'Wow! People recognise me as a writer now!' It's been a long journey and as a woman I definitely feel that sometimes we take longer to get to that point of confidence. But aside from that acknowledgment thing, it means that I'm writing things that people find interesting and find worthy of these kinds of awards. When something like this happens it makes all those lonely hours kind of make sense. Also some of the writers that have been nominated are writers that I've admired for years so for me to be next to them is incredible.
Info: The Alfred Fagon Award 2013 takes place on Friday, November 29 at the Tricycle Theatre. There are limited tickets available to the general public. Book tickets
Related links
See nominees for 2013 Alfred Fagon Award
Alfred Fagon Award 2013 shortlist
Alfred Fagon Award - official website
Alfred Fagon Award - Twitter
Alfred Fagon Award 2013 competition
Levi David Addai wins 2011 Alfred Fagon Award
Oladipo Ogboluaje wins 2009 Alfred Fagon Award
Paula B Stanic wins 2008 Alfred Fagon Award