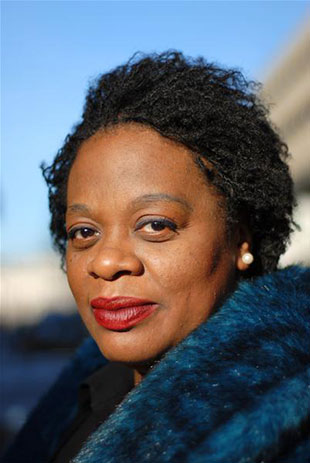 Cecilia Noble decided to become an actress at the age of 14 and it is a decision that has paid off. The London born actress has appeared on both the small and silver screen and is a familiar face on our most esteemed stages. Having recently stolen the show in the National's run of The Amen Corner it is difficult to believe that Noble was originally discouraged from pursuing an acting career.

Warned against the theatre industry by the nuns that ran her convent school Noble had to overcome some hefty opposition. In her rather uncanny new role as Mother Peter in Once a Catholic Noble says that she is now able to see things from the other side of the habit. This is a touching interview, showing how self-belief is the key to achieving any goal.
Can you describe Mary J. O'Malley's play Once a Catholic?
It's set in a convent school in the 50s and it's set around three girls all called Mary. They're at that stage in adolescence where they're moving out from school and discovering the world and there are the nuns who are trying to warn them about boys and the outside world and all its dangers.
Which character are you playing?
I'm playing Mother Peter who comes from Jamaica to work in this school. The comedy comes from the generational gap. "Don't wear lipstick" "Don't go into a field with a boy "and for me it's very good 'cos I went to a convent school; I went to La Sainte Union in Parliament Hill. So this play has really had me reminiscing and seeing it from another perspective.
What do you remember the nuns at your school trying to instil in you?
My character wasn't originally written for a Jamaican nun, but it translates well. Kathy (Burke- director) thought this could work, as it's still that dogmatic way of thinking and that musicality to the language.
Well, mainly with me it was not to be an actress. They didn't think acting was a good profession; they thought it was full of bad people and it was the devil's work - people smoking, drinking, doing things. As my family was Catholic as well I got the same reaction at home. But having said that when I got into drama school my headmistress, Sister Marion did give me a nice reference. I was touched that even though she didn't agree with it, she was proud of me at the same time. Other things were just staying away from boys and keeping yourself pure and following Jesus to the end whether you have to suffer pain. All of these things were automatic for the nuns. 'Even if we have to make you scared it's for your own good.' A lot like in this play but obviously as it's drama it's heightened.
Is there a strong Irish element to the play?
I don't think there is, I don't think it's even particularly Catholic. I think it's about so many things that are relevant right now - a generation wanting to do something and another generation saying they can't. My character wasn't originally written for a Jamaican nun, but it translates well. Kathy (Burke- director) thought this could work, as it's still that dogmatic way of thinking and that musicality to the language. There's a big Irish community in Kilburn and apparently they're booking up which is great, but it's universal. I want everybody to come and see it.
Did you base your character on any of the nuns that you knew at school?
No, not really. But I think a bit of sister Marion is going to creep in there. She had that authority; when she walked down the corridor we were scared. I think that my character has that sort of quality. I'm not basing it on her but I think physically she will be intimidating. We were respectful of the nuns but there was also a lot of fear there. For me anyway - I was scared of them.
Do you think that was a good thing?
I don't think for me it was, no. Not the fear. Now I'm older I do get that it was caring and nurturing. It was that 'By any means necessary we will get you to the place you're meant to be.' And I think for some people it's successful but for me it made me a bit scared of the world. But it's all good in the end isn't it? (Laughs.)
With home and school both trying to dissuade you from acting, what made you carry on?
I think I just thought 'I'll be good at this!' When I said it, it made sense to me. It didn't make sense to anyone else' cos I didn't have the character that people perceive you ought to have to be an actress. I was shy. But when I was 14 I was just thinking 'actress' and it fitted me. My English teacher in the third year came to see a play I was in years later and he was so proud of me and he kind of apologised and said "I'm so sorry that we didn't encourage you more or help you more' and I said "Do you know what? In a way that made me stronger." Because no one was saying I could do it, I had to have my own inner determination. You face rejection all the time as an actress so I think it's made me stronger.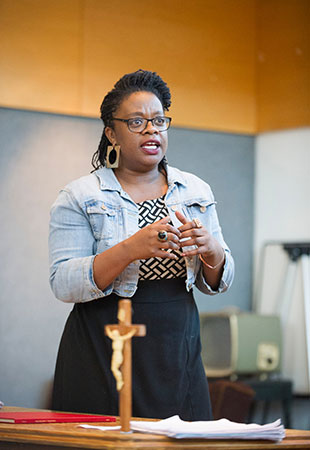 Was there a particular actress or actor that inspired you?
There wasn't really you know, because there wasn't really any representations of black actresses. I used to want to do classical work at that time and Josette Simon was somebody that I looked at, but there was just so few people out there. It seemed like an impossible dream, weird as it sounds. Even telling my mum I remember being very nervous and she was like "What? You want to be an actress? Why? You should be a nurse or something that won't be hard for you to do." She was just trying to protect me and I do get it, but every time someone told me no, I'd just be thinking 'You watch me. I'm gonna do this.'
Was there a specific moment of victory?
Well I think when you're on TV; people really think you're an actress. When my mum was proud of me was when I got a TV job; it was a TV film called Resnick; Lonely Hearts and she got all her friends round. It was then that my mum was finally pleased with my choice. It took years but we got there in the end. (Laughs.)
Your mum is from Jamaica. How much does having a Jamaican background come into your personality?
Oh, that's an interesting question, gosh. In some ways my experience is what it's always been, but when I was at drama school I did see a big difference in the things that people had experienced that my parents had not allowed me to do and I think that's a cultural thing. Like I wouldn't even think of answering my parents back, adults are the boss. You don't have rights; you're not grown. (Laughs.) I don't know if that's typically Jamaican; I'm sure that exists though different cultures. There's a crossing of being British but when you get home you leave your Britishness at the door. We had Jamaican food and things. It was a bit like being mixed race in a way 'We want you to take everything that's British but don't take it too far.' It was normal but it felt like I didn't fit in anywhere but it wasn't a big hang up, it was just normal. So being a Catholic was comforting because we all had this thing in common that we all believed profoundly. I never felt any different 'cos we were all just Catholics. We were all special anyway. (Laughs.)
Are you religious now?
I'm a Buddhist now. Some people call it a psychology or lifestyle but you can call it a religion. I follow the teachings of Nichiren Daishonin so we chant "Nam(u)-Myōhō-Renge-Kyō" and it's the complete opposite of being a Catholic. It's all about changing yourself. Being a Catholic was happy when I was a child; the drama of it and the wearing white and I truly believed but getting older I questioned and questioned. With this school of Buddhism you believe in your own Buddhahood and we chant to change what's going on inside of us, so when you change that you change your environment so you do it that way round.
Recently Christianity and specifically Catholicism have been in the press a lot with the gay marriage debate. How do you view Catholicism now?
Once a Catholic is funny, and isn't just about the Catholic element. Kathy Burke is the funniest woman I have ever met and she's directing it and that is enough reason to come and see it.
I completely respect other people's religions but I can only say for me it didn't work. Especially as a black woman and all the derogatory language towards blackness it was very negative for me - because everything negative is black. I just thought 'But I'm black.' It didn't work for me; I never felt that I could ever be that pure.
How was your experience of being in The Amen Corner?
The Amen Corner was a great experience. Just one of those dream jobs where everything worked; the direction, the script and the people were lovely and I've made friends there for life. Just had a fantastic time every night, amazing, amazing experience. I'd done the play before about 16 years ago but I played Sister Margaret so when it came up again as a different role I thought 'Yeah, I want to play Sister Moore.' I loved being on stage with the gospel choir every night and I got to meet Marianne Jean-Baptiste again who I hadn't seen for 20 years. We were at WAC; a weekend Arts College as teenagers so to have her back in my life is just amazing. There were so many great people in the show.
Why should people come and see Once a Catholic?
I think it would be a great laugh. It's funny, and isn't just about the Catholic element. Kathy Burke is the funniest woman I have ever met and she's directing it and that is enough reason to come and see it. It's a wonderful cast and it will be a good evening -you will be laughing all the way home. I'd love to see it but I'm in it. (Laughs.)
Info: Once a Catholic is at the Tricycle Theatre until January 18, 2014 | Book tickets