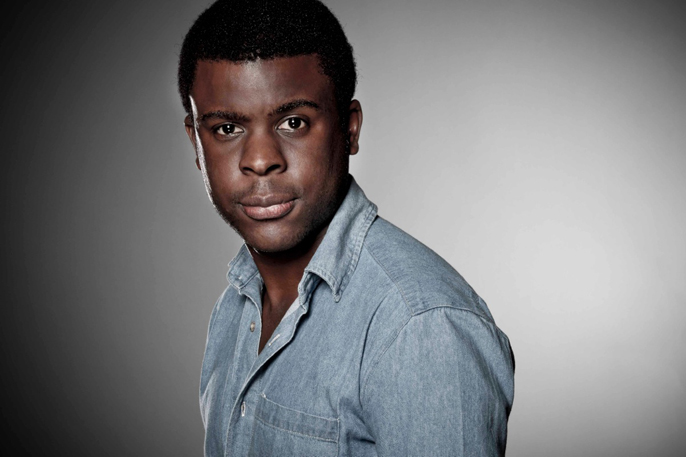 Ashley Zhangazha graduated from Guildhall three short years ago and has already made a considerable splash in Britain's theatrical pool. Having won the prestigious Ian Charleson Award for his role in King Lear, Zhangazha has performed in several more Shakespeare plays as well as in celebrated new works such as Belong and Fences. It is strange to think that Zhangazha's theatre career almost didn't happen as the young Londoner abandoned acting in favour of a Politics and Economics degree. Luckily for us theatregoers, Zhangazha found himself dreaming of dramaturgy and so returned to his first love. Currently in rehearsals for Michael Grandage's production of Henry V in which he will double up as Boy and the Chorus I am curious to know why this humble young actor still considers the Bard of Avon our most universal playwright.
How would you describe your role in the play in Henry V?
I'm playing the Chorus and the Boy so it's a double but there's a bit of a surprise with what we've done with it. The Chorus is sort of the audience's eyes and ears. Cos Henry V is a lot about the audience using their minds to imagine all these great things happening like the Battle of Agincourt the Chorus directly addresses the audience and asks them to imagine these things as if they were really happening. I'm a sort of a focal point that the audience can follow through the night to help facilitate their understanding of the proceedings. Shakespeare doesn't do this often so it's something quite cool about this play.
Does being in direct communication with the audience make the role more daunting?
I think it does, because the interesting thing is that every night there is a different audience so a lot of it will be about responding to the different moods that the audience will have from one night to the next. Thinking about stuff I've done before, it's always been about the characters on stage communicating with each other and going to these great emotional heights. This involves going beyond the stage. So it's challenging but something I'm very excited about as every night the role will be fresh.
How does this production of Henry V differ from other productions?
I suppose what Michael Grandage the director does so brilliantly with Shakespeare is try to have a very direct relationship between actors and audience. It's gonna be a very open space; there's not gonna be much furniture or props so it's gonna be about bringing the story to the audience in a very simple, clear and effective way. Also what we're doing with the production is creating a real sense of the 21st century and the medieval word colliding. That's pretty much all I can say at this stage.
You've appeared in several of Shakespeare's works. How do you feel Shakespeare is still relevant in the 21st century?
This season of Michael Grandage's plays has an emphasis upon getting young and first time theatre goers into the west end and that's something that I feel so strongly about.
I think the themes in Shakespeare's plays are just universal. Although they're written in iambic pentameter and in a style that to many people may seem quite alien, when it's done well I think the ideas within the plays are stuff that is happening to people right now and will always happen to people. You think about Romeo and Juliet; about two people falling in love. You think about Othello; about a man consumed with jealousy. And you think of this plays which is about war as a moral dilemma. You can interpret these plays in so many different ways but no matter which way you interpret them I think they will always build a connection with the audience watching them which is why I think Shakespeare's writing is so brilliant.
Do you feel that young people's interest in classical theatre has dwindled over the last 50 years?
I don't, you know. I think what has sometimes in the past dwindled is theatre's ability to engage with young people. I think young people have always wanted to see things but they want things put on that directly talk to them, and that's what's so great about this season. It's happening elsewhere; the National Theatre have got their £12 tickets and the Young Vic put on such exciting work. Something I really wanted to say was that this season of Michael Grandage's plays has an emphasis upon getting young and first time theatre goers into the west end and that's something that I feel so strongly about. Getting young people excited and interested in theatre and Shakespeare is the only way we're going to keep theatre going. I think the theatre has the ability to change people's lives; it's certainly changed mine, and all that needs to happen is for young people to know that they're welcome and are allowed to participate.
How did you first get into acting?
I was a shy child, so when I was about seven I started going to a youth theatre in Winchmore Hill called Greasepaint Anonymous. I went purely because my parents wanted me to have a bit more confidence but then I started to catch the bug as it were and I started doing some work quite young. I was in Oliver! at the London Palladium and I was in Whistle Down the Wind. Then I didn't exactly fall out of love with acting but I went and did other things and I decided to do a degree in Economics and Politics in Manchester. It was while I was there that I really started to want to do acting again and do it properly, so while I was in Manchester I joined the National Youth Theatre and started applying to drama schools. I was lucky enough to get into Guildhall and spent three years there which was an amazing, brilliant time and so for the past three years I've been out and been working. It's been quite a long journey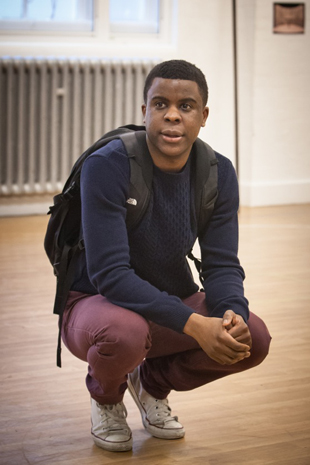 Did going to the youth theatre build your confidence?
It really did you know, yeah. What it did was allow me to connect with other young people and what I discovered was that I had a real passion for acting and performing. I started out with a passion for musicals and singing and it wasn't until I was about fourteen when I discovered Shakespeare and straight plays. It was Shakespeare that was really my way in to deciding that I really wanted to be an actor. I think Romeo and Juliet was the first play I studied at school in year 9 and one day we watched Frank Zeffirelli's film version. Most of my class weren't really interested in it but there was something about that play and that film that really hooked me.
Do you regret spending three years on your Economics and Politics degree?
Do you know what, I don't because I think it's given me a view on the world and something to talk about and believe in. It was a joint degree, but it was mainly politics so I did a lot about 1980s British politics and the rise of Thatcher and also the rise of New Labour. I don't regret it because I think it's given me a grounding and an understanding of something else. It's something I've only come to appreciate recently and I hope it's enriched my acting.
You recently played Cory in Fences with Lenny Henry but you actually worked with him when you were ten. How did it feel meeting him again?
It was odd seeing Lenny again! The last time he'd seen me I was a little kid and now I was a young man about to play his son. I was in one of his shows called Lenny Goes to Town on the BBC and I was playing a young version of Lenny. It was filmed in Brighton and I was sat singing a song and then I morphed into the older Lenny and he completed the song. I don't remember too much about it but I remember having a really good time on it. He didn't recognise me at first, but as soon as I said 'Brighton' and 'Lenny Goes to Town' his face was such a picture it was hilarious! I wish I could have taken a picture of it!
How did it feel to win the Ian Charleson Award?
It was absolutely amazing, I was really shocked and thrilled to win it. The award is so brilliant because it's about verse speaking and keeping classical theatre alive which is something I really believe in. When I look at the alumni people who've won it before; David Oyewole, Rebecca Hall and Cush Jumbo who won it last year- these are all people who I've watched and admired over the years. So to join that list of people is really special to me and I'm really grateful.
Are there any roles that you'd really love to play in the future?
Yes, I've done a lot of Shakespeare and I suppose my next ambition is to play a Shakespearian lead. I'd love to play Romeo and I'd love to play a Shakespearian king. I saw David Oyewole play Henry VI ten years ago which was incredibly inspiring so to that would be really special. Also August Wilson who wrote Fences has a cannon of ten amazing plays and I'd really like to explore a few more of those as well. But also I'm really excited by the idea of moving into film and TV and do some screenwork. I've loved doing theatre and will keep on doing it, but that's the area and the skill set that I'd like to explore. There's so much that I want to do; I'm still at a stage where I've got a real energy and excitement about getting better.
Why should people come and see this production of Henry V?
Because I think it's going to be incredibly exciting and thrilling. We have a great leading man in Jude law and we have a brilliant director of Shakespeare in Michael Grandage. I'm part of a brilliant cast and it's a great season as well. As the last play of the season Henry V caps it all off excellently so I'd just love as many people as possible to come and see it.
Info: Michael Grandage's Henry V is at the Noel Coward theatre – booking until February 15, 2014. Book tickets