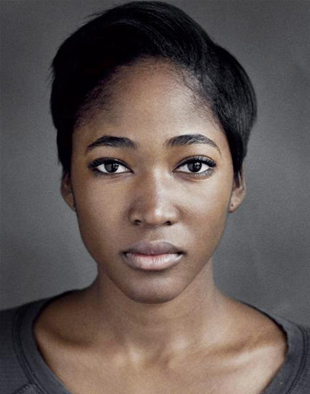 Adelayo Adedayo is a British actress with a passion for telling for stories. It is a passion this young artist has followed with resounding success having appeared in feature films Sket and Gone Too Far! The Canning Town native has also received wide acclaim for her starring role as Viva in BBC sitcom Some Girls.

Currently in rehearsal for new play The Dead Wait the show marks Adedayo's stage debut as well as a stark departure from British narratives. Adedayo admits nerves but is very much up to the challenge. Speaking to this incredibly warm individual about her empathetic approach to her craft it is obvious that Adedayo's passion is also her professional calling.
You'll be making your stage debut in The Dead Wait. Having worked exclusively on screen so far how do you feel about your first play?
I'm very excited and a little bit nervous. I went to the Identity School of Acting in London, which was part time. We focused on self-devised pieces so it was mainly monologues or duologues-never whole plays. I guess it is a big deal and at first I was like 'Oh my gosh; this is so different' but luckily I bumped into a girl who also had her stage debut at the Park Theatre and she told me "It's just acting. Exactly the same thing you do in film and television except there's no camera." That really helped me. It's the same skills; the level in your voice, the movements of your body which come naturally after you've made your character and all that. It's a different environment bit you're still acting essentially.
Could you tell me about your character in the play?
I'm playing Lily and she's the daughter of George who is part of the Angolan war. He has an interaction with a young conscript; a young white South African soldier. Lily hasn't heard from her father in 20 years and she has no idea what's happened to him in the war. Then the South African soldier confronts her and says he knows what's happened and she has to deal with what he tells her.
Can Lily Remember her father?
Yes. She does have recollections of him but because he was so involved in the war he was absent a lot of the time. A lot of the things that she remembers about him are around the fact that he was never there; he was always missing on important dates which is quite sad.
What sort of research did you do for this role?
Well, I was quite worried at first, because I'll be honest, I didn't know much. All I knew about was the Apartheid in South Africa and I didn't know how that tied in with Angola. So the first port of call is always Wikipedia (Laughs.) So I went online and tried to gage some history and I read some articles about the Angolan war. There's not actually a lot out there; it's not been well documented but I read all I could, on the Truth and Reconciliation Committee and the Truth Commission. Also our writer Paul (Herzberg) based it on his own experiences so he's a wealth of information that you can't find in books. He's also a character in the play and is there every day at rehearsals, so you can't beat having that kind of input.
This is a big departure from your roles thus far. Is this role more challenging as it goes outside your own experience?
It's a beautiful piece. It's a strong piece and even if like me originally, you aren't aware of the Angolan war and what happened it doesn't matter.
Yes it has been a little more challenging. But for me it's really the feeling that connects you to the character not necessarily their predicament at the time. The feelings that Lily experiences; sadness, loss, neglect, abandonment are all feelings that I've felt numerous times at different points in my life. I've never been in exactly the situation that Lily has but I have definitely felt the same way she has. So you think of situations that would make me feel lonely or lost and when you put yourself into those situations using your imagination those emotions will come and they make the role.
Because a lot of your work has been about being a black girl in inner London do you worry about being typecast?
No. Not really. I don't see having been cast as similar characters as a good or bad thing. There are black girls that live in London; I'm an actress who can play that and I just think it is what it is. But I think I have already moved out of that with Some Girls. Viva is a black girl in London who goes to an inner city school but the fact that she's black is never mentioned; never is a big deal made out of it. You're just watching a girl in school hanging out with her friends, chatting to boys and going to parties; all those kind of things. So I feel that character has already broken out of that role of a black girl in London because it just shows how it is being a girl.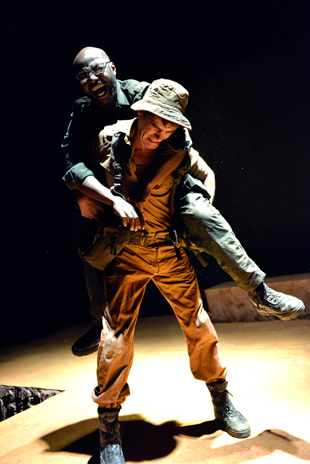 Was it difficult to get into the mind-set of a teenager for Some Girls, playground banter and all?
Do you know what? It was embarrassingly easy! (Laughs.) I was like, 'Oh my gosh; have I actually grown up?' 'Are these conversations that much different from what I have with my friends now?' It was shockingly easy and good fun to reconnect with that.
What made you want to act?
I love telling stories. I love reading stories, my favourite author is John Grisham. You'll read about something happening to a person and their emotional response and you'll think 'Oh my gosh!' 'I know exactly how that feels!' And the fact that you can feel something that someone wrote about years ago, who you've never met and is in completely different circumstances and still feel exactly the same thing is incredible. So to be able to do that through acting; to tell a story and have someone connect to that story for one reason or another is really great. It's also an escape from reality in a good way.
Throughout your training and career so far, how do you feel that you've changed as an actress?
Well the comedy is something that's just come at me in the last two years or so. When I first started Identity and even before that when I decided that I wanted to be an actress, I was never the comedic one. I was never given the funny monologues, it was always very dramatic and deep and dark. Some Girls was actually my first mainstream comedic role and to be able to do that as a lead in a really good show was really affecting. I grew massively during those two seasons, because comedy wasn't something that I thought I was good at or had tried before.
You're very early on in your acting career. Do you have any particular ambitions for say the next ten years?
It's funny, I've been asked this question a few times and I think a couple of years ago I was like 'I'm gonna do this!' 'I'm gonna do that!' 'I'm gonna break barriers!' and stuff like that but to be honest I think now all I want to do is keep on doing different roles. Good roles, things that will challenge me and will challenge people when they watch me, and also to never really arrive. Because I feel like if you do arrive it's over; there's no point in acting any more. So it's just about getting better and better and better. Doing better things, bigger things, more challenging things and keep going really.
Why should people come and see The Dead Wait?
It's a beautiful piece. It's a strong piece and even if like me originally, you aren't aware of the Angolan war and what happened it doesn't matter. It doesn't matter because it is a play about relationships and what those relationships do and how they make people act in heightened situations and everyone can relate to that.
Info: The Dead Wait is at Park Theatre until December 1, 2013 | Book tickets