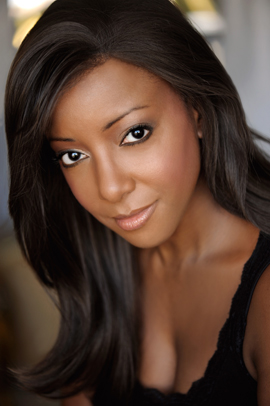 Paulette Ivory is a singer and actress. She has appeared regularly on the West End stage, on TV and in film. She played the title role in Elton John and Disney's Aida on the national US tour to critical acclaim and was also nominated for a Helen Hayes Award for best lead actress.

Paulette was recently nominated for an NAACP Award for her role as Lutibelle in Purlie at the Pasadena Playhouse. She played the female lead Nala in Disney's The Lion King and Maria in West Side Story.

Other West End theatre includes A Woman of No Importance, Smokey Joe's Café, The Hot Mikado and Buddy. TV includes The Young and the Restless, Numb3rs, Girlfriends, Strong Medicine, Doctors and EastEnders.

We caught up with Paulette during rehearsals for the National Theatre's eagerly awaited production of Fela which previews from November 6. Paulette plays Sandra Isadore, who had a major influence on Fela's life.
How are rehearsals going for Fela?
Great. We moved into the main rehearsal studio so it has the set. You never get that luxury and also having the full band – it makes a huge difference especially as you don't normally get that until the week of opening.
Tell me about the role you play?
I play Sandra Isadore, a strong woman and member of the Black Panther party. Before meeting Sandra, Fela's music was more light entertainment but she introduced him to the politics and Martin Luther King. She was the one who taught him about Africa and his rich history which inspired him to write his first African song. Sandra is fiery and fearless and wasn't afraid to fight for what she believed in. She was prepared to die for her beliefs. She was responsible for giving him the courage and push to make a difference in his own country - Nigeria. In his book he says his life wasn't the same without her.
How did you research your part – have you been listening to lots of Fela's music?
I looked online and also read his book, Fela this Bitch of a Life. Fela's ex manager and friend Rikkie Stein is good friends with Sandra, so he let me have her details to email her and run some questions by her. Rikkie's been there everyday in rehearsals he says how Fela would feel about different things.
What is the production about?
They've condensed Fela's life story and it's set during a concert where he tells the audience what he's been through. Fela Kuti's compound was attacked by soldiers and the concert takes place after this happened. It talks about why he wanted to leave Nigeria. When you watch the show you won't be able to sit still - it's like you're in a club. Fela has a lot of influences – there's some James Brown, West Indian music, calypso and of course the African afro beat. It's my kind of music.
Does it differ much from the Broadway show?
I did see the Broadway version of Fela as I auditioned in New York. It's different from other Broadway shows, the whole treatment of it. In real life, during a show, Fela would be on stage smoking a spliff. When you walk in to see the show, there's music playing with Fela's people scattered in the audience so you are a part of it. It was so popular on Broadway and people were crammed in. Wait until you see the show here.
What is it about Fela Kuti and his music that translates so well to the stage?
It's about the feel and energy, the drums and the bass line. The music just hits you and the audience can tap into that. It's also visual, music has it's own feel but visually the girls are doing real African dance from beginning to end. You put those things together and it gets the audience, their bodies writhing. I think it's the melody, the visual and the sound he created.
When and why did you decide to move to Los Angeles?
I felt I had done what I needed to do here. I was born in London and six years ago I got the Aida title role and they took me to the US to tour and when it ended I moved to LA. It's become my home now. I do miss my friends and family but I'm already missing the LA weather. I'll be in London for five months. I got ill after a week of being back here, my immune system is fighting diseases. It was 108 in LA when I left. But this is home too and I'm staying at my Mum's house so I'm enjoying stew peas and rice and all that Jamaican cooking. It's a blessing having this family time again.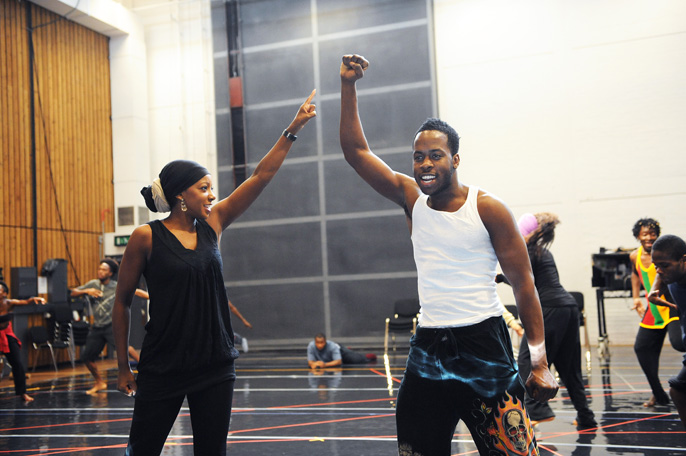 How do the opportunities in the US compare to here in the UK?
Well the biggest difference is going on auditions for big movies – although the competition is ridiculous. It's hard to get those roles but I believe that what has your name on it can't be taken away. Your life can change over night in LA and I like that you never know what's around the corner.
You've received a lot of accolades for your acting. Why did you decide to go into performing arts?
I'm always most fulfilled when I can do all I can do. The more you ask of me the better it brings out of me as I get bored easily and I like challenges.
Who inspired you when you were training?
So many people, I am a huge Whitney Houston and Aretha Franklin fan. In terms of acting Angela Bassett and Meryl Streep are ridiculously amazing – Beyoncé for combining singing with movies.
What do you enjoy most about being a performer?
The singing is number one because if you sing from an honest place you can touch an audience. You can move people - change the energy in the room. I love being able to do that – it's a gift. That's the most rewarding for me.
What more would you like to achieve in terms of your acting?
This year my partner and I shot our first film and we did it all together. That was exciting to see on the screen. I want to do my own projects so I'm not relying on anyone else for my creative outputs.
What's been your favourite acting experience so far?
Aida, a title role, and the story is so moving. When I watched it on Broadway I cried my eyes out. I played a strong woman which I liked as it's who I am. I got so many fan letters from people who were moved. It was life changing, and touched and reached people – such a powerful love story. Fela is equally wonderful.
Knowledge Is Power
what single piece of advice would you give to someone who wanted to get into the acting industry?
Go for it. Don't let anything hold you back. You have to work for it, working hard pays off as people see your discipline. A lot of people now want it easy. I come from grafting and doing lessons.
---
Related links
Paulette Ivory
Fela is at the National Theatre from 06 November, 2010
Afridiziak Theatre News review of Fela on Broadway
Fela on Broadway official website
Fela London official website
Book: Fela this Bitch of a Life