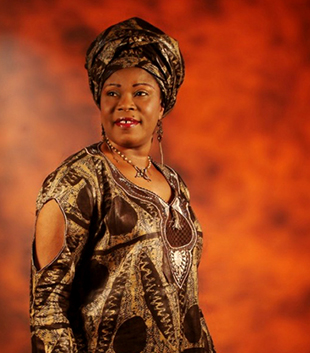 Funmi Olawumi has been bringing her own unique sound of Nigeria to eager audiences for over 20 years. Mixing elements of jazz, drumming and traditional hi-life, she has created what she describes as 'Faaji Rhythms.' During her seven years as leader of vocal trio The Queens of Lagos Olawumi performed internationally to great reception. Since founding the Yoruba Women Choir in 2005, the Akure born artist and her fellow singers have toured their joyful melodies throughout Nigeria and the UK. Clearly passionate about her culture, the singer explains that she wants to use her music to represent her community and inspire other women. In Yo ruba, 'faaji' means 'good time' and Olawumi is here to bring that to Britain.
How would you describe your personal genre of music, 'Faaji Rhythms?'
It's a mixture of a lot of things that have come from my country and been blended together. It's a mixture of Fuji, a little bit of jazz, some Afrobeat, some hi-life and also juju. So, it's a myriad.
How did you come up with that unique sound?
With the help of my promoter and during music rehearsals with my helpers. Experimenting with fellow musicians and band members. It's though them that I've gotten to where I am today and so the sound is down to their help as well.
Do you have a favourite song from your solo album Funmi Ti De?
My personal favourite is Sugar Mi because it is a song about the way that in the past parents would choose things for their children. 'You have to do this.' 'Marry this person.' 'Don't do this and that.' So that song was written for that purpose to talk about that. So it is about a girl being told 'Don't marry him, he has no money.' but there is love there, so she's going to be with him.
Is it based upon personal experience?
Yes. (Laughs.) Because when it comes to love, that is the most important thing; to be with the person you love whatever anybody else says. Whether you're a man or a woman, you need to follow what you love.
How did the Yoruba Women Choir come about?
I wanted to compose songs for a large choir. Originally it was as part of a Christian celebration. As it's grown, we have a lot of women, from different towns and with different dialects, and each of their stories and voices are important in their own right. We all join together in song and make our music as a choir.

When we sing we are loud, we are live and we come together. We have our similar interests because we all come from similar backgrounds in Nigerian culture


As it's the Yoruba Women Choir, are there any elements of the music that make it specifically Yoruba?
It's both that the music is Yoruba music and also that it is sung by Yoruba women. Now the songs we sing are both secular and non-secular songs. When we sing we are loud, we are live and we come together. We have our similar interests because we all come from similar backgrounds in Nigerian culture and we've toured so many different areas of Nigeria. We've been touring internationally for the last few years as well and so we are sharing our sound with as many people as we can.
You spent seven years as the leader of The Queens of Lagos. How did you find being a part of a vocal trio?
It's a good experience because that was the beginning of things really. So it gave me more precedence and more opportunity to engage with the audience. Also we did a lot of touring, throughout Europe and here we visited Birmingham, Manchester and we performed five times in London. So it was a good experience for me.
You spent five years working as a singer in London. What made you decide to return to Nigeria?
It was interesting in London and I met lots of people but there was not a lot of work opportunity. Coming back home I'm part of a community. So I came back here so my people can know me, I can know them and I can give opportunities to them. So in being here, it means that in my music I am speaking for my community.
As a modern Yoruba woman, what is the main thing you want to convey to people through your music?
I would like them to hear and know that there is nothing that man is doing that women cannot do. Here in my country, I want to encourage women to do something; to follow what they want. Before I feel women did not have that kind of support, but now I feel there is a lot of support for women to think for themselves. The problems that are happening in this country nowadays, I feel that women can feel strength. I sing these songs to bring women together and to build strength. Nowadays, women are doing better in terms of work and opportunities and I want them to feel strong and to spread that to their children.
Related links
Funmi Olawumi on This Day Live TV interview - 8 April 2015