Dr Elaine Brown Spencer's career as an academic has been a highly distinguished one. As a Professor of Sociology, the Torontonian works as a university lecturer, writer and counsellor. As well as her scholarly achievements, Spencer is a committed Christian, which she describes as a huge part of her identity. Five years ago, Spencer's insights into faith communities took her on a rather unforeseen, creative path. Whilst writing her book Private Pain in Public Pews which explores the inherent issues of church dynamics, Spencer decided to take her work further afield - onto the public arena of the theatre stage.
When asked about her bold move into the arts, Spencer reveals that it was in part divine inspiration:
"I was sat at a church service one day and there was someone I was trying to offer some encouragement to as I have a background in counselling. I was jotting down some advice and things for them to think about and I heard audibly in my ear 'You think you're writing for one? You're writing for the masses.' And that's exactly how Private Pain in Public Pews got started. So I wrote the first book and I decided to turn it into a stage play. Again under the inspiration as well, my background is not in theatre, but the rest is history really. It was just jottings on a paper that have now turned into four stage plays."
My background is not in theatre, but the rest is history really. It was just jottings on a paper that have now turned into four stage plays."


Since founding her own company, Kaleo Productions, Spencer has written four plays in the Private Pain in Public Pews series. These plays which delve into the secrets and scandals of the church have received critical acclaim, most notably from the church community. The third play Melody of Deception has even been turned into a 7 episode television series in Canada.
Now it's coming to the UK which Spencer is delighted about: "We're extremely excited to come to the UK and to show London and Birmingham what others across the ocean in Jamaica and Canada have been enjoying for the past year." "Melody of Deception is like a chronicle of the ongoing lives of the people in the pews. It's breaking the taboo and using the juxtaposition of comedy and drama to bring out some harsh issues - things we don't discuss in faith communities."
The show is publicised as a Gospel stage play and when I ask about the musical element Spencer explains that the play showcases more traditional hymns: "It's reviving the, shall I say, old skool hymns? That many who grew up in the institution of the black church will be familiar with. So infused in it is a lot of songs that people will know, but sung in a contemporary Gospel style, to echo the message of the play. There's also some original songs that are written for the show."
"I love music, I love Gospel and oftentimes we separate the two, we'll just do Gospel concerts. When you fuse Gospel music with the arts it's a powerful experience. I also put a soundtrack together alongside the play, called 'Melody of Devotion.' A lot of the songs that we've heard over the years, through all my stage plays and in Melody of Deception are on the album. We'll be bringing a lot of copies along when we come." (Laughs.)
Spencer's plays focus strongly upon breaking the taboos of secrecy within church life. Addressing the scandalous private life of the episcopal community is a courageous step, which Spencer feels is very necessary. "The criticism is there, in terms of people saying the church should be kept in a private realm. But it's time. But more so there's been embracement of the plays. It's all about encouraging and inspiring us to think differently and others also. I think what needs challenging is the image of perfection. When you're upholding that and going through everyday lives, that perfection is not reality. There's no difference between church people and secular people; people go through trauma, pain, separation, abuse. But when you're constantly showing the world that there's nothing wrong; when hard things happen you get the whole pressure cooker situation. So my work isn't airing dirty laundry; it's acknowledging the validity of peoples' lives. So they can express themselves differently, talk about it instead of pretending it's not happening. So the shame and the secrecy and the high, unrealistic standards that we hold religious leaders to, can be challenged."
When I ask if any of the characters in her plays are based on real people, Spencer laughs: "It's funny because I've had so many people approach me and ask me why I wrote a play about them. And I don't even know them. (Laughs.) The issues are so universal, but they're universal issues that are unspoken. So they're not based on people I know, it's just total inspiration that I feel to write on certain topics."
Having played to sell out audiences during a Jamaican tour, I am curious to know what sort of demographic Spencer's own church community is made up of. My shamefully limited knowledge of transatlantic, black church communities conjuring up images of America's Bible belt. Spencer is very kind about my poor cultural insights.
"Wow. I've also heard stories about some houses in London having no running water. (Laughs.)You get such a limited view of a country without actually being there." "In Toronto you can find every ethnicity of people. It's really diverse. Black people migrated to Canada in the early 1900s, but the mass influx was in the fifties, so there are distinctions in the type of worship. A lot of the blacks in Canada are African-Caribbean, the recent influx is coming from the continent. Unlike in the States where you have the African-Americans who can trace their generations back three four hundred years, in Canada we're just touching on the second generation. The experience in terms of the music and style of music are similar but with added cultural nuances. Caribbean people express themselves differently. In Melody of Deception there's more of an Afro-Caribbean flair, especially in characters like the Bishop."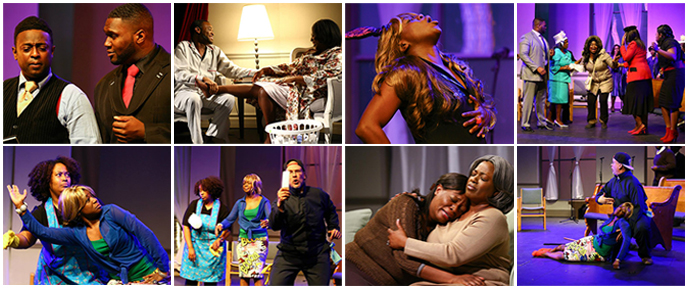 Melody of Deception is like a chronicle of the on-going lives of the people in the pews. It's breaking the taboo and using the juxtaposition of comedy and drama to bring out some harsh issues.


Her Jamaican background is clearly an integral part of Spencer's work and identity. A year ago she set up the scholarship foundation Peggy's Hope, which is named in memoriam of her mother.

"Losing my mum changed my life forever. As part of her legacy my mum was known to give back and to help a lot. As an educator, I felt strongly that I wanted to give back something in my mum's name. So I decided to set up a scholarship for youth in Jamaica to pursue post-secondary education. As a university educator, I thought that would be a good way of keeping her memory alive and giving a chance to students who are bright but don't have the financial means. Education is power."
In a time of growing secularism, Spencer is hugely passionate about making faith more accessible to the current generation. In her musical, upwardly inflecting Toronto tones, she explains:
"I think we need to get back to community, not be isolated from the community. Historically, before we had social welfare institutions it was the church who were helping the destitute and those in need. I think the community aspect is very important. There's a hegemony of secularism as the only expression of life and a fear that the church cannot express itself in non-traditional ways outside of the four walls of the church. Faith can be expressed in dance, music, poetry and writing - so many ways in which we can be relevant to present society. I think by mixing drama, with comedic relief and breaking some of the taboos of church life, we're really showing that relevance."
Finishing off as I always do, by asking why people should come and see the production, Spencer is emphatic.
"To see Gospel entertainment at its best. It's a fusion of a concert and theatrical performance. It's to get back to your roots, to have some fun and you've probably never seen a stage play like this in the UK. I'm gonna be brave and say that. (Laughs.) And it's just a great storyline and you're gonna be taken on a journey. Phases of mad, sad, laughing it's all in there. So come on out UK!"
Birmingham Listing info:
Melody of Deception is at the Church of God of Prophecy, Aberdeen Street, Winson Green, Birmingham B18 7DL, Friday 15 May 2015 | Tickets are £20 in advance kaleoproduction.com/en/products or £25 on the door or call 0121 643 6187 / 01902 424 020 / 07742 154 061 for further and tickets
London Listings info:
Melody of Deception is at Catford Broadway Theatre, Saturday 16 May, 7.30pm and Sunday 17 May, 6pm. Tickets are £25 in advance broadwaytheatre.ticketsolve.com or £30 on the door | call 07989 574 066 / 07723 085 092 for further info and tickets
Twitter: @MOD2015TOUR | @DrElaineSpencer | #melodyofdeception | #mod2015tour