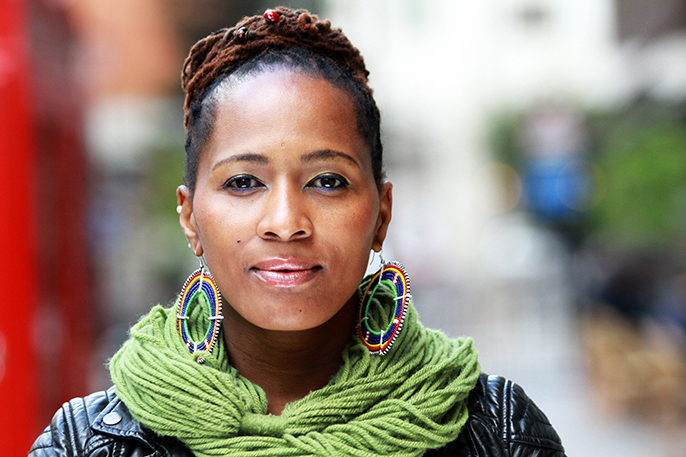 I wrote this play specifically to honour and celebrate ordinary women in South African history who contributed a lot before democracy in 1994
Napo Masheane is a playwright, poet and director, currently celebrating twenty years of South African democracy by taking part in the Royal Court's series of readings. Masheane grew up in QwaQwa in the 1970s which she says has given her a taste of both worlds; South Africa before and after democracy. Speaking to Masheane from her hotel room the writer positively overflows with enthusiasm as we discuss her play A New Song, one of six new works by South African writers for the Royal Court. It becomes obvious why Masheane is so successful as a motivational speaker as she explains her own artistic motivations and why her work is not only about the South Africa of the past but also the South Africa of the future.
How would you describe your play A New Song?
It's a play that I wrote specifically to honour and celebrate ordinary women in South African history who contributed a lot before democracy in 1994. So many movies and plays have been created in celebration of the likes of Nelson Mandela, or Oliver Tambo or Walter Sisulu, but I find it strange that woman are not given a space or a voice that comes from that colourful history. So I looked at my grandmothers and women in my community who were housewives, selling vegetables, or seamstresses who stayed behind and raised children while their husbands were in jail. I wanted the world to know that you might not have heard of them, but they did something.
Why do you think women's stories haven't been focused upon?
I think they were never given an opportunity. And part of me believes it's because they were so caught up in trying to raise children in homes with absent fathers. They had to cook, they had to work, hustle and make sure the next generation didn't fall into the same system.
Would you say that before 1994 the position of black women in South Africa was harder than the position of black men?
It was so different. You were not allowed to have a house, a bank account or a car if you weren't married, so girls got married very young to have security and also to escape poverty. But our mother raised me and my sister to know that we could be independent women and after 1994 that become true. I come from a family where both my grandmothers were domestic workers; my mother was a domestic worker but she worked her way up to be a civil servant, making sure that even if we can't afford private schools we get the best education. We get away from the riots and uprisings and we grew up in the countryside. Even in days when she didn't know where our next plate was coming from her love, her story telling, her encouragement, her giving us books has turned me into a woman who's a writer. That has allowed me to have a voice in a world where black women in South Africa didn't have voices politically, economically or socially. Which is why when I went back to drama school I knew I couldn't just become a soapy star; I needed to influence and be part of change in terms of my craft.
Your play is set around the Anti-Pass-Book Campaign of the 1950s. Is it a historical piece in that case?
It's set in the 1950s until the 1960s after the Rivonia Trial, which took Nelson Mandela and a lot of political leaders into prison. So immediately after the trial which is where act one ends I jump time and bring it to the present and talk about the 'born frees.' The present generation in South Africa that was not affected by apartheid and has no recollection of what it was. They only know free South Africa; they can walk into a bank or a church, they can sit on the bus, they don't have to always present their pass-books to say "Oh, I am allowed to be here."
Did you know anyone who was involved in the burning of the pass-books?
I do, yes. For me I feel something that's a blessing is that I'm born in the seventies. My early years of childhood were spent in Soweto; I had a taste of apartheid, I was there. I was also part of transformation in South Africa so I've had a taste of two worlds. As an artist I've performed for all South African presidents and I've engaged with a lot of political leaders in the A.N.C though my work but last year I've been able to interact immensely with the leadership of the A.N.C Women's' League and that included a lot of women who took part in the 1956 march. It was the biggest march that's happened in South Africa that involved women who were black white, coloured and Indian and the majority of them died. One of the women in the forefront of that movement was Sophia De Bruyn and I've listened to her give lots of talks. I'm surrounded by these women. Young black women in South Africa are not joining politics, even the born frees, but these woman are saying "This is what we fought for and you need to decide if you want to fix things from outside the movement or join the movement and be part of change."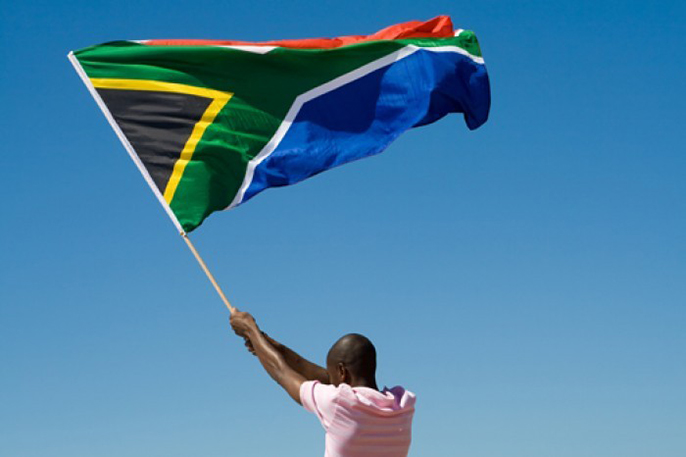 You mentioned having had a taste of both worlds. How have things changed for you personally since democracy was announced?
It's a curse and a blessing because you know how it feels not to have things and all of a sudden, you have. I spent a big part of my life trying to decide my identity; trying to rewrite the history within the present. Before '94 I didn't think there was gonna be enough space for me to talk about politics or about sexuality. A woman's place is always in the kitchen; that's how patriarchy want us to see it but after '94 the stages were open for me and my peers. Within those opportunities you had to be very clear of who you were. You're fighting against tradition that says the majority of black men work in polygamous marriages. So you have to question is that a good thing? If so why? So a lot of my work is about saying woman are sexual beings. I come from a generation that shocked a lot of people and provoked a lot of debate. One of my first plays, Fat Black Women Sing, was looking at beauty, image and sexuality of black women, saying "Yes we come from a community where there are lesbians. We come from a community of women love who sex, who love our bodies and there's different kinds of beauty." So I now have the opportunity to talk about these things though my work.
So people should come and see the play because this is my new song and I hope that when they leave the theatre they will go and write their new song.
What do you consider to be the main political problems in South Africa today?
For me it's corruption. And I'm trying to understand because again if you didn't have and you wake up one day and you have, how does your mind-set work? If you spend 50 years of your life in camps, running, fighting, being terrorised, being looked down upon and one day you wake up and they're telling you that you have the best seat in parliament, it must be a hectic internal conflict. I look at the majority of South African political leaders and they are in conflict. Living in homes that they never dreamed they'd ever have but they fought for those homes, they fought for their position and it's very overwhelming. It's like being famous and never having a childhood. I don't like corruption but also I need to understand being a child who is poor and is suddenly wealthy and powerful.
Why should people come and see A New Song?
Because it is a new song - every generation has a song that they have to write. So people should come and see the play because this is my new song and I hope that when they leave the theatre they will go and write their new song. A song that will inspire, a song that will ask questions but a song that will reflect our generation and who we are in the world and who we want to be tomorrow.
Info: To find out more about this production and other plays in the Royal Court's South African Readings, or to book tickets please visit the Royal Court's website