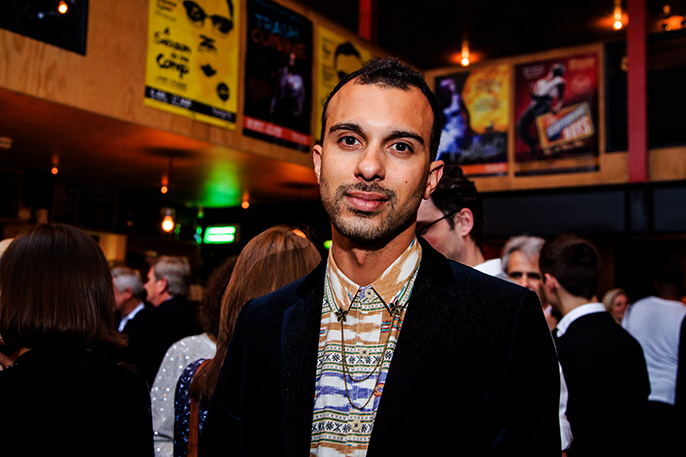 Sizwe Banzi is Dead is hugely entertaining; the first half for me feels like a stand-up comedy routine and for me that says a lot about the black South Africans under apartheid - that they could find this kind of gallows humour in the severity of their situation.
Matthew Xia is an award winning theatre director and in 2012 he headlined as DJ at the London Olympics. So hearing the Londoner describe hiding in theatre toilets to glean the audience's response was a tad surprising. Having spent six years presenting BBC Radio 1Xtra's Tales from the Legend the composer reveals he greatly enjoys being able to combine theatre with music which he says comes into play in his current production. Sizwe Banzi is Dead is a work by South African writer Athol Fugard which Xia says gives a fantastic insight into life under and recovering from Apartheid. Humble, but incredibly astute Xia explains his incentives for putting on this play and how he's shaped it into a four star, touring production.
Was it your decision to put on this particular play?
Yeah completely. Initially I was applying for the Genesis Award and one of the caveats for that is to produce a play that has a cast size of no more than three. So I started looking at Athol Fugard's work knowing that he did incredible tight pieces for two or three companies of actors. I was originally looking at Master Harold and the Boys and David Lamb suggested that I looked at Sizwe Banzi is Dead. It took me a little while to fall in love with it, but the more I read it the more I realised just how incredible it is, and I think the fact that it had an extended run at the Young Vic and now it's on a national tour is a testament to how good it is.
You used the word "incredible." What makes this play incredible?
A number of things. For me Fugard is like Google Maps. You end up with a much bigger picture of the entirety of life in South Africa, but he does it by zooming all the way down into one house into two people having a conversation, which completely explodes just how absurd apartheid is. The second thing is it's hugely entertaining; the first half for me feels like a stand-up comedy routine and for me that says a lot about the black South Africans under apartheid - that they could find this kind of gallows humour in the severity of their situation.
As a white South African, do you feel that Fugard has understood the perspective of black South Africans under apartheid?
Yeah, lots of people have said 'Is he a parasite, leeching these stories from the black community?' But he did so much for the black community; he was completely in tune and completely against apartheid. There were many many white South Africans against apartheid. It's like saying 'Does someone have the licence to care about another human being?' Also John Kani and Winston Ntshona completely influenced the story. The first half is almost a direct parallel to John Kani's life, it's him being a bit of a raconteur talking about when he used to work at the Ford factory.
Do you have any personal connection to South Africa?
No, none whatsoever. As a storyteller I'm personally interested in marginalised voices and trying to find stories from now or from the past that have a resonance now. Although this play can be seen as a museum piece, 'Look how bad it was at this place at this time' I think lots of these issues we're struggling with in our own country. The Home Office driving around in vans saying "Go home or face arrest" or Nigel Farage on Question Time saying how uncomfortable he feels when he's on a bus and hears people speaking foreign languages. So these issues of identity and sacrifice are still really pertinent I think.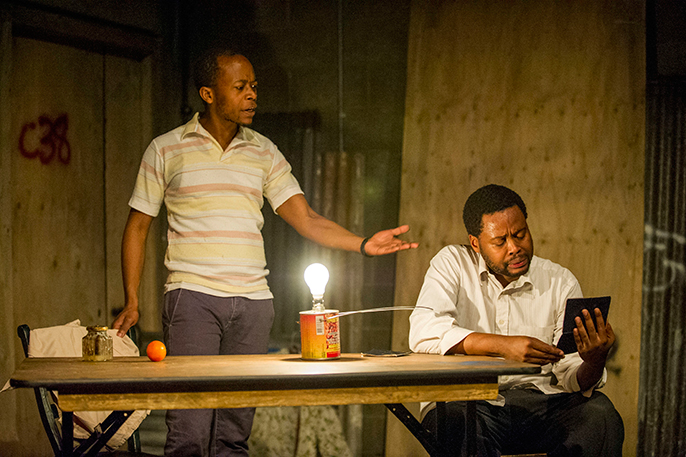 The play was originally written in 1972. Have you adapted it to fit with the present day?
No, you see those production where people shift the time or have a kind of anachronistic, timeless nature to it, but I always assume my audiences will be intelligent enough to make parallels. If I'd set it in Israel for example, I'd be making a direct comment and I think it's much more interesting to leave it quite loose and allow people to draw their own conclusions.
As it was written before democracy was declared, do you feel there has been a significant social change since the play was originally presented?
From speaking to people I'd say it really hasn't changed enough. I think the A.N.C are corrupt, I think Jason Zuma is corrupt, I think Nelson Mandela did a fantastic job of moving the country forward and I think the A.N.C have slightly stagnated and aren't sure how to carry on pushing those social reforms. But it's difficult; it was an economy that was set up to support ten million white people and now the nation is forty two million people. Also Jacob Zuma shouldn't be embezzling millions of pound s to build swimming pools.
In your role as director what have you brought to the play?
That's hard to answer, but essentially every single moment of it has been crafted and shaped by myself but I can only craft and shape what I see, working with the actors. Essentially my job is as a facilitator to help the play emerge. Athol Fugard knew what those characters were thinking, and it's my job to help the company interpret what that was. The one thing I was certain of was that I wanted actors who have a connection with South Africa and Tonderai Munyevu is Zimbabwean and Sibusiso Mamba half Swazi and half Zulu South African. I segregate the audience on entrance based on their skin colour which is something I feel helps the audience locate themselves in time and place. There's also a whole blacksploitation dance routine which isn't indicated in the script which I thought would parallel what was happening in America at exactly the same time. So I'm trying to give people references and ideas. It's all the little tricks and ideas and concepts and guiding the actors through the performance.
Congratulations on winning the 2013 Genesis Future Director's Award. Are accolades a big motivation for you?
They're not actually. But what they do is help artistic directors and people who can employ my skills to know that I'm good. But all I need to do is stand outside the auditorium to hear what people are saying to know if I've done a good job or not.
Do you ever do that?
Yes, and I run to the toilets and hide in cubicles and all sorts of thing. (Laughs.)
You also do sound design and composing. How did you get into that?
I guess that's where I started. I started out as a very bad rapper, then I became a slightly better producer and an even better DJ and ended up with my own radio show in the BBC for six years. So I completely understand sound and music and how to compose when playing piano and guitar. I've always loved music as much as I love theatre so for me when I can combine the two in any way I'm very happy. With Sizwe there's plenty of music and sound in it.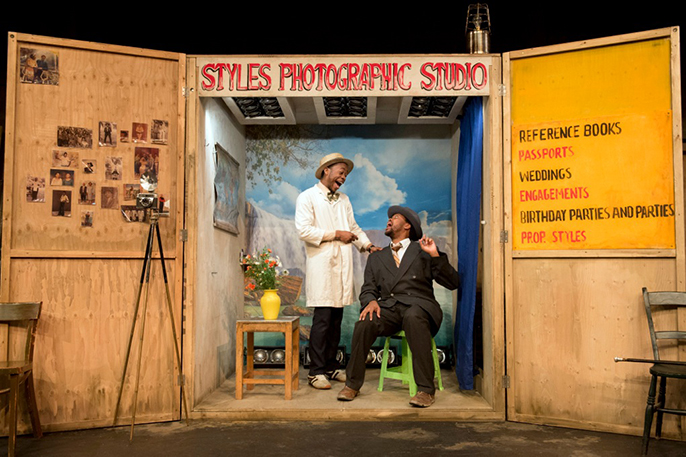 What was it about theatre direction that attracted you?
Initially I think like with most people it was acting; I wanted to be an actor as a kid. I didn't even know that directing was an option and I kind of fell into it. A friend asked me to co-direct something and I really enjoyed it and realised that's where the true core of storytelling is in theatre. If you've seen me act; every time I stand up in a rehearsal room to talk about something with an actor I say 'You mustn't do it like me, because I can't act.' (Laughs.)
What is the main thing that inspires you as a director?
I'm trying to answer that without sounding too wanky. I guess humanity. Humans and how we interact and how we care for and harm each other, I'm really interested in that. I see it as a cathartic tool, hugely entertaining and I think it's a great tool for social change.
Athol Fugard did so much for the black community; he was completely in tune and completely against apartheid.
Why should people come and see Sizwe Banzi is Dead?
Because it's an across the board four star rated show and if you miss it it's gone. Theatre isn't like video; you can't download it so if you don't see it you miss it. There's also that magical thing of it being just for you. There's a very particular thing that happens between the people on stage and you in the audience. It's a very special thing particular to theatre I think.
Related links
To find out more about Sizwe Banzi is Dead, visit the Eclipse Theatre website