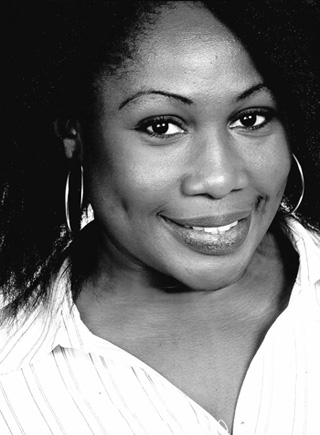 Wendy Mae Brown is a veteran of the razzle dazzle. Having starred in sell out tours of Mama Mia, Carmen Jones and Little Shop of Horrors this Walthamstow born actress is donning the wig of psychic Oda May Brown in a national tour of Ghost. Speaking to Brown from Cardiff the stage star describes her own experiences of the supernatural and is vocal about the need for more black leading roles in theatre-land.
How would you say Ghost the Musical differs from the 1990 film?
Completely. It's much much bigger, the only thing that's exactly the same is the script. You see human beings do things that you didn't think possible on a stage. It takes a lot more liberties and funnily enough since playing Oda May I see Whoopi Goldberg as being understated. In the stage version she is racing around, screaming at Sam and ripping her wig off. As you may know from the film my character Oda May Brown and her two sisters are a team of hustlers pretending she can get in touch with the spirits which she can't. Or rather she can as it turns out! The stage version is written a little more around her and Sam's relationship to make things larger in every aspect.
Were you a fan of the film?
Absolutely. It's so weird this sort of thing keeps happening to me.
As a black actress anything that a black person stars in you always think 'Hmmm, I could do that!' But the same thing happened with the film Carmen Jones, I really wanted to play Pearl Bailey's role and I ended up playing that as well so I'd better be careful what I wish for! (Laughs.)
Ghost the Musical takes a lot more liberties and funnily enough since playing Oda May I see Whoopi Goldberg as being understated.
Congratulations on this site, I think it's fantastic; a black website for the theatre. (After this journalist's delighted exclamations of thanks and singing the praises of Afridiziak founder Sophia Jackson) This is something that needs to happen. I've been lucky enough to be a part of a lot of mainstream theatre; I'm an original cast member of Mama Mia for instance, but it's just time for more. It really is woefully underrepresented and we're not always as respected as we can be. We need a black leading lady; we have our Elaine Paiges our Ruthie Henshalls and I know so many black performers who deserve that moment in the spotlight. Triple threat; actors singers and dancers and they're playing instruments or languishing around in the chorus section because no one thinks to write romantic leads for them.
Why do you think there aren't more romantic leading roles for black women?
I think because historically we're seen as funny people and the great songs go to big black women like Motormouth Mabel in Hairspray and I'm afraid it does go back to the Gone with the Wind Mammy thing. The caring, the nurturing, the maternal; it all tends to go along that line. Either that or we're absolute fluff; Carmen Jones in that red dress and there doesn't seem to be that middle ground. Obviously black women are beautiful, we fall in love, we have our hearts broken and so on. But as in Carmen Jones she falls in love but there's a tragic element to it; there always is with black love stories and it's unfair.
What do you think about specifically black theatre?
I love black writers; my parents are Jamaican and the Tricycle and Arcola Theatre are all great so keep that coming. But it's not separate theatre; it's seemingly fringe but it's only our way of saying 'We're coming, we're here, if you're ignoring us we have to do something ourselves.' I don't mind that at all but it is high time that the west end became more mixed and more representative.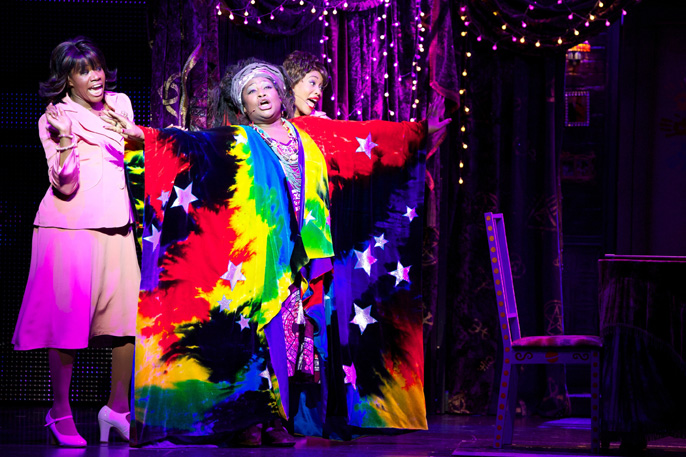 Was your Jamaican heritage a big part of growing up?
Yes. I was born here, but my father was a well known Ska trumpeter, he was a session player for Trojan records so if you wanted someone to play trumpet you called Dave Augustus Brown. So Jamaican music, Ska, very early Reggae were all a part of my growing up. It's strange that I segued to musical theatre as it started out as something to get me out of the way on Saturday mornings.
How did you make that leap into big glossy musicals?
I studied at Italia Conti stage school; it was very intense, we did ballet, tap, everything. We learnt four forms of jazz and all forms of singing because we were being geared towards a life in theatre. I didn't realise that I was going to end up there. I was incredibly shy; I literally couldn't lift my eyes off the ground so it started off as me at Saturday classes and they said I should come to the full time school and that was that. My first job out of school was Little Shop of Horrors so I went straight into touring.
How did you get over your shyness?
Believe it or not I haven't really. I understand what Beyoncé says about channelling Sasha Fierce; there's another character that happens on stage. Something also happens when I walk into auditions; people see me as brighter and larger and funnier than I see myself so I'm forever being offered funny women who light up a stage. I don't see myself like that but there must be a part of me that is that way so I feel I've grown into an Oda May (Laughs.) I think it's that thing of being another person on stage which I think a lot of performers do. Hiding behind the character maybe.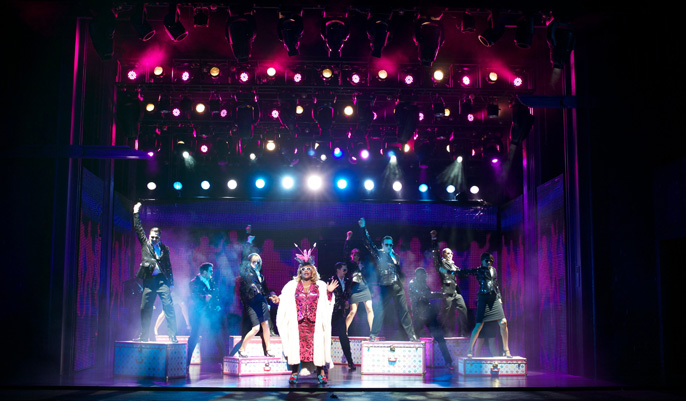 You've done so many big tours. Do you have a favourite place to perform?
Yes, I like Edinburgh; I go there a lot as it's a main touring place. I love it; the city's always buzzing and the audiences are always great. I'm a Londoner; I grew up in Stockwell so if you get a west end show that's the icing on the cake but I actually quite enjoy touring, just not back to back as its hard to be away from home for a year at a time. Britain's beautiful; it's lovely to go around and see various places like I went to see Cardiff Castle today. It's very enjoyable.
Your character is a medium. Do you personally believe in Spiritualism?
Absolutely. My father died round about my late thirties and that started me on a journey of looking. I was one of the few people who saw Sally Morgan before she became famous on TV and she told me quite a few things. I've always been interested in the afterlife; it's of those things that fascinates me. With this role it seems like it's meant to be; we've even got the same name, it's just a bit ordained somehow. In the middle of Kiss me Kate I was missing my father a lot 'cos he was always the one who really encouraged me to do all this and two days later I got Ghost.
Congratulations on Afridiziak Theatre News, I think it's fantastic; a black website for the theatre.
I often think he had something to do with it. Like with the show; it's the story about the power of love and how that can bring somebody back to save their loved one. The show really makes you think there may well be another world outside of this one where we all get to see the people we love again and wouldn't that be amazing?
Related links