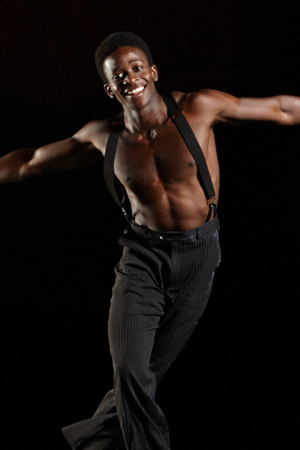 With summer fast approaching hoards of sunshine starved Londoners are eager to see what this year's Wonder-ground has to offer. In a colourful spiegeltent pitched proudly on the South Bank I meet dancer Hilton Denis whose innovative dance moves seem sure to pull a crowd. I'm surprised by how young the choreographer looks and downright shocked when he reveals his age as 24.

In his whirlwind career the Sydney native has performed as backing dancer to Janet Jackson and Flo-Rider. He has competed in Australia's premier series of SoYou Think You Can Dance, toured with sell out musicals such as Oliver! But it is in his current show LIMBO that Denis has been given free rein to design the choreography for a circus themed extravaganza. Slightly shy and very modest Denis admits that looking back it all seems surreal but appears utterly intent on giving English audiences something they've never seen before.
How are you enjoying your first visit to England?
I'm liking it. We arrived about two weeks ago. The first week it was really sunny, I was walking around in a singlet and everything, everyone's said that's not typical! We went to the park, threw a frisbee and had drinks at the bar. It's been really fun and welcoming so far.
Which countries have you previously performed in?
I've been to Germany, China, Kuala Lumpur, New Zealand; quite a few places. I've not been everywhere yet though. I haven't performed in the US yet. One day I'd like to perform there. They've got a big industry; much bigger than Australia. But the UK's got a big dance industry as well. Do you have a UK version of So You Think You Can Dance?
We do yes. How did you become involved in the Australian version in 2010?
If you want to see something you've never seen before come and see LIMBO. It's fresh, innovative and you have no idea what you're going to get.
I just auditioned for it the first year it came out; just went for it. Looking back I should have waited for a season I reckon 'cos the first was kind of like a test run. The second and third season was when they really knew what they were doing properly. It was still a great thing to do. I got experience and to see what it was like working on a TV set with different crews. Also I got a bit of exposure in Australia; a lot more people knowing what I can do and what I'm about so it opened up a few doors.
What are you about as a performer?
I guess my strength is being versatile. I can do several different styles pretty well. I can dance hip hop, contemporary, tap and do acrobatics. So I like to mix them up together a bit, put a few tap moves into the hip-hop and stuff. So my versatility is probably my strongest point.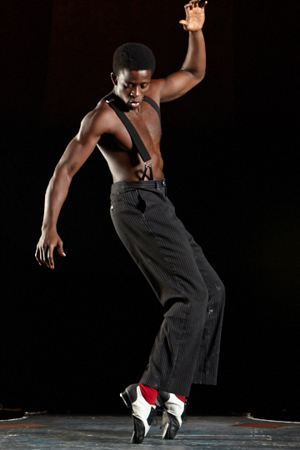 How would you describe your current show LIMBO?
LIMBO is a really exciting, mysterious show. You don't really know what you're getting firstly; the team have created such an intimate and cool environment. They've created a real vibe, sort of dark and a bit haunting. There's dance, singing and circus all thrown into one. It's a thrilling show; it has a lot of different energies and emotions that we touch the audience with.
As well as dancing do you perform in any of the circus routines?
Errr, yeah! There is a circus act that I do but I'll leave it to you to come and watch. I can't give away too much.
The show premiered in Adelaide. Are a lot of the team Australian?
Four of us are from Australia, then we've got three people from the United States, one guy from France, one from Russia and another person that's from Canada. It's crazy 'cos we all didn't know each other at all until we came together and created the show. It was exciting more than scary for me, I was like 'Woah, I'm gonna step into this new world and meet all these different people and create a show.' It's all been very cool.
What's your role been in creating of the show?
I'm the one with the most dance experience so my role's been obviously doing my own choreography and choreographing some of the other sequences. Basically I've spent a lot of time seeing where I could put my input. Looking to see if I could make other people's routine better just with a bit of stage direction like how to walk or how to exit.
The whole idea for the show was Scott's (Maidment- director). It was his concept and I think he came up with the idea for the music first, so he cast all the music people before he cast anyone else. (Rather coincidentally the director chooses this moment to walk past wearing sunglasses despite the drizzle. Sadly he sped off before I could ask him anything!) He made the musicians create the sound and then got us to come in and base the show around the music. It's a different way to create a show I guess but it's kind of cool. It gave us all the right kind of vibe and it inspired the show.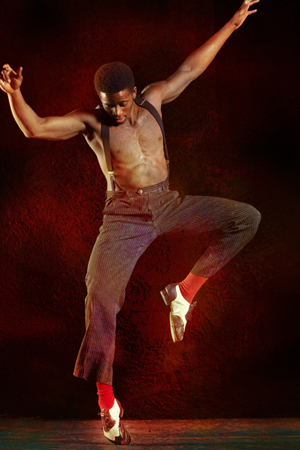 How would you describe the music for LIMBO?
It's got a really mixed vibe. It's got like a cool Mississippi, New Orleans type of feel to it and it's got a hip-hop vibe to it. There's a funky contemporary vibe as well and a circus theme. The music is hard to describe, it's really eclectic and that feeds into everything else.
How did you first get into dancing?
I got into dancing when I was eight or nine. My parents put me into dancing classes when I was young, my brother and sister were also doing it so that kept me at it. It wasn't until I was in year ten that I started to take it really seriously and I moved to a performing arts school in Sydney called Brent Street Studios. It was a change but my friends were cool about it 'cos I was into sports as well and dancing meant I was always surrounded by girls. I started with tap and Hip-Hop with a bit of jazz and just carried on, and dancing has been a huge part of my life ever since.
What do you think you'd be doing if you weren't a dancer?
I would like to do some music production or some sort of creative thing. Something to do with performing, even if it was backstage or directing. I'd love to be an artist director something like that. I can see that in my future for sure.
Why should people come and see LIMBO?
If you want to come and see something that you've never seen before come and see the show. It's fresh and innovative and you have no idea what you're going to get.
Info: LIMBO is part of the London Wonderground at South Bank with shows until September 29, 2013