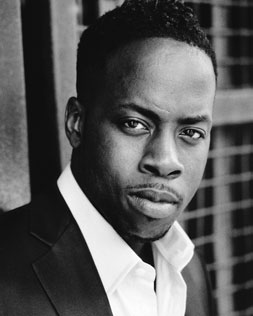 Rolan Bell has been strutting his funky stuff on the stage for several years now, playing lead roles in hit west end productions such as Fela and The Harder They Come. As he prepares to head the cast of the upcoming production of Ragtime The Musical, I ask him about his journey as an actor and the events that had led him to star in musical theatre. A friendly and articulate young man who chooses his words carefully, Bell frequently refers to how lucky he has been and the optimism shining out of him is infectious. An actor with a great deal of ambitions that he will undoubtedly fulfil.
You're about to star in the Regent's Park Open Air Theatre production of Ragtime the Musical. Tell me about your character Coalhouse Walker Junior.
He's a young African-American man who aspires to great things and he wants to be the best that he can be, live the best life that he can possibly live. Ragtime music was actually created by Scott Joplin, and after hearing about this music as a young man Coalhouse started to get piano lessons, seeing at as a way of eventually living in a big house with a wife and a car and children. He's a very passionate man. Very charismatic I would say and very loving of life and wants to live it to the fullest.
You played Fela in the recent National Theatre production and Ivanhoe Martin in As Hard as They Come. You have lots of experience in musical productions now.
It is growing. I was trained as a classical actor, but my career after drama school has brought me into the musical theatre world which I am loving. Those are two very rich roles which I've learnt a lot from and I've had a chance to build my role telling stories through song 'cos technically there's a lot to it. It's been a very interesting journey so far, those particular roles have both been quite politically inspired characters. Both fighting for something; seeing themselves as quite righteous men. So there seems to be a bit of a pattern to it. It's been very surprising to me, because I'd never really seen myself as a singer, but the opportunity has come about and I have been able to over time showcase myself as an actor of that category and it's been built from there. I've kind of grown with confidence in this particular craft. I'm definitely still learning because I learn on any job I take on.
Going back to Ragtime, why do you think now is the right time to relaunch it?
I think there are things that our happening in our society today that this story easily links into. I think Tim (Sheader -director) has approached this story by taking it into a very modern concept as it were.
He's given it a whole new angle so we can reflect on it as modern people and with a modern mentality. The story can bring out questions about where we are, how far have we come and how much have we learnt from history and again, Tim's approach sort of pushes us towards thinking about that and where we as individuals sit in our beliefs.
It's a story of three quite distinct social groups isn't it?
Yeah, you have a Jewish immigrant called Tateh and his daughter and they've just arrived in America. He's aspiring to make something out of himself for him and his daughter, pretty much working from scratch. Then as well as my own character, Coalhouse, you have the family who virtually have the American dream, and you get to see the difficulties within it. If you're like Coalhouse and Sarah all of that would seem bliss, but of course once you actually get there it's rarely what you thought. So you get to see it from three different perspectives and the sacrifices people have to make whether they're working from scratch, whether they're halfway there or whether they're actually there. I think in this production you really do get to see that the grass is always greener.
In terms of your television work you're best known for playing the character Theo in Eastenders. Did you enjoy being in a soap?
Being in a soap was a great experience, it was a great opportunity to finally see what it was like on the other side of the camera with something that for many of us we've all seen throughout our lives. It was a great chance t develop skills in that area of acting 'cos it's a completely different type of method to produce a different result. For example with theatre you get seven weeks rehearsal and you get time to develop it, whereas with television the rehearsal may just be a few read throughs and you just get on and do it. But it was great and the team there were all very friendly and welcoming, I felt very comfortable there.
Would you like to do more work in television?
I would like to do television again, especially as I've had the chance to learn some things the first time around. I'm not one for watching myself on camera, I know a lot of actors say that, you kind of watch it and end up biting your nails just hoping it looks right! It's so easy to judge yourself, but I thought it was important to watch myself so I can learn what things I can improve on, early days and there's still a long way to go. I'd like to have a long career as an actor exploring different types of roles in different genres, it's very exciting. Obviously it's one of the beautiful things about being in the industry. I have been really lucky in that I've been able to get out there and showcase different sides of myself and I hope very much that there's more of that. There are so many things out there to do and I'd like to try many of them at least once.
There's not much known about your background. Where did you grow up?
I actually grew up in Chiswick. Born and raised. I was born in Queen Charlotte's hospital and didn't want to move too far away, not from my mother's cooking. It's not too far to go back to the Sunday dinner which is very important to me. As a Jamaican woman the Sunday dinner is typically rice and peas with chicken, sometimes with the macaroni and cheese, plantain. The full shebang.
How has your Jamaican heritage influenced you in your decisions and in your acting?
I think it's played quite a big part, when it came to getting the Ivan role I think it helped me a lot. It's so easy to want to imitate your parents who can be so well spoken but when they get angry all of a sudden the patois comes out! So when it came to roles like that it made it a lot easier to just fall into it. Also because with that production they really wanted it to be just soft enough so the whole audience could understand it, but still authentic enough that someone of Jamaican heritage or who's spent time there can recognise that element.
Also I'm doing a Midsummer Night's Dream. I'm playing one of the mechanicals, Flute and I have requested of the director that I'll be able to play my character with a Jamaican accent. Jamaican and Shakespeare should be quite an interesting cocktail.
Which drama school did you attend?
I went to the Drama Centre London. That was one of the most memorable experience I think I'll have in my life. It was very intense; you really had to dedicate yourself to the school. The hours were 10am to 9pm five days a week. The training had so much to offer that you couldn't help but improve as a performer. It was a case of 'Say goodbye to your friends on the outside' which was good for me because it made me focus and get on with the training.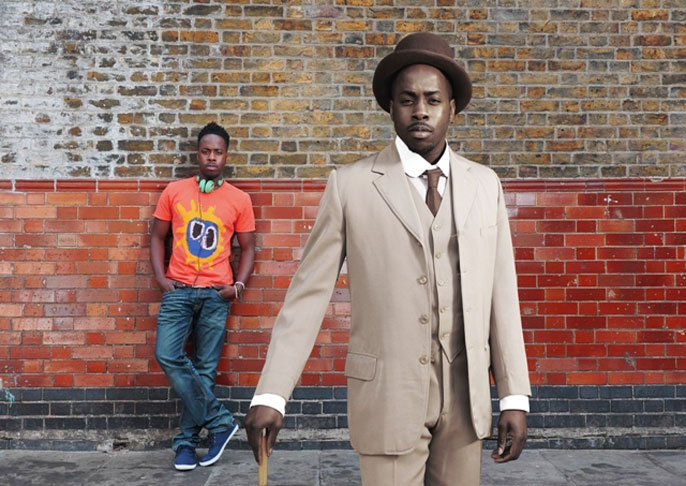 What was your first acting role?
My first acting role was playing a twin is Oscar Wilde's The Canterville Ghost, at the Southwark Playhouse, I would have been 21 or 22. That was good fun, it was a great job to have just out of drama school.
Was there a specific moment that you realised you wanted to act?
Yeah, it was during my year six play at primary school. We were doing a production of Return to Treasure Island and I was playing a pirate called Captain Crook. I just fell in love with the work of taking on a role and learning lines. It was one of the first things that I felt really passionate about. I said to my mum that I wanted to be an actor and she helped set me on that path.
Has your family always been supportive of your career?
Always; very supportive family. I think there's a bit of a performer in all of us, my Mum and Dad have always had that in them. I'm one of seven children, the second oldest. My older sister is very into performing, as is my younger sister. One of my younger brothers is actually in college now studying performing arts. We've always liked re-enacting scenes from movies and so on and the same goes for singing. They've always been supportive and they always come to watch everything I'm in.
The musicals that you've been in have always been American inspired. Why do you think there aren't any British musicals centring on black British music?
I guess that there have been musicals that have done so well and can be quite hard to compete with, but I think with things like this it's simply a matter of time. I think the culture for that is still developing, it's still quite new and people are still learning how to develop that into an art form. With urban music in the UK things are just beginning to come out of their shell. Now we have artists like say Tinie Tempah or N-Dubz, but that's still quite new in the UK. Years ago we had So Solid and they helped to open doors for people and the more things like that happen, the more people will be inspired to take notice of other cultures and write for them. Of course before people do that they need to know there's and audience for it. I think it will come with time, and America is an example of showing that that can happen. I think as long as we are getting there there's no need to get too frustrated about it, we'll just do what we can do and we have to achieve.
Have you ever felt that there are limited opportunities in Britain for a black actor?
I definitely haven't. I've been quite lucky so far in my career. As a black actor I can't say to another white actor of a similar age that my journey has been harder because I'm black. I could never really tell unless I'm in those shoes. If I could be white for maybe a year or two then maybe I'd be able to see if there was a difference, but it's hard to narrow it down to just one person. It's not always just about race it's also about sex as well. I don't know how different it would be for a black male in comparison to a white female, or a black female in comparison to a white male, it could all be so completely different. I personally just take each day as it comes and each job as it comes and hope for the best and do the best that I can.
Generations before me if actors have found things difficult there are things that they've done to help us move forward. Now we're at the stage that to be asked that question is difficult for me and one I actually have to think about. I do believe that art whether it be TV, music, film, or theatre should reflect what you see in your society. If I walk around London and see a big variety of black white, Asian then I think that's how it should be in art. That's when there's something for everyone to connect with or to learn from, because we all learn so much from these different cultures and we all have so much to offer. It just makes the world more interesting. So I think we are getting there.
---
Related links
Rolan Bell is in Ragtime the Musical at Regent's Park Open Air Theatre from 18 May to 8 September 2012.