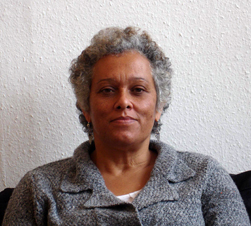 This year, Talawa celebrates its 25th anniversary. For the next 12 months, they will celebrate by staging new work, showcasing fresh black British writing, developing talent, revisiting classics and mounting a satirical site specific piece of theatre at the Victoria and Albert Museum. Afridiziak Theatre News editor Sophia A Jackson talked 25 years of theatre and what it means to be black and British with Patricia Cumper, artistic director, Talawa Theatre Company.
Talawa was founded in 1986 by Yvonne Brewster, Carmen Munroe, Mona Hammond and Inigo Espejel – are they still involved in the organisation?
We invite them to all our major functions and let them know what we're doing but most of them are retired.
Talawa has commissioned a piece of original digital art from artists Evewright and Derek Richards. You are asking the public, what does black British mean now? I would like to ask you this question.
The simplest answer for me would be having a British identity but also having other elements of the cultural, social and personal to strengthen that identity and also make it richer.
And what did black British mean 25 years ago in your opinion?
It was the time when being black-British clarified itself. We had children of the Windrush generation making their mark so it became the crucible of political change.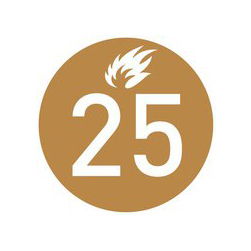 What kind of responses have you been getting from your #blackbritish campaign on Twitter?
For some reason there seems to be a lot of responses about food [laughs]. There was one about a Full English but with plantain and hot sauce. There is also a lot about being black and British and how you marry those identities together. There have been a whole variety of things and some of them have been serious but acknowledge the duality where there is a strong sense of being British but there is something more.
What will be the end result?
A series of portraits and images which are made up of small dots which can be projected on screen or on the computer and when you roll the mouse of it each one of those dots become an answer. When we did Krunch at the Albany earlier this year it was projected then. It's silent but people watched and responded to the visuals. It morphs from portraits, to words and back again. The idea is that each one of those dots represents an answer as to what it means to be black-British. It will be at any venues that we do a production throughout the year but also by the middle of the year it will be online as we'll have enough answers by then. It will be accessible via our website's mini site when you roll the mouse over the questions. Please get involved by going on Twitter using #BlackBritish to @talawatheatreco.
Why was the The Colored Museum by George C Wolfe chosen as the production to celebrate Talawa 25 at the Victoria and Albert Museum and what's the synergy there?
Our archive is there which is the beginning of the relationship and they are interested in starting a discussion about what you keep and it's their first time having a major theatre piece there. The play will be staged in the Old Lecture theatre which they have just refurbished and it's just beautiful. We're very nervous, they're very nervous and it will be great. We chose The Colored Museum as we wanted there to be some political thought and provoke discussion about what makes us who we are and being black British. This felt like a good place to start and George C Wolfe has won countless awards. They are staging it now in New York too.
What are your fondest Talawa memories?
I've been around Talawa for a long time as an artist as well and a lot of my fondest memories are around the Talawa Young People's Theatre [TYPT] summer school. I've seen some tremendously talented young people and it's such fun to work with them. One of my personal favourite memories is watching Shango Baku who must be nearly 70, dominate the stage in Rum and Coca Cola. One of the proudest memories for me that have come out of Talawa is the team that we've created and the work that we do. Our educational work is as important as our artistic work and the fact that we're now becoming a touring company which is a huge step forward and being a national company rather than simply being London based.
So what do the Talawa board members bring to the table?
That's interesting as we're looking for new board members at the moment. We have really nice core board and most of them are practitioners. One of the most active ones is Nonso Anonzie, he and Cathy Tyson help us out every year with the Young People's Theatre.
What do you think are Talawa's greatest achievements in the past 25 years?
Number one is continuing to survive – that is a major thing. I hope the men will forgive me but the fact it's been led by stroppy women all along – Yvonne Brewster [OBE], Paulette [Randall] then me. It's basically been stroppy women which I think is important. Also that we continue to have a conversation with mainstream theatre that's not about begging for a position but saying we're here. Yvonne is fond of saying we did the first big black productions in London and now everybody else is doing it we can go off and do other things. When Talawa started we did the Black Jacobins, and the Trevor Rhone plays, nobody else was doing them. Yvonne tells the story of when she did Smile Orange it was a theatre which I think was in Hampstead. The first night there was a reasonable crowd, the second it was sold out and there was a line all around the block and the third night they came and found the theatre had been burnt down. Talawa has consistently faced a challenge and continually ask ourselves do we need to exist. We define ourselves as a black-led theatre and a black British theatre and we've evolved over all that time but we will continue to exist until there is no need for us. So it is survival.
How will Talawa theatre stay relevant for another 25 years?
I think the idea of diversity is hugely changing and particularly among young people. The sense of being black in my generation and the way I know it becomes less and less resonant and there are new ways of defining what we do and how we do it. Talawa will continue to evolve and respond to whatever is happening around it and there will always be room for a company that wants to find the stories that are not being told and get those stories told to the widest audience possible.
What is your earliest memory of going to the theatre?
My aunt told me this but when I was about five or six I was taken to the National Pantomime in Jamaica at the Ward theatre which is a bit like Stratford East one of those big national theatres and they were having a pantomime. It is based on the English pantomime but they don't have a Dame it's a lot more political. They were doing that whole thing of sneaking up behind somebody and my aunt remembers me standing on the chair saying 'it's behind you'. So clearly from a young age I was involved in what was happening on the stage. The thing that I consciously remember in my teens is the first time going to the theatre at the University of the West Indies and seeing plays by Derek Walcott and Shakespeare. All of that was produced in Jamaica. I saw Caribbean voices and stories on the stage for the first time and it was hugely powerful for me and I've never forgotten it and it made a huge impression on me.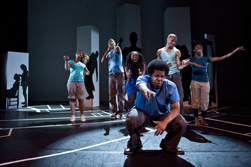 You won a scholarship to study Archaeology and Anthropology at Girton College, Cambridge University. What are your memories of this time?
My parents had been there before me and had absolutely loved it. They were there in the 40s and I was there in the 70s. I made a few friends and I managed to do pretty well academically, captain of the swimming team but I didn't find it a happy place and was never particularly comfortable there. I didn't understand the English class system and people formed quickly into cliques. What was fascinating to me was the level of privilege that everyone took for granted including myself. It was fine to be at a sherry party and then an afternoon performance and then you went to the May balls – you're wrapped in cotton wool the whole time. But within that there was also unkindness. I remember a time during graduation when a friend said to me would I mind not going to her room because her parents didn't like Caribbean people. I had a fantastic tutor and she looked after me very well and that with the sheer determination not to let my family down got me through.
Where do you think your passion for theatre comes from?
My basic thinking is this. From the time we sat around fires, the way one person told another stories which were tremendously powerful. Collections of stories can create identities and to be part of the group of people who tells stories to me seems a powerful position to be in. As far as I'm concerned the best way to tell a story is on the stage. It's collaborative, it's visual – it's all the senses basically and also risky because it's live, so those are the reason why I absolutely love theatre. My passion for theatre comes from the fact that I want our voices to be heard. This is my politics but I think the only way you can change the world is by making sure a range of stories are heard. What happens is that history gets narrower and narrower so if you get your stories in there you make your own myths and you make your own heroes which creates a more equal society.
Who do you admire in the theatre industry from those behind the scenes to those gracing the stage?
I love Kwame Kwei Armah's passion for social justice and the way that comes through in his work. I'm watching Gbolahan Obisesan who directed Sus I think he's one to watch and impressive. As a writer I love Samuel Beckett. There's one person I admire sort of lifelong and that would be Toni Morrison - reading Beloved was a liberation.
What obstacles have you had to overcome when climbing to the top?
Wow. My greatest obstacle has usually been myself I think like most women there's that self doubt so it's about sharpening the vision and ambition and pushing forward. I've also found that you bump into the assumptions about race and class and you spend an awful lot of energy overcoming, challenging or ignoring them and that wastes power that you could be using elsewhere.
What changes would you like to see in the theatre industry?
I would love anyone who is senior or a decision maker to understand diversity is not a threat. It is a source of incredible energy and it could make British theatre more powerful than it is.
---
Related links
To keep up to date on Talawa's 25th anniversary celebrations visit www.talawa.com
Follow Talawa on Twitter: www.twitter.com/talawatheatreco
Afridiziak Theatre News review of Krunch
Afridiziak Theatre News interview with Don Warrington