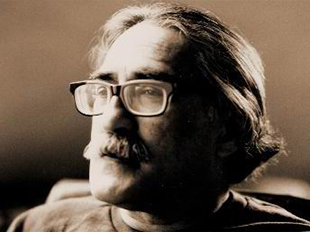 Mustapha Matura's work as a playwright revolutionised the face of British drama. Works such as Rum and Coca Cola and As Time Goes By brought the West Indian experience to an unsuspecting 1970s London. Through his writing, Matura opened up a dialogue on post-colonial life in the Caribbean. He furthered this by co-founding the Black Theatre Co-Operative (now NitroBEAT) in 1978, changing the face of representation on the UK stage.
Despite his incredible achievements, Matura is touchingly modest. He says that writing is his way of dealing with homesickness, having left Trinidad in 1961. His 1974 work Play Mas is currently undergoing a resurrection at the Orange Tree theatre and Matura admits he was nervous about the revival. Highly aware that I'm in the presence of dramatist royalty, Matura is welcoming and slightly cheeky. I find myself fascinated and laughing out loud as he regales me with tales of his experiences in swinging sixties London. He is also incredibly insightful about the political shortcomings in post-colonial nations. He explains that Play Mas was heavily by the political unrest in Trinidad and can teach the current generation some of their history. It was an honour to speak to the moustachioed maverick and so exciting to see his work back on the stage.
I don't set out to represent Trinidad. I think it's my way of dealing with homesickness. It's my way of connecting with Trinidad is writing about it. I can sit down in London and conjure memories of Trinidad and my childhood there.
Whose idea was it to put Play Mas back on the stage?
Paul Miller, the artistic director of the Orange Tree. Out of the woodwork he just emerged. He was part of the Royal Court at one point; that school of young generation of directors. I think he saw it and must have liked it, because it does require a bit of a leap to pull something from 1974. It may kind of resurrect the spirit of the play again so we'll see.
What is the spirit of the play?
That's a big one, but I'm a big boy! (Laughs.) The driving force of the play is the masquerade. Disguising, pretending, manipulating; all these things. It's very hard to put it in one package. It's funny I didn't set out to write that play. As I started writing, it just started emerging. It's the best thing when something like that happens; you're giving birth. It's your baby. Somewhere in between you realise where the work is going and you start nudging it. It's either blind innocence or blind ignorance. (Laughs.) But also, Play Mas was heavily influenced by the politics that was going around at the time. It was an active period. In London at the time we had the West Indian Student Centre in Earl's Court. Lovely building. I think it was paid for by the Commonwealth government. I think they regretted it afterwards as there was a lot of agitation. People like Kenyatta, Nkrumah from Ghana, Stokely Carmichael, Nelson Mandela would all go and share their ideas; I went there myself. There was a lot of agitation and consciousness rising around anti-colonialism. People were feeding off each other. A lot of the guys who were there turned out to be presidents and prime ministers of their countries, like Julius Nyerere, so an influential place that was.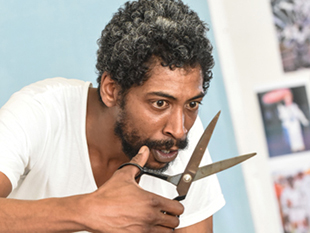 The original 1974 cast of Play Mas, was filled with now iconic national treasures. Were you aware that this play was going to be such a benchmark in representing black actors in Britain?
No, it was the most amazing casting and these were the actors that were available. They were part of the movement around the Royal Court which was the home of radical theatre. Norman Beaton, Mona Hammond, Rudolph walker, Corrine Skinner. They were young and passionate, hard to tell what age they were as black don't crack. At the time we were just doing our play.
In those days to have an all-black cast was an achievement. Also in a strange way, it seems as though there were more black actors at the time than there are now. I think what happens is the age group has gotten smaller. Now they're all young teenagers; hot. I think it must have been the 80s when the soap operas started coming out. Kids all wanted to be rock stars, footballers and actors, so they did drama. I can see the attitude with young actors nowadays, they have so much energy and I'm not knocking it. I was almost dreading doing the play, because I thought 'How the hell are we going to find people of the right age and right calibre to do this?' But they're all great, a lot of work has been done to find the right people.
How would you describe the play's lead character, Samuel?
Samuel is the play itself. He evolves in the play. He's kind of riding the political wave and a movement that is taking place in Trinidad at the time. This was from 55 to 60; independence came in 1962. Even before I left Trinidad you could feel what was going on. The African origin population had found a champion, Doctor Eric Williams who was socking it to the colonial powers. What was happening in the fifties was there were these were bright, hungry boys. They were coming out of colonialism and they wanted to self-rule. It was a force you couldn't stop it. So Eric Williams was a power house and he knew how to deliver a speech. He had a deadpan way of speaking and he loved to use big words and the crowd loved it. Doctor Williams got into power, but it got all messy. I don't think he was interested in the mechanics of government. There's a wonderful story that he used to play poker with Chinese businessmen, and he used to have a pail of coconut ice cream. He used to sit down there with his Chinese business men, playing poker and eating ice cream and this is the prime minister of my country. (Laughs.)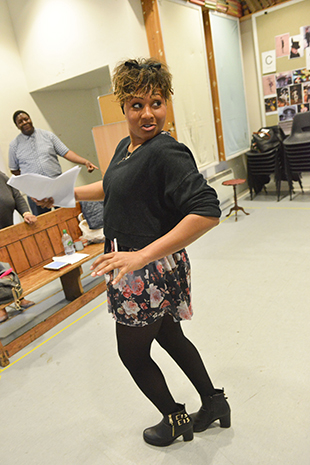 Play Mas is set in a time of great political unrest. Can that resonate with a modern British audience?
I think so. Because there's a whole generation of young Trinidadians who have grown up here, but they go back to Trinidad like catching a bus. They're hungry for things about Trinidad and they're curious about what happened and what went on. I think the show will find an audience. We just had carnival. And then they have a cool down. You party, but not as energetically as last weekend. Their history and culture is something people want to know more about.
Trinidad gained independence in 1962. What differences do you think came after independence was declared?
At the time when independence was declared there was a lot of energy. Suddenly a lot of jobs were available for locals. There was previously a vacuum with the colonial rule and now there were jobs for local boys but pretty soon it became corrupt. The African majority who had assumed power started throwing their weight about. They screwed up! They couldn't manage the country 'cos they had no experience in it. They all started hustling and trying to put something in their pocket. When it comes to skulduggery, we are masters of it; it's part of the culture. The word for it is "rachifi." Or "bobol," it means to steal or to pocket. If you come from anti-colonial position, you want to make up for what you didn't have. So you want to pocket your bit. A simple illustration the effect of colonialism and the transition is a young lady I knew. Her name was Jane Miles and her brother was my best friend. She was about six foot tall; a beauty. She always wore monochrome prints and as she walked to work at the government office every morning she would stop traffic. She blew the whistle on a politician and he destroyed her. She went doolally and she started doing a lot of drugs; the whole island started doing it in the sixties. One night I went down to their home when I was passing through. She was there with her mother, wearing a big baggy, white, scruffy T-shirt, jeans and trainers. She was the queen of fashion and she'd disappeared. When I was leaving she came outside and knocked on my car window and she said "Can you give me some money?" It was awful to see. I think that whole aspect of colonialism needs a focus on it. If you look at all the independent countries, Zimbabwe etc., they're all corrupt. But then if countries are too authoritarian like China it becomes problematic. It is so difficult to find a balance.
In those days to have an all-black cast was an achievement. Also in a strange way, it seems as though there were more black actors at the time than there are now.
A lot of your plays are about Trinidad. What do you want to convey to British audiences through your work?
I don't set out to represent Trinidad. I think it's my way of dealing with homesickness. It's my way of connecting with Trinidad is writing about it. I can sit down in London and conjure memories of Trinidad and my childhood there.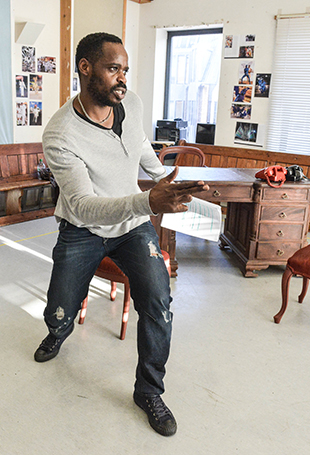 Was it a happy childhood?
It was happy. Kind of wild. It was urban but there was forest and bushes around. Every school holiday your mother would just say 'Go and play.' and we'd climb trees and pick fruit and play cricket. Just growing up. You were conscious of the societies and the families around you, everybody knew everybody's business. My other was good at feeding me local gossip. She loved dropping hints, she would tell you something and then next week, a bit more. Little trinkets. She had a lovely sense of humour. She was a mother figure to a lot of people outside family. She had it a bit tough, my father drank a lot. He was a car salesman and he wasn't brilliant at it. I think the thing with him was that he was a Hindu from the country and she was an Anglian from the city and to marry her he had to convert. A lot of his family, who were Brahmin Hindu deserted him. I think that's why he drank.
Why did you want to leave Trinidad?
It felt claustrophobic. I wanted to get out and see the world. I was young and cocky and bright and wanted to explore. It was the sixties. I didn't have any money or anything, I was working in a hospital and I could go down King's Road and see all the rich hippies. There was a creative energy that was going on at the time, so you could plug into that to a certain degree. I came by ship in 1961 and it was 14 days at sea. I met these two Dutch seamen and they said I should go to Findus and get a job in the fish factory. I had a copy of Playboy at the time, and I swapped it with them for a copy of Under Milk Wood. I'd never heard of Dylan Thomas, but it immediately struck me the construct, the style is quite modern and wonderfully expressive. Not sure who got a better deal 'cos I can't find my bloody Under Milk Wood.
Were you scared when you came over at 21?
No. (Laughs.) I was innocent, I was excited. But the England I'd seen it English films was not the England I saw when I arrived. It was a challenge, it was an adventure. I had a room in a flat in Earl's Court and the first morning I woke up and there was this tall, beautiful blonde lady shaking me awake. She was a friend of the people I was staying with, her name was Lady Carole Seymour la Patrench. She was Irish aristocracy and she'd just come out of prison for bouncing cheques for some Chelsea playboy. But she was really classy, she wore a tartan pencil skirt and pearls, 'Oh dahling, oh dahling.' (Laughs.) She took me around London and took me to the ICA. That began my London adventure. And I'm still here, so obviously something went right.
SPECIAL OFFER: Afridiziak subscribers get 20% off tickets for all performances until 28 March. Use promo code AFRIDIZIAK when booking online at orangetreetheatre.co.uk or by phone 020 8940 3633