Jade Ewen – interview
Tonight's the Night
Published:

Wednesday, March 19, 2014 4:42 PM

| Interview by

Gillian Fisher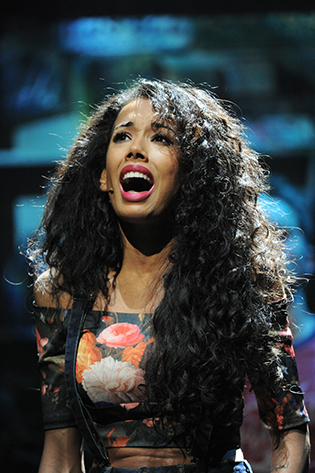 Jade Ewen's singing voice first wowed international audiences in 2009 when she represented our fair isles at the Eurovision Song Contest. It was her vocal talents as one third of girl-group The Sugababes which shot her pop stardom and left Ewen with two top 10 UK singles under her belt.

Since leaving the group, the singer and actress has been rather busy with television appearances, modelling and charity work including The Great Calorie Drive which raises money to combat world hunger.

This March, the London lass will be returning to her acting roots and playing the role of Dee Dee in a tour of new musical Tonight's the Night. Featuring classics from the legendary Rod Stewart and based upon the book by Ben Elton, the show sounds set to be a fiesta of catchy tunes and raucous comedy. I am interested to know how Ewen feels about treading the boards again and whether or not she was ever a Rod Stewart fan.
What is your favourite part of being in this production?
I enjoy that every show is different. You never know how the audience will react and it's always exciting when you are backstage waiting to go on and you can hear them all taking their seats. That burst of adrenaline is amazing.
How would you describe your character Dee Dee?
Dee Dee is feisty and sassy. A strong girl with attitude! She is Mary's best friend and does not like Stu. There is a love triangle and Dee Dee sings "First Cut is the Deepest" where we see a vulnerable and sensitive side to her in complete contrast to her normal demeanour.
Which Rod Stewart classics do you sing in this show and do you have any solos?
I sing two solos, "What Am I Gonna Do?" and "First Cut is the Deepest". I also have a trio with Jenna Lee-James and Andy Rees called "Every Beat of My Heart" which is my favourite.
Is there much choreography in this production and have rehearsals been challenging?
There is a lot of choreography in the show, but I don't have to dance, so it's not too challenging for me.
Having trained under a scholarship at Sylvia Young's Theatre School, which part of performing do you most enjoy? Singing or acting?
I mostly enjoy singing. It's always been my passion. I can't remember the last time I went a day without singing.
Having played Young Nala in the Lion King at 12, how does it feel to be in a musical again as an adult?
It's exciting to revisit theatre as an adult. I have very fond memories of The Lion King and it was the moment I decided I wanted to perform forever. So I love being able to do it again.
What is your best memory from your time in the Sugababes?
Shooting our first video together "About a Girl" in the LA desert and being surrounded by paparazzi! It was unreal to me. After the video shoot I had to go to the studio to record my vocals with Bruno Mars! At the time he hadn't released his own music, yet he was a song writer and had written some of the Sugababes album. He was funny and made up a song about me and my sister on the spot with his guitar.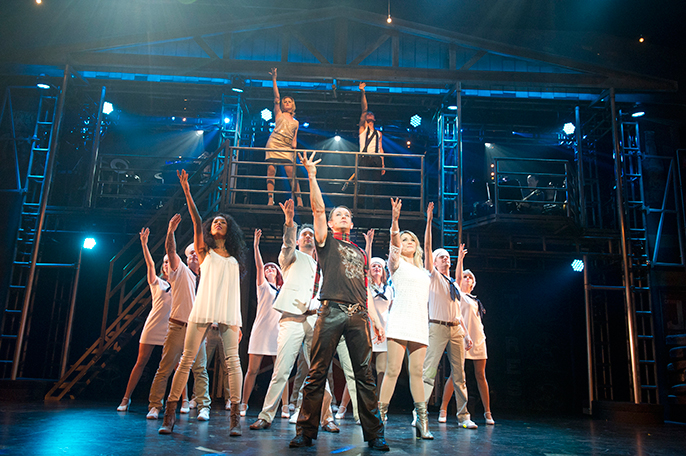 As one of the ambassadors for the charity campaign, The Great Calorie Drive, is fitness and exercise a big part of your life?
Yes, I like to be health conscious. Especially due to the heavy workloads and my family background. It's so important to take care of yourself mentally as well as physically.
The Great Calorie Drive raises money to combat world hunger. What other issues are close to your heart?
Guide Dogs for the Blind as my dad is blind and also The Carers Trust as my siblings and I grew up as young carers to our parents.
Is your career as a solo artist something you continue to pursue?
Most definitely. I want to be able to share my artistic personality with the world one day!
Why should people come and see Tonight's the Night?
It's a feel good, fun packed show, with songs that everyone will be able to sing along to – even if you're not a Rod Stewart fan. It's sexy and live with an amazing band and huge vocals! It feels like a fun night out rather than a traditional musical.
Info: Tonight's the Night is at the New Wimbledon Theatre until March 22, 2014 and then continues its UK tour / book tickets