Brian Bovell – interview
Kingston 14, Theatre Royal Stratford East
Published:

Monday, March 24, 2014 12:20 PM

| Interview by

Gill Fisher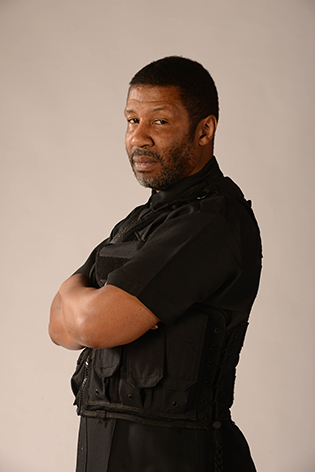 Brian Bovell's new role in police drama Kingston 14 has left the Gimme, Gimme, Gimme and Hollyoaks star rather reflective. During our interview about Roy Williams' new play set in the Jamaican capital I find we are casually foraying into the realms of identity and universal pondering. It's clear to see why Bovell is so successful in his field with such an ability to look beyond the immediate.

He laughs a lot (as do I) as he discusses working with Roy Williams for the first time and his world weary character Marcus. With a wealth of experience encompassing stage and screen I am curious to know what it is about this new production that makes Bovell tick.
How are rehearsal going so far?
Rehearsals are going well; there's a good atmosphere. As soon as I can put the script down then you know that you're onto the next level. The way that Clint (Dyer- director) has set up the dynamic to create a kind of camaraderie means that after only a few days of rehearsals we all want to realise the situation as much as possible. We've done our games to look at particular characters and that sort of work is good. We're getting to the meat and bones part where you sit down and ask people if they'll come and do lines with you. (Laughs)
It sounds like there's a good vibe in the rehearsal studio?
Yeah, it's important. It's an ensemble piece and it's always great to be able to build a foundation so the play is tight and there's a feeling of respect between all the actors. Heading in the right direction toward making something that we want to share with our audience. Because the piece is set in Jamaica as well; hearing that "Jamayacahn" sound has been an interesting thing 'cos sometimes I realise how English I am. (Laughs.)
Where does your family originally hail from?
This is the thing; I've got family scattered around some of the islands. My dad's family was originally from Jamaica but moved to Trinidad and my mother's family moved from Antigua to St Lucia, but my mum and dad met here so I'm a bit confused. (Laughs.) It's a definite Anglo experience and that in itself approaching a piece like this brings a few things up. We're always trying to fit in somewhere along the line aren't we? If you're from here and you go back to the West Indies you are what they would term "a foreign" which can be another revelation in itself. Especially growing up where I did when racism was much more in your face. So going home and you're still and outsider, it's been interesting in that way. It's not just people of colour that are trying to find their place in the world; I think a lot of people from lots of different backgrounds, male or female feel that way. Sometimes, ultimately you're asking yourself 'What am I really here for?'
Come and see Kingston 14 - something which you may think you have an idea about, but you'll walk away with something you didn't realise.
That's the $64,000 question isn't it?
Exactly. It's something at least through theatre and television you try to discover or present various aspects to that theme, so people have something to go away with and discuss. I think sometimes we get so wrapped up in the functions of life, 'I have a job. I have to pay the rent' and that seems to take precedence over living. As we get older we become different versions of ourselves as time goes on and I always find that fascinating. Part of working in the business is that the primary story is the story of humanity. The lamp that shines on everything else is humanity and what is it to be a human being as opposed to just existing.
How would you describe your character in Kingston 14?
I play Marcus, who is a corporal in the Kingston police force. He's a senior and (pauses) I don't know if you've ever seen The Great Dictator starring Charlie Chaplin, but there's a scene in it where he has this floating world that he can do anything with. Marcus when he was young felt he had total control of his universe and as he got older it became like Atlas; it became a weight upon his shoulders. So Marcus is rather world weary and I get the feeling that his ideals; the bigger things that he thought he would able to do as a cop in Kingston didn't bear fruit. He thought he' be able to change things and make them better and that has weighed him down.
Have you followed Roy Williams work over the years?
Yes, I've always seen his work. He's a very, almost deceptive writer. It's not about the surface of things but it's sometimes presented in that way. So he's formed an independent voice out there among writers I think, and he's relevant. All of his plays have been different scenarios but it's that human aspect. It's about people and the things they do or don't do. That's what makes him relevant and what makes him one of those voices that is gonna be around for a very long time.
Is this the first time you've worked with him?
Yes, it is. I've met him lots of times, 'Alright mate! Saw that play, how you doing?' I was in the Season in the Congo at the Young Vic and he came to see the play, and a few months later I was doing a reading. That's Roy, man. He's a humble dude as well, he's not braggadocios; he lets the thing speak for itself.
There's a preconception that there's a lot of overt corruption in governmental control in the Caribbean. Do you think that's true?
The greatest trick the devil ever pulled was to make you believe he doesn't exist. I always notice in the news that when they talk about other countries they always use the word "corruption." In actual fact, yes there is, and it may seem out of proportion but I would also say there's corruption here too, but we have an infrastructure where we handle it better. We don't know until years later when a book comes out or like with the MPs' expenses thing. We had the situation with Mark Duggan being shot and there's been a lot of people who've died in police custody that are never recorded. I think it's just the way it's handled, the PR is better. (Laughs.) I think it's a global problem.
In terms of your television work you've played predominantly comedy roles. Was that a conscious decision?
I haven't really sat down and had a look at it. I think it's just the way it's been. I did The Bill for a while and my role in Holby was quite serious. I suppose there is a running thing and I do like comedy. I was a big fan of Richard Pryor and I think comedy's a great leveller. I was a member of a company called The Posse and we did our own sketch shows and we actually started off at Stratford East in about 92. We went on to tour and even went as far as America. That was great fun. I think comedy can bring people in and you can talk about certain issues where people are laughing 'cos they recognise it in their own lives.
Why should people come and see Kingston 14?
Come and see something which you may think you have an idea about, but you'll walk away with something you didn't realise.
Info: Kingston 14 is at Theatre Royal Stratford East from March 28th to April 26th, 2014 | Book tickets