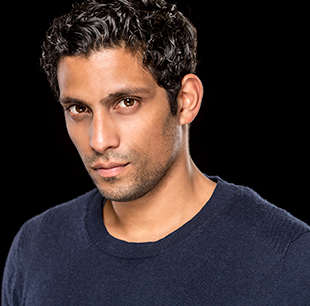 Shane Zaza's acting CV is nothing if not impressive. Having appeared in countless television dramas ranging from The Bill to Casualty, the actor has also trodden the boards extensively from Scotland to London. His film career has also been rather lucrative; few can boast of making their film debut alongside Tom Hanks in The Da Vinci Code. When queried on his preference between stage and screen, Zaza ponders "It varies. Each job I take, I see it as my first and last job. So when I'm doing theatre I love theatre and when I do film and TV I love doing that as well. With theatre, I have a passion for that live experience and the danger. You're up there and if you miss your cue or mess up your line, you have to deal with it. On set you do another take. I kind of like the danger of live drama."
Zaza's upcoming role in debbie tucker green's new play hang could certainly be seen as living dangerously. Not only is the play a three hander, but it also deals with the complex issues of crime and punishment. tucker green is famously guarded about her work, so it's very gratifying when Zaza is able to expand a little upon the plot.
I think what's great about debbie tucker green's work is there's always that level of intrigue and ambiguity. It's very slowly trickled to you, so if I told you so much about it, it would be counter-productive



"Essentially the play follows a woman who's been a victim of crime and this woman is given the legal opportunity to have a say in the punishment of this criminal. There are three characters, literally called one, two and three and I play number two. I'm playing a policeman who works in a specific department, which deals with sentencing. That's probably all I can say! Because of the way debbie writes, everything is revealed in the play. I think what's great about debbie's work is there's always that level of intrigue and ambiguity. It's very slowly trickled to you, so if I told you so much about it, it would be counter-productive."
Although his work has taken him all over the British Isles, Zaza has retained a slight burr from his Bridlington roots. With subtly rounded vowels he explains that he will be starring alongside Marianne Jean-Baptiste and Clare Rushbrook in the upcoming production, which is also directed by tucker green. When asked about the playwright's directing style, Zaza divulges that the developing anticipation is continued into the rehearsal room.
The way that the play is written, her direction is similar; it's given to us little by little and we discover it ourselves. We may have questions but she may not necessarily give us the answers. We kind of try and realise it ourselves, but there may be a point at which she wants to lead us in one direction. It can be quite challenging, because you aren't told immediately who you are. We gradually learnt who our characters are and how to approach things. So research was quite difficult, what I did do was research various police matters and how to speak to certain people, but a lot of that was done within the rehearsal room."
Zaza is hugely emphatic about tucker green's work, going on to say: "She knows her work and she knows the rhythm, which is why her pieces can look effortless. Well hopefully this play will. (Laughs.) But it really digs into the depths of people. It's been very demanding, because of the material that we're working with. The way debbie writes is very particular and accurate; every comma, every dot is so measured." When I cheekily enquire about capital letters.
"Actually in the script there are capital letters when they have a significance, but every single word in the script is so considered. I've always been a big fan of making theatre real, and how debbie works ensures that everything is very accurate and representative. This is how these people would speak and what we have to do as actors is try to lock into these characters and we're slowly getting there. It's very exciting; difficult like any play, but when you feel and see that genuine sentiment and reality, it's beautiful."
"hang - it's a perfect piece of theatre. It's visceral, it's engaging and it will make you think and question how you look at things."


Portraying reality in drama obviously being a passion of Zaza's, I am eager to ask about his recent experience as the lead role in Behind the Beautiful Forevers. Based upon Katherine Boo's novel the play depicted the lives of a community in a Mumbai slum. Zaza's portrayal of Abdul received great critical acclaim.
"That was an incredible time, still very close to my heart. Rufus Norris who is now officially artistic director at the National, it was one of his first shows so obviously a lot of eyes were on him. David Hare who adapted Katherine Boo's book was in the room, all working together with this piece. There was such a great atmosphere. The play is real, these characters are real so we had to be very disciplined and honour these people. I had an amazing experience, it meant something as these people are going through these experiences and we're telling their story. The cast was amazing; it was a big, giant family and we're still close and see each other often. So that play was a massive thing for me."
Being of Mauritian heritage, Zaza has taken roles where his colour was relevant to the play, such as the New Vic's production of East is East. Largely, the actor's work has been incredibly diverse and non-race specific. I am curious to know his reaction to having an all Asian cast on a London stage. I find that he is very pragmatic about this achievement, and seems eager to avoid topicalizing race in the industry.
"I've never worked in an all Asian cast before. The fact that we were 25 Asian actors on the Olivier stage; that's definitely the biggest Asian cast in the UK, but you don't think of it after a while. Yes, we're all actors and yes we're all Asian and it meant something. But essentially we were all doing the same thing as any cast, regardless of our colour."
Zaza's time is limited due to the intense rehearsal schedule. It is only as he explains that his lunch break is over that I discover he has been subtly (and silently) eating his repast throughout the interview. Before he gets back to the studio, I manage to ask him why people should come and see hang.
"Because it's a perfect piece of theatre. It's visceral, it's engaging and it will make you think and question how you look at things."
Related links