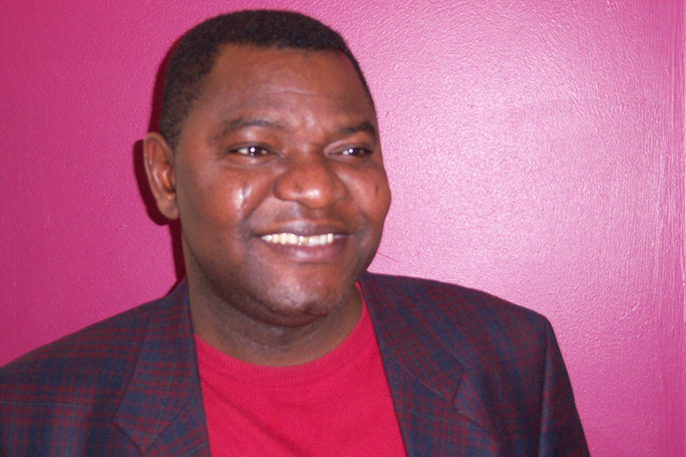 The beauty of African storytelling is the techniques are so subtle that in a way you are learning without actually knowing you are learning.


Since 1996 Iroko Theatre Company has been spreading the vibrancy and mythos of African culture throughout the UK. Founded by Nigerian actor, director and tutor, Alex Oma-Pius the company has a firm, hands-on approach to their performance work. Uniquely, many of Iroko's ongoing projects involve direct interaction with their audiences. Participants get up and drumming in the Iroko Robics for Families project and learn traditional dance and mime in the Iroko Theatre of the Everyday masterclass. Speaking to Oma-Pius about his motivation for founding Iroko, the Fellow of the Society for Storytellers explains:
"Since coming to England in 1992, one of the things I noticed was that people of African backgrounds, often we do not value our own culture. We tend to move away from it and I wondered why we can't incorporate our tales, our music, our outlooks into our new society? The beauty of African storytelling is the techniques are so subtle that in a way you are learning without actually knowing you are learning. You can use this medium to raise awareness not just of African culture, but also of the African philosophical word view, to educate people, especially the younger ones. You can use comedy, music, dance, song to bring alive the traditional African stories and make people in the UK aware of and feel connected to another nation."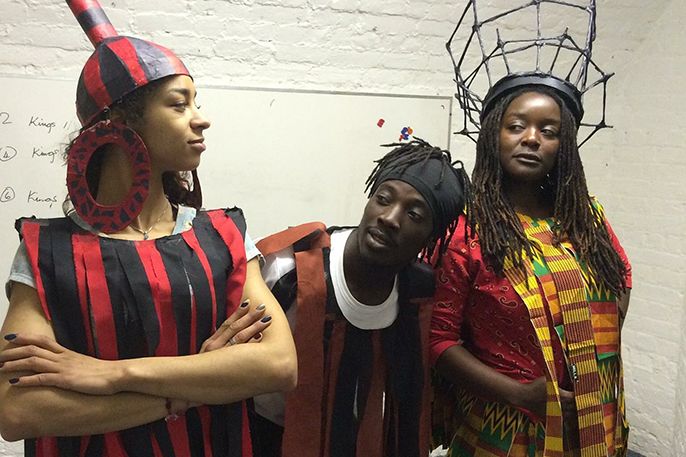 Education and providing opportunities is central to Iroko's ethos, with the company running numerous workshops and training programmes. As part of Iroko's Shared Heritage project, the company are currently running free training programmes for library and teaching staff at the British Museum. One of the outcomes of Our Shared Heritage project is the live musical production The Green Stone Bead which is currently touring around London. Oma-Pius describes the show as:
"A modern take on traditional cross cultural fables. There is a journey to the bottom of the ocean and classic trickster characters. It came out of the research for Our Shared Heritage project where we realised that these characters and Gods and Goddesses of different elements are present in almost every culture. So we wanted to create a show that merged them together. Essentially, whether it's African myth, Greek, Indian and so on, all these folktales are trying to answer the question of man and his destiny."
Interestingly, the inspiration for Iroko's Our Shared Heritage Project came from a very 21st century source.
"I was working at the British Museum, and presenting a lecture on an artefact which symbolises the Royal Sword of the Kingdom of Benin. Afterwards a man came up to me and showed me the screensaver on his mobile phone. It was exactly the same shape and design as the ancient Nigerian symbol for the royal sword, but in Islam the symbol is called a Nalain. It represents the slippers that Mohammed wore when he spoke with God. So that in a way planted the seed. So we started looking at similarities between stories and traditions from other cultures and that is how the project was formed."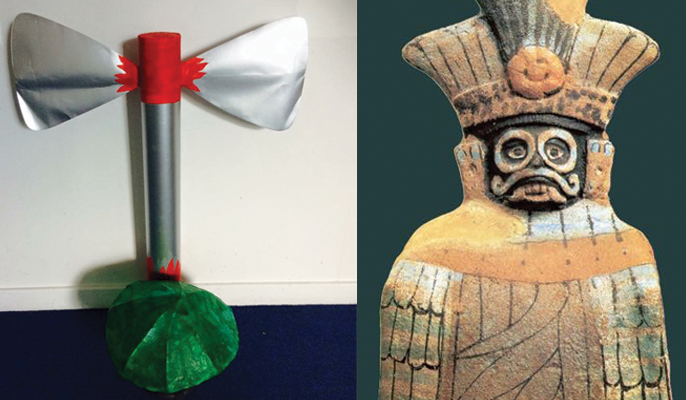 At Iroko, everything we do is for edutainment



As Oma-Pius puts it, Iroko has their fingers in many pies. Their focus upon inclusion and wellbeing has borne philanthropic programmes such as the Forgotten Folk project. This scheme took African cultural activities such as clay modelling and singing into residential homes for the elderly. Iroko also runs a series of craft workshops for Young Offenders aptly named Integration. When asked about the vast scope of people that the company touches, Oma-Pius explains that bringing people together to learn and be amused is what Iroko strives for. In fact the two time winner of the Afro Nollywood Award has even coined his own phrase 'edutainment' to describe Iroko's work.
Whilst Iroko's work aims to enhance the experience of the African diaspora it also endeavours to cross cultural barriers. Oma-Pius himself has been influenced by several cultures along his globetrotting journey. Born in Delta State, Oma-Pius moved to Lagos as a child and came to the UK via Bulgaria. This seemingly rather random foray into Eastern Europe was part of a student cultural exchange programme. After winning a scholarship, Oma-Pius studied Dramatic Arts and Directing at the National Academy of Theatre and Film Arts, Sofia. In fact after Igala, Igbo and English he considers Bulgarian his fourth language, much to the surprise of recently arrived Bulgarians. With London being one of the world's most multicultural cities, I am curious to know what the reactions have been from audiences not of an African background. Oma-Pius is assured in his answer:
"Of course we do shows with drumming and dance and music, and we tell stories so we entertain. At the same time, we are showing people African culture and what they can learn from it about themselves and their own lives. So we educate. So at Iroko, everything we do is for edutainment."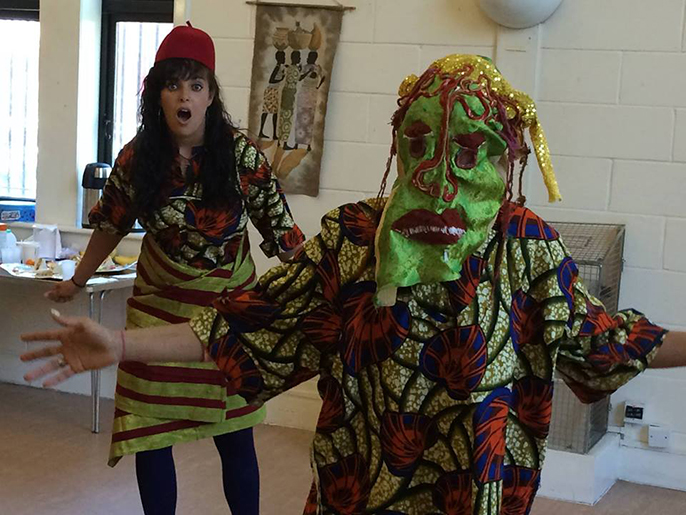 "Iroko is for everyone. Whether white, Asian, Arab, when people come and see the shows, they see themselves. You tell them stories that resonate with them and their children. They see Africa differently. These are people who may not have touched an African drum before, or done an African dance and when they come to us they experience something new. One of our projects is called Iroko Family Edutainment, to use that word again. This was a five year project where we went into libraries and used storytelling to bring families together. It was based in Barking and Redbridge, so most of the audience was Asian. After the first internal report, my funding officer said 'But Alex, I've seen the pictures and people are coming from all walks of life. I thought this was an African project?' and I said 'No, this is Iroko.'"
With such a range of edutaining programmes and riveting performances it seems Iroko is set for world domination. Future plans for the company include setting up an Iroko Village in London, where extended summer schools and week-long masterclasses can be run. Oma-Pius says it is just a matter of time and funding. None of the incredible work that Iroko has completed over the last two decades would have been possible without one man's creative vision and tenacious motivation. When I ask Alex Oma-Pius what has made him most proud in the last 20 years he replies ardently:
"We are an African theatre company that is providing something out of the usual. Because this is all about edutainment; people are coming to learn. I am proud of that. When Jewish families have Bah Mitzvah's they call us. When Catholic schools have summer fetes, they call us. Those resonances make me proud that we have been able to cut across cultural barriers and share our stories."
Info: The Green Stone Bead takes place on June 20, 2015 at Goldsmith's University. More
Related links
Press release: IROKO Theatre Company presents The Green Stone Bead
IROKO Theatre website