Having grown up on three different continents, Liz Femi's childhood aspirations were considerably more diverse than most. Now as a young woman living in L.A the writer is presenting her own childhood experiences of Nigeria to an unsuspecting American audience. Speaking to Femi about her solo show Take Me to the Poorhouse, her enthusiasm for bringing different cultures together shines through in her frequent laughter and perceptive comments. Most significantly, Femi's new production demonstrates the universal childhood desire to be a part of something.
What inspired you to write Take me to the Poorhouse?
I can't quite believe it's actually happened! (Laughs.) It started as a ten-minute exercise where you had to write a story about an event in your life without any props and so I wrote about when I had a crush on a boy in my class. It was an event because of the nature of the crush and the rationale behind it and all the odd things I did to get his attention. (Laughs.) Then I took another writing class and they said bring a previous piece in and the reaction if got was positive. So I decided to develop it and finally it's done and I'm excited about that.
The main character is a third grader called Lizzie. Is she based on you?
She is based upon a previous version of me in a way. I was Lizzie in the past, but I became Liz as an adult. I used to love Some Mothers Do 'Ave 'Em and I loved Betty so when I was about seven I told everyone to call me Betty for a while. Then I got sick of it! (Laughs.)
It's been described as a 'Reverse Cinderella story.' What does that entail?
She believes being poor would change her and the way she sees the world. You don't read any fairy tales about middle class girls. It's the idea of suffering so you'll be reimbursed.
The idea is that she romanticises the idea of what being poor means. She's watched the same movies like Cinderella and the Prince and the Pauper and there's a certain virtue put into people who have been mistreated. She's listened to the blues, people like Billie Holiday singing about a hard life and she thinks 'How will I ever be an interesting and worthwhile person if I don't have misfortune?' Also she's seen the same documentaries on TV about the starving children in Africa and the idea of people being labelled as virtuous based upon their status in life.

She also has this idea that poor people are funny; she's seen people like Richard Pryor and Eddie Murphy who talk about surviving in the ghetto. The real reason behind the idea is that they boy she has a crush on is poor and he's popular and gets a lot of attention. She believes being poor would change her and the way she sees the world. It would make her funnier, more creative and more interesting. You don't read any fairy tales about middle class girls. It's the idea of suffering so you'll be reimbursed.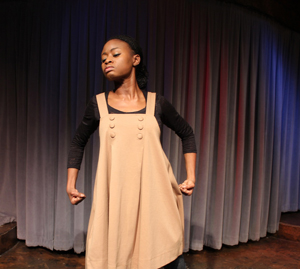 What is specific to African poverty in your play?
She does talk about poverty as it is in her own world in Nigeria as well as fairy tales. In her world the poor kids are the ones who tell the best jokes. The kids who don't have electricity sit outside and tell stories. You get creative; if people are going to make fun of your uniform you have to be able to come back with a retort. You get become funny as a means of survival.
You moved from London to Lagos when you were five. Can you remember that experience?
Yes, I was born in Tottenham, which had a big Nigerian community and then I moved back to Nigeria when I was five, then about ten years later moved to the US. I have a few memories of when I first arrived and they do find their way into the story. Things like not having snow and eating with large groups of people, which didn't happen in the UK.
Moving to America was another big change. What major differences did you notice?
It was not like London, it was a big change. There are a lot of things I had to adapt to; like in Nigeria you call older friends of your parents 'Auntie' or 'Uncle' whereas here you call them, by their first name. Back home there's a lot of reverential behaviour towards teachers and parents too, but here they decide when they want to be respectful to their teachers. (Laughs.) I don't mean to generalise; it depends on the school and the people, but there's a different dynamic between kids and adults in the US. To an extent I understand how growing up with the reverential treatment can be beneficial to a child, but I also understand that sometimes a child needs to say something and that's important. What I noticed in the US is that children can pretty much say anything; my first impression was that things were very lax.
What do you think America's vision of Africa is?
I feel a responsibility as an artist to present an image of Africa that the US hasn't seen before.


I think America has a lot of misconceptions. The word Africa brings up the image of the starving kid with the bulging stomach and mournful eyes. You can't tell their personalities at all; it's just a tragic image. While I totally understand the response to that and wanting to help people in poverty I think there is neglect of the spirit; of these kids' personalities. It's almost like Africa has become this poster child for what you should be grateful for. If you don't eat your dinner, there are children starving in Africa. That's not to diminish the reality of people going through stuff but we're not going deeper and I understand it's because people are not from these places. So I feel a responsibility as an artist to present an image that they haven't seen before.

The story is told mainly from the kids' perspectives and my goal with these routines is to show a variety of personalities and show that even within the poor community all the kids are not the same. I'm eager to move away from the idea of the gun carrying African child or the stately African child. There is so much in between and so many quirks.
Is the American vision of Africa different to British one?
I think the UK's culture is more exposed to African culture. There are a lot more Africans in Britain and the culture is more synthesised so I know where to go in London if I want to feel like I'm in Nigeria. But to some extent people still have the African safari image.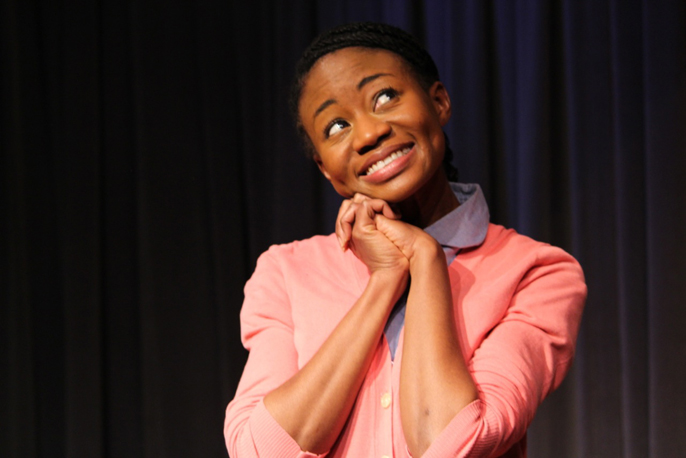 Most of the characters in your one-woman show are children. How do you get into the mindset of an eight-year-old?
I play around with voices and levels and also posture and point of view. One kid is like a cutesy annoying but gorgeous marshmallow. Another kid is loud and irritating but incredibly loyal. The main character Lizzie is a bit more wide eyes and determined and sensitive. I place their voices in different parts of my body and that helps when I'm having back and forth conversations. The first ten minutes is in monologue but the rest of the play is mainly dialogue where you're watching Lizzie pop in and out.
Where is home to you?
I guess I feel American and I feel Nigerian. I feel both strongly. Obviously the longer I'm here, now I'm voting and my fiancée is American I'm building more of a life here. London is fun but London is so far back and also I was in such a Nigerian area I associate it with Nigeria. I do feel like I belong in America; maybe it's because I'm an actress but I've been able to manoeuvre my way between all the cultures. I can be American and no-one will know I'm Nigerian based on my accent and I can be 100 percent Nigerian as well. So I kind of have made my own culture, which combines both of them. To me it's natural.
You're donating 10% of your ticket sales to the Mama Hope Charity. Why did you choose that organisation?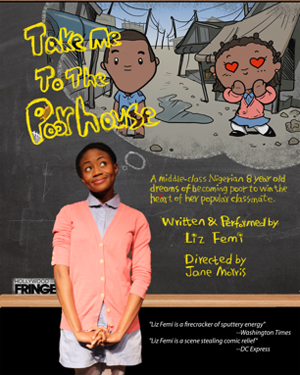 I really love what they do. Their slogan is 'Stop the pity and unlock the potential' and they're one of the few non-profit organisations that I felt understood what I was trying to do with the show. Their outlook is 'Let's go help but let's also empower. Let's allow these people to inform how we help them.' Not just thrown money at them and leave. It doesn't cater to the stereotypes and makes a really big difference.
What's next for you?
I haven't really thought that far but what I know is that I want to take the show to New York and London and Africa and Nigeria, possibly other parts of Europe. But that's way down the line; right now I'm just taking it one show at a time. I'm also excited about writing more, seeing what I can cook up. (Laughs.)
Why should people come and see your show?
I truly think it's funny. It's a show that transports you to another world and it does so hopefully with comedic elements. I think we address some deep issues but the comedy comes right underneath it making those moments stronger. Essentially it's a contemporary comedic experience of Africa told from the unique point of view of children.