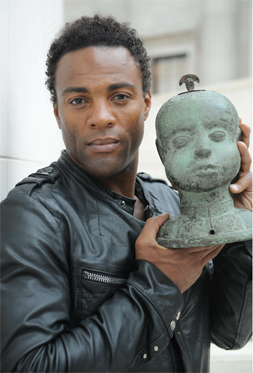 In this insightful interview, actor Ray Fearon talks to Afridiziak Theatre News about his role in the RSC's Africa inspired Julius Caesar, a play that many say is Shakespeare's African play.

After many year's absence Ray Fearon has returned to the Royal Shakespeare Company to play Mark Anthony in the tale of politics and corruption; Julius Caesar. Having spent the majority of his early career in Stratford, Fearon appears to have slipped seamlessly back into Shakespearian theatre with the ease of donning a well-fitted toga. Speaking to him during his rehearsal break he is eloquent, charming and obviously hugely excited about his upcoming role in this contemporary adaptation of one of the Bard's finest works. Friends, Romans, countrymen, lend him your ears.
What makes this production of Julius Caesar unique?
In this production Rome has been put into Eastern Africa. Although it's set in present day, in Africa when they go to funerals they wear black togas and the set is broken down like an amphitheatre so it looks like a Roman senate basically. It's amazing when you see it, you sort of go 'This is Rome!' When Shakespeare wrote Julius Caesar there was an assassination plot going on with Elizabeth the First, but if he'd written about that happening he'd have been beheaded. So he had to write something other, so he wrote Julius Caesar. But the metaphor for it basically is the politics of the time. Our thing is that the metaphor is for Africa and the dictatorships that happen now in Africa and the Middle East. Bringing up questions like when you overthrow a dictator, who do you put in its place? And exactly what happens is total chaos.
Set in present day Eastern Africa sounds like you've brought a new element to it?
Absolutely. I think because the play has things like soothsayers and there are witch doctors in Africa, and when characters are talking about lions walking the streets you just think, 'This is Africa.' It's such a big world Shakespeare has created and a dangerous world and with something like that it's great to see how relevant it is today. I think it's great to relate it to what's going on now, because young audiences then realise there's a reason why we're doing these plays. These are the audiences that we want to understand, because they're the audiences of tomorrow and they want to see how it is relevant to them.
Can you identify any of the characters in this production with current political dictators?
I think it's a lot broader than that. You could say Robert Mugabe or Joseph-Desiré Mobutu but it goes further. Basically these guys don't start off as dictators; they're political rebel freedom fighters. But like Caesar their corruption grows as their power grows. What Shakespeare does fantastically is show you the character from so many different points of views. We see that Caesar is slightly fearful; he's a bit superstitious and has enfrailments like being deaf in one ear. Our perception of a dictator is someone who looks like a devil. Shakespeare's done the opposite by presenting Caesar as a man, and it means that you can see why these things happen. It's like one man trying to unite the whole of Africa; he would be seen as a dictator. We see the other characters being corrupt after Caesar's gone.
I love Barack Obama; I truly believe he wants the best for his country. I believe a great ruler is someone who wants to make change but good change not just for political gain. Change for the good of the people and for the good of mankind.
Mark Anthony becomes something he didn't want to become because of revenge. Octavius Caesar comes on the scene and he's the rightful heir, but he and Marc Anthony don't get on. So you have Brutus and Cassius in cahoots with each other, and you begin to wonder whether it was right to get rid of Caesar? Because none of these guys can really run anything, they can win wars but are they rulers?
What do you think makes a good ruler?
I couldn't really tell you. I think it's a touch of everything. You can have someone who's popular with people but has no idea how to implement political rule. I don't know which one is right, like in the Middle East now, people are overthrown and people are wanting democracy and you realise that now they have it things are worse. And that's exactly what goes in in this play, they murder a man for the good of Rome, for democracy and what ensues is complete chaos. I don't have the answer. I love Barack Obama; I truly believe he wants the best for his country. I believe a great ruler is someone who wants to make change but good change not just for political gain. Change for the good of the people and for the good of mankind.
Do you prefer performing in classical plays to your television and film work?
I enjoy both. I'm an associate artist here at the Royal Shakespeare Company. I spent so much of my 20s here; I kind of grew up here and learnt so much. Shakespeare is so much of our art as actors. It's like a base; you always come back to Shakespeare. I enjoy all types of work, I don't do as much theatre work as I used to, and I do a lot of film now. I like them equally, but I just think Shakespeare gives us so much. There's no other writer like him, which is why you get people like Dame Judi Dench or Ralf Fiennes still doing it.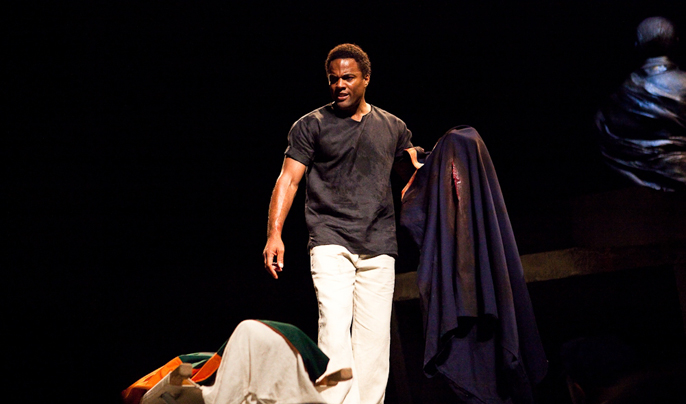 How did you enjoy your time on Coronation Street?
I had a great time; it's completely different going into a set where you've known these people since God knows when, and now you're acting with them. A lot of the time I ended up calling them by their character names. It's a completely different way of working. If you've got a big film like Harry Potter or Hamlet that have a lot of money you've got so much time, then you've got films that haven't got so much money and you've got no time and a much bigger part. Then you've got something like soap where the turnover is so fast and hardly any time for rehearsals. It means that you learn things quickly because you don't have the luxury of time to rehearse. There's a difference, but I enjoy them all. I never say 'Oh, I'm a theatre actor.' An actor's an actor. Radio's another great medium as well and the great thing is, no one can see you, it's so relaxed. Well known actors do radio; it's good for your voice. We did this Agatha Christie piece for charity to finance people to go to law school; myself, Martin Shaw and Felicity Kendall. This year we did a live radio show like they did in the 1950s in front of about 700 people. We were there with 1950s microphones. It was brilliant.
You were in Strictly Come Dancing in 2006. How does the celebrity element of your craft come into your job?
It doesn't. The celebrity thing is just about how many people know you and how popular you are. It's something that you have to get used to when it does happen. When I did Corrie within about the second month I came out of my house in Manchester and I couldn't go anywhere without people stopping me and it was like that every single day. I have a little daughter and she deals with it, but she doesn't like it. They don't see the other people. But it's part of it; you just try and be as nice as possible. It was fun doing Strictly Come Dancing, but originally I didn't want to do it, my daughter was the one who made me do that.
I'm an associate artist here at the Royal Shakespeare Company. I spent so much of my 20s here; I kind of grew up here and learnt so much. Shakespeare is so much of our art as actors. It's like a base; you always come back to Shakespeare
I said to her 'Listen, I will do it under the proviso that you will take up dance.' And she did! She did hip hop and Irish dancing for a while. Now she's 14 and she does cheerleading. They just did a competition in Manchester and they won it. Actually after Strictly in the next two jobs I had to dance. I did Argentinean tango at the Young Vic straight afterwards, and then I was doing a film in Berlin where I had to jive all through the film. I knew it would come up so it's certainly been helpful in my career.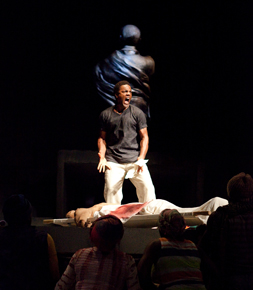 Obvious question but is there any significance to this production being performed by an all black cast?
I think we should get away from that question, because no one ever asks that if they're all white. When Greg (Doran-director) decided to do this he wanted to set it in the sub Sahara, of Africa, and obviously Africa is where black people are. The media like to publicise things and say 'Oh, it's an all black cast' but Africa is our Rome, so of course it's a black cast. Rome was a metaphor anyway, Shakespeare had to put it in another place but it was really about Elizabeth the First. I think Greg's motivation was to set this play in Africa because he met Nelson Mandela, and found out that in Robben Island someone sneaked in a complete Shakespeare's works. It went around the prison and these guys underlined the quote that they loved best. Mandela underlined a quote from Julius Caesar and it was, "Cowards die many times before their deaths; The valiant never taste of death but once"

He signed it on a particular day; he didn't know that was the day that the Afrikaans first came to overthrow the Zulus. Apparently most of the prisoners chose a quote from Julius Caesar Greg's partner is Anthony Sher and he's from South Africa and they did a production of the Tempest with John Carney and John Carney said, 'Julius Caesar is Shakespeare's African play' so the connection of Julius Caesar and Africa is phenomenal. This play fits it today so perfectly. Look at what's happening in Libya, Egypt, the Congo, and Zimbabwe… Those things are happening now. People are being overthrown and what do you put in its place? They're creating chaos and people have civil war. And that's what this play's about. Shakespeare belongs to everybody and I think it's a great thing. It's great for England; it's great for the world, so tell everyone on the planet to come and see it.
---
Info: Julius Caesar is at the Royal Shakespeare Theatre in Stratford Upon Avon until July 7 and the Noel Coward Theatre in London from August 8 to September 15.
Julius Caesar trailer | 2012 | Royal Shakespeare Company