Tarell Alvin McCraney
Published:

Friday, June 3, 2011 6:18

| Interview by

Sophia A Jackson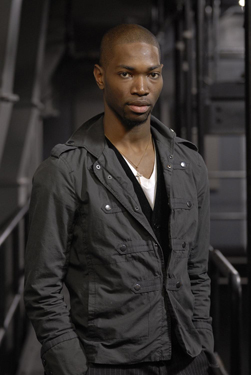 Tarell Alvin McCraney who hails from Miami, Florida, was the RSC/ Capital Centre Warwick International Playwright in Residence in 2009-2010 and is a multi award-winning writer, director and performer. For the RSC he co-edited and directed the Young People's Shakespeare production of Hamlet, which played at the RSC's London Season at the Roundhouse. His plays include Wig Out, The Brother/Sister Plays trilogy (In the Red and Brown Water, The Brothers Size, Marcus; Or the Secret of Sweet) Choir Boy, Again and Again, A Meditation on Antigone and The Breach. Tarell was the recipient of London's Evening Standard Award for Most Promising Playwright 2008, the inaugural New York Times Outstanding Playwright Award 2009 and the 2009 Steinberg Award.

Afridiziak Theatre News first caught up with Tarell back in 2008. Read on to find out more about his new production American Trade which rounds off the RSC's season of world premiere's at Hampstead Theatre.
What have been the highlights from your RSC residency?
Well, working with the younger theatre practitioners on the Young People's Shakespeare production of Hamlet has been interesting and it's still on tour including going to America. Highlights include being in a room with the RSC's artistic director, Michael Boyd; seeing Shakespeare's plays come to life and also the adaptation of Anthony and Cleopatra. Also getting to know the group of 44 people we've been working with. Aside from the RSC I've been working on several projects, the residency has been a whirlwind as I'd do work with my own theatre company then I'd come back to the RSC. So in between the RSC residency I took the Brother/Sister plays trilogy to New York, and to San Francisco, toured the US and got commissioned by the Manhattan Theatre Club. I also got a commission from the Donmar to do a play about the myth of Prometheus.
It must be difficult for your mind to adjust between the different projects.
When I left Yale, I went to Sundance and we were already getting ready for the production of Wig Out. Then I came to the Young Vic. This experience trained my mind as it was production versus writing. However now when I write I can't be in production, so I schedule things I'm either always creating or always producing, because they use two different parts of the brain.
And when your brain isn't multitasking to the extreme?
I watch a lot films. I thought Thor was fun and X Men.
Tell me about your latest production American Trade?
It's about an escort who has come from the US to set up business here in cosmopolitan London. The play deals with ideas about business and how business works; perceptions we have of people; and the world of hip hop. It shows us the underbelly of publicity too and we wanted to dig deeper into that and the perception of identity. The process of how this play came about is unorthodox. The RSC were looking for a way to get what it was like for Shakespeare to write for a company but didn't know what the subject would be so we worked backwards as we also already knew which actors we would be working with. I had a lot of ideas and presented to the actors and tailored the piece to them allowing them to add their own ideas into it. It was more about the collaboration first, where as normally you have a set piece. This was more about figuring out the original idea.
We [Afridiziak Theatre News] have given your plays rave reviews. I particularly enjoyed Wig Out and even took my mum to see it. Would it be fair to say that you like to give audiences that 'wow' factor?
[Laughs] Each play is different, with Wig Out the idea was more of a way into a world we don't think of. People would say that they didn't know this world existed, so it was about bringing that world to theatre. Theatre is seen as a more sacred place, so that introduction doesn't always go that well, some people would rather see Chekov, although I also like Chekov. I'd say I get equal amounts in terms of people liking or disliking my work. Even the Brothers Size, people were upset about the language and depiction of African people in this way, especially in America, people get vehemently angry about my plays. I expect it and can understand where they're coming from but sometimes I don't get it. It bothers me that they are upset with me personally. I recognise that people don't want to see people of colour, gay or black men on stage portrayed as poor. I think also that it's because it's on stage but if it was a book; it would be ok. You get a more refined audience, at theatre – people get upset but they have to remember that theatre was my medium and is a part of who I am. It's about dialogue and engaging people and if I can bring forth issues that concern; make you think; go home and think or makes you angry, then I've done my job. If you're thinking about your next sandwich – then I haven't done my job.
Which playwrights and theatre productions have inspired you over the years?
I love Wole Soyinka's work and have read some of his essays and plays. I admire him for his poetry which is ground breaking. The plays that I like are wide and varied – I liked Wole Soyinka's Death and the King's Horseman but also saw Fela, 17 times and I'm going to go and see it when it comes to Sadler's Wells. I loved it because it's one of the first productions where we have seen dance and theatre merge and tell a story. The book is beautiful and good but you don't see how intricate dance can tell a story; seeing theatre and dance as a way to tell a story; that for me was breathtaking - that sense of movement and formation. Bill T Jones is a genius and people don't give him credit for what he did. Critics wanted the history of Fela but through movement Bill T Jones gave us an incredibly deep, passionate story that no words can put in place. I saw Little Baby Jesus and loved it. I thought it was incredible. I'm blown away by contemporary theatre and also enjoyed Bola Agbaje's work; and thought Lorraine Burroughs' portrayal of the maid in my friend Katori Hall's The Mountaintop was the best performance I've ever seen.
Can you share one of your earliest theatre memories with me?
My grandfather was a Baptist minister and I remember he was preaching the story of Lazarus. As he was preaching he was acting out the part of Lazarus who had been dead for a week and when Jesus comes back to town, Mary and Martha tell him that Lazarus wouldn't have died had Jesus been there. Jesus told them to go back and he called Lazarus's name three times and he rose from the dead. It's a story of faith and belief. My grandfather was moving around as he was telling the story and being Lazarus – that was important as a way of showing people faith. My grandfather was both the story teller and the actor and this informed my way of doing theatre.
Knowledge is power: what advice would you give to somebody who wanted to be playwright?
Find your compassion and your patience. You'll also need a lot of generosity.
The RSC's American Trade is at Hampstead theatre from 2-18 June 2011
---
Related links
Afridiziak Theatre News interview with Tarell Alvin McCraney | 2008
Afridiziak Theatre News review of Wig Out!
Afridiziak Theatre News interview with Danny Sapani, Wig Out
Afridiziak Theatre News review of The Brothers Size
Afridiziak Theatre News review of In the Red and Brown Water
Afridiziak Theatre News editor shares career tips at the RSC
Afridiziak Theatre News interview with Vikki Heywood, RSC
Afridiziak Theatre News review of The Tempest, RSC