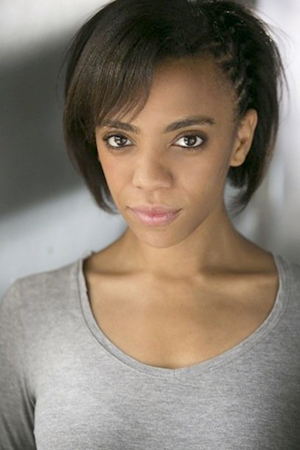 Janet Etuk is an actress very much at the start of her career and prospects are looking extremely bright. Since graduating from East 15 Acting School in 2012 the young Londoner has acted her way across Edinburgh, Essex and Oxford. Currently in rehearsals for Alexander Zeldin's gritty new play Beyond Caring I manage to catch Etuk on her lunch break during rehearsals. As an actress and writer, Etuk explains how the truth is always at the centre of her work and why she is so excited to be a part of a play which lays bare the UK's unemployment crisis.
How are the rehearsals going?
Yeah they're going well. We're just experimenting with the structure now. We've got loads of scenes that we've done throughout the week so now we're just joining them together.
This is the second run of Beyond Caring. Has it changed much from the original production?
Yeah, it was in November; quite a while ago now. Given me a little bit of whiplash! It's deepened in some ways. We actually went to a place called Unite where we spoke to 30 cleaners and so they told us about their day-to-day jobs, what they struggled with, how they took their breaks etc. There were tiny things like their gestures and mannerisms and comments that they'd make that we would build upon and get the truth from. So from that respect and from other people who've spoken to us the play has deepened and we've built upon our own knowledge.
Beyond Caring is just digging the truth for people that have undergone Zero Hour contracts and it's about five cleaners who are undergoing that and how it affects them day to day.
What would you describe as the main motivations of Beyond Caring?
Beyond Caring was sparked by the unemployment system and Alexander Zeldin (writer/director) mostly wanted to target the Zero Hour contracts and how it affects people. The physical and emotional effects of this system; waiting for a phone call and going in for an hour or a few hours rather than having a reliable full day's shift. We discussed it and he was very passionate about it. Of course he went for cleaning jobs as well, and that inspired us to try and look for truth behind it. So I think Beyond Caring in a nutshell is just digging the truth for people that have undergone Zero Hour contracts and essentially it's about five cleaners who are undergoing that and how it affects them day to day.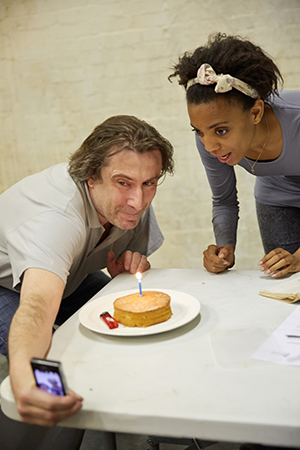 How does your character, Grace fit into the story?
I think our main target for Grace was to research more on the Atos Healthcare and the WCA assessments (Atos Healthcare conducts Work Capability Assessments (WCA)s to determine if people are fit for work).There was one woman; her name was Hazel Quim I believe and she spoke at Speaker's Corner and she said there was one person that was in a coma at the time of the assessment and was still deemed fit for work. So things like that definitely made me think that I want to build this character of Grace. Physically you can automatically see that she's not fit for work, but every day she's put into this environment where she's struggling to keep up. It's useful for the audience to see 'Is this really happening in the world today?' And yeah; it very much is. So the character of Grace Oro is quite a precious role. I'm very lucky to tell her story.
You've worked with Alexander Zeldin before. What is it you like about working with him?
Yes, I have, yes. We met Alex when he was tutoring at East Fifteen. Our mentor Uri Roodner, hired Alex to create piece for the contemporary theatre course and it was called Doing the Idiots. It was loosely based on Lars von Trier's film The Idiots and yet again that focused upon real events that were happening in the world. It was an extremely emotional piece and it had phenomenal results and we also did a piece in Georgia called Shemahe. His work is very much no frills. It's very rare to have theatre like that, 'This is what it is; take from it what you will.' It's very beautifully honest and I don't think I've ever worked with anyone who's so passionate about putting the truth on stage.
You've also written your own play Dead Grass. What inspired you to write that?
Oh, Dead Grass, I always get warm feelings! (Laughs.) It's one of my babies! Basically my mum and my auntie grew up in the Biafran war in Nigeria, during the whole three years of the war. So it was inspired by their story; how they survived, what they had to go through being hidden in the bush. It goes back and forth from present time to past, so the two sisters reflect upon the past and the impact it's has had upon them. So that's where it was at when we did scenes at the Arcola. It's still on the go. Luckily it had a good reception so it's just about rewriting it and having a cast to read it again.
The struggles, the triumphs the courage that these people have is something that the public today need to see.
Is writing something you hope to pursue more in the future?
It is something I still pursue. I will always be torn between acting and being a writer. Whenever I do get the chance to act I'm elated 'cos I think it is my priority. But there's something about writing, where you yourself can put your thoughts across; put down something that means so much to you. So I love writing and I will still pursue it but as long as I've got the chance to act in productions like this, I'm good. (Laughs.)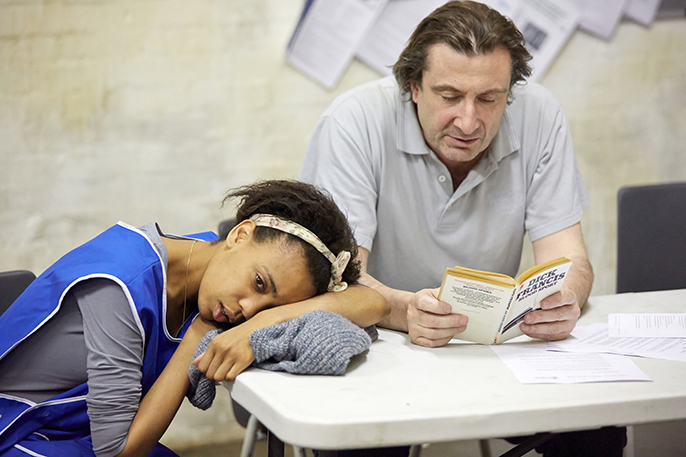 At East 15 you studied Acting and Contemporary Theatre. Is contemporary theatre what you're mainly drawn to?
Oh yes, yeah. The contemporary theatre course is very unique, it did give you the tools to have a lot of versatility and also work in TV and film. It also teaches you how to write and how to explore other methods of creative arts that you didn't even think about. So we had the playwright April de Angelis come in and do some workshops on writing. Also Uri Roodner himself taught us about clowning which is so vital (Laughs.) You wouldn't think it, but getting to know your inner clown has helped me so much as an actor. So the contemporary theatre course has definitely led me down the road I'm on at the moment.
What's your own take on unemployment in the UK?
It's a difficult one because there are so many places that will hire you regardless of technique or skills. Like supermarkets who will offer jobs and there are havens like that. But I don't know why it's resulted in that you can only really have a job if you're self-employed and working a Zero Hour contract. It still baffles me. That there are people having to work here and there, waiting for a text in the morning to invite them in to work. It's a cheaper way of employers doing it and it's such an unstable position that has come about. It's a big question mark.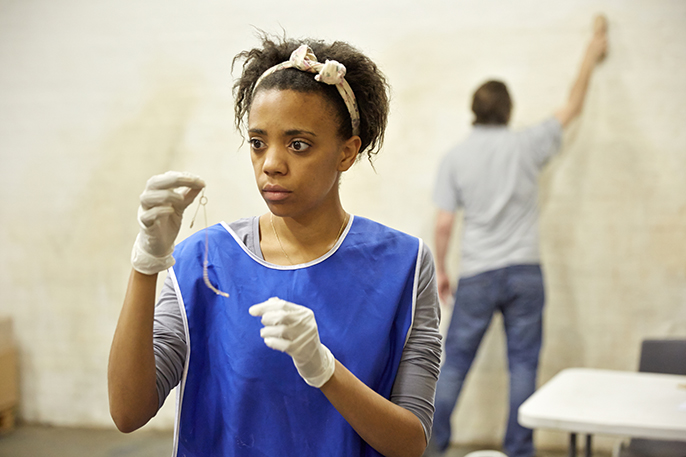 Career wise, do you have any big ambitions for the next ten years?
Oh my goodness me. I would love to have a theatre company to project my views on society today. Also I'm really fascinated with history and how it affects us today, much like my first play Dead Grass so I'd love to put more works on exploring that. I'd also love to join with Alexander Zeldin again because he's already told me about some of his projects coming up and I'm already excited. And hopefully go into more radio and TV actually, so lots of big aspirations. (Laughs.)
Why should people come and see Beyond Caring?
Because it's theatre that is rare; it's so unique. It's gonna be extremely difficult to see a show that is so raw and exciting. You have no idea what's gonna happen with these characters. It's something that reflects upon society today and any audience member can relate to. The struggles, the triumphs the courage that these people have is something that the public today need to see.
Info: Beyond Caring is at the Yard Theatre from 1 to 26 July at the Yard Theatre | book tickets